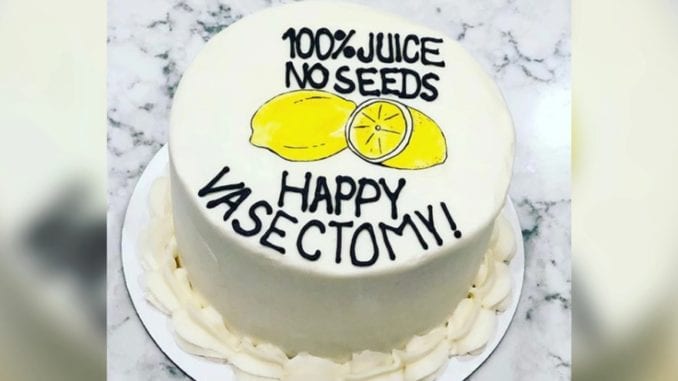 Vasectomy cake maker reveals interest in his baked goods has been overwhelming
Just when you thought you had heard everything, along comes a story that makes you go "Huh?" Yes, you read the headline right. Men are ordering cakes in celebration of their vasectomies. Moreover, the concept appears to be super popular.
Men's Variety spoke to Nathan Clingman, owner of Signature Desserts in Nashville, Tennessee about the cake. "We've been getting a lot of calls about it [the cake] for sure. Clicks to our Instagram page have gone up and there has been lots of Facebook traffic," Clingman said. "And it's not just the vasectomy cake. Now, people are interested in other things we carry, too," he adds.
Now if you've got your heart set on this novelty dessert, we've got some bad news for you. The cake is not available for mail delivery because of the state's "Cottage Bakery Laws." But Clingman tells MV not to give up hope because that may change in the future.
"We will see what happens, but we're planning to offer it by delivery down the road," Clingman says.
If you are in the Nashville metro area and want to buy this dessert, plan on spending around $50.00. "It depends on the size of the cake, but fifty-dollars is the basic amount for the order," Clingman shared with MV.
Related: Some men worry their junk stinks
Apparently, news of the vasectomy cake went viral on various social media platforms after Signature Desserts uploaded a picture of it on Instagram.
Keep in mind their bakery business isn't a big operation. Nathan and his wife, Jillian work full-time jobs during the week and have Signature Desserts as a side gig that they operate from home. On weekends, Nathan does the baking, and Jillian does the decorating.
"We've tons of inquiries about the cakes. It's also caused interest in other desserts we carry. We've even had women call up and ask if there is a female version of the dessert, like a hysterectomy cake, to celebrate – and I'm using their words – 'getting their tubes tied'," Clingman told us.
Given the fierce interest in their products, the couple hopes to one day open up a storefront. Before that happens, they want to make the dessert business is lucrative enough to leave their full-time jobs.
Well, there you have it, folks. You can join other men to celebrate the proverbial "snip-snip" with a cake. Would this be something you might order?