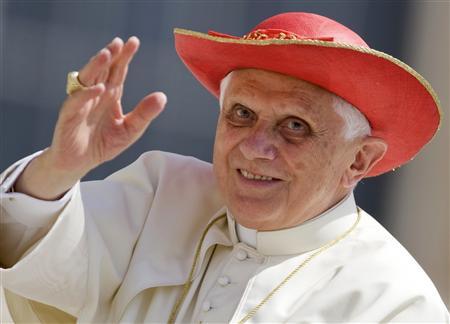 We wonder if he mentions how much he enjoyed the shirtless male dancers he cruised in 2010?
Former Pope Benedict XVI is back in the news. Apparently, he has penned a new memoir and is bragging about how he successfully destroyed the "gay lobby" in his book.
You may recall that Benedict stepped down from his paper chair in 2013 amid serious corruption charges within the Church. At 89-years old, the former pontiff would still be leader of the Catholic Church today had he not resigned.
In his book, The Last Conversations (set to be published in September) Benedict claims there was a 'gay lobby' consisting of four or five people who were trying to seek influence on Vatican decisions.
In his writings, he shares that he was successfully able to "break up this power group".
As reported by Gay Star News: "An internal 300-page report was commissioned by Benedict that uncovered corruption and a power struggle in the Vatican.
In the report, lay attendant to the pope Angelo Balducci was accused of being a member of a 'gay ring' and acting as a pimp to prostitute out men to priests."
What we find most interesting here is hypocrisy of the former pope's statements. On the one hand, he's boasting about his ability to squash gay voices deep within places of power in the Vatican.
Yet on the other hand – he apparently forgets to mention how much he enjoyed having a group of hideously hot shirtless guys dancing for him back in 2010. Check out the video below and decide what you think.
Remember, this is the same pope who said gay people were a "Defection of human nature' and a 'Threat to world peace"
Umm … that's right Benedict … keep telling yourself whatever you need to.
FYI: Pope Benedict was the first pope in six centuries to resign. We can honestly say we're delighted he's gone!