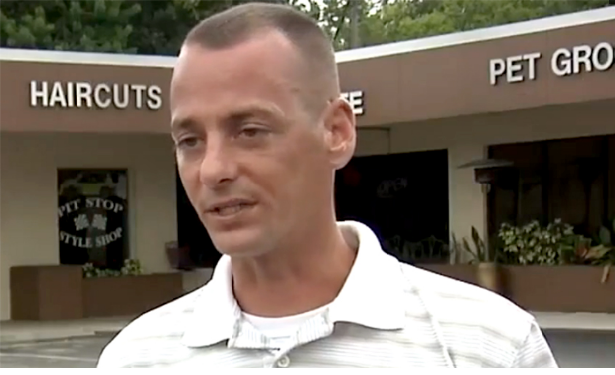 Being a former U.S. Marine isn't American enough for some people.
It's hard to imagine any business would do this to a former U.S. Marine but it apparently happened.
According to News 6 in Orlando, Florida, James Lacey and his partner were chilling out with some friends at The Original First Turn; a biker hangout and steakhouse in Port Orange, Florida.
Related: Gay couple sent death threats after Youtube video
At some point, he leaned over and kissed his boyfriend in a sign of affection. Moments later, a manager approached their table and yanked him to the side. He was then informed he had "offended" other patrons by his actions.
"We were just having a good time," said Lacey.
Going by the news reports, it sounds like several customers were uncomfortable with the couple's public display of affection (PDA).
Lacey shared the following after being singled out:
"She [the manager] said some of the customers were complaining about our PDA and were offended. The manager told us that it's not welcomed here. That's BS"
Driving home the homophobic nature of the incident, Lacey added the following:
"I'm pretty sure if you saw a man and woman giving kiss on the cheek or a kiss on lips, they're not going to say that's not tolerated here, that's not welcomed. That's ridiculous. I truly feel it's because we're a gay couple."
Related: Gay kissing ultimate guide for men
FYI: Lacey is a former U.S. Marine, which is important when you consider what the dog whistle, not so subtle statement the restaurant's manager shared with the local media:
"We are a patriotic and family restaurant of more than 30 years. We don't discriminate against anybody. We never have and never will. Safety and comfort for all our customers is top priority."
Once Lacey went back to his table, the group made the decision to get up and leave. From near as we can tell, it doesn't sound like the restaurant plans on apologizing anytime soon.
Lacey has shared he will not be coming back.