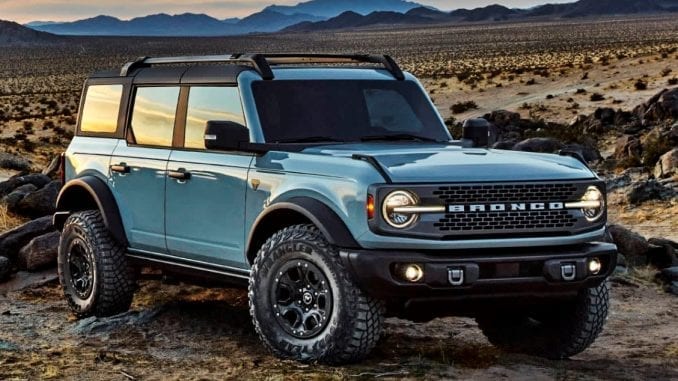 The Ford Bronco 2021: A Closer Look
The Bronco is back! This is the review of the 2021 Ford Bronco. Here's what you should know. This is one of those overly hyped, re-branding gimmicks, right? Wrong.
The 2021 Ford Bronco seems to live up to the hype while paying homage to an iconic brand. Everyone will recognize the boxy, upright frame and wide shoulders of the new Bronco because it looks like it's wearing the bones of its predecessor.
What's new is a ton of advances in technology and copious amounts of style. The 2021 Ford Bronco is a specialist. It's aimed squarely at the off roaders who want the best 4×4 on the market. Well, you might be kicking yourself in the pants if you just plucked down a deposit on a Jeep Wrangler because the Bronco is pretty hard to beat.
It's got best-in-class ground clearance, best in class departure and break over to tackle steep inclines, and best-in-class water fording. It can push out to 33.5 inches. It's even got best in class horsepower with its available V6 engine.
In a company press release, Ford's chief operating officer Jim Farley said "We created the Bronco family to elevate every aspect of off-road adventure and equipped them with class-leading chassis hardware and exclusive technologies to raise the bar in the rugged 4×4 segment and take people further into the wild."
Farley went on to say that "they're built with the toughness of an F-Series truck and performance spirit of Mustang – and come wrapped in one of the most stunning and functional off-road designs that's true to the original Bronco design DNA."
All the Different Model Trims for the 2021 Ford Bronco
There are seven different model trims for the 2021 Ford Bronco. They seem to focus on the specific sort of activities you might enjoy in a Bronco. The base model has just the essentials for off-roading and you can customize the whole platform from there. The next tier is called Big Bend. Most people will choose this model because it has some creature comforts like leather-wrapped steering wheel and heated seats.
The mid-section models are Black Diamond and Outer Banks. These Broncos are built for serious off-roading with the ability to G.O.A.T. (Go Over Any Type of Terrain). The Outer Banks model puts more style into the package by incorporating 18-inch alloy wheels and signature lights.
The Badlands Bronco is the most extreme off-roader you can get from Ford. It comes with advanced monotube shocks, front and rear locking differentials and disconnecting stabilizer bar. The Wildtrak trim gets 35-inch tires and a turbo-charged V6 engine. It's built for speed.
Lastly, there's the 2021 Ford Bronco First Edition. Only 3,500 units will be produced, and they've all been reserved. The First Edition Broncos get the best features from all the models, all put on the same platform. Look out for these on the re-sale market because they'll be the best of the best.
https://www.instagram.com/p/CCmgIB2h5Te/
Exterior Style
The 2021 Ford Bronco might seem out of place in the concrete jungle. You can drive one around the city all you want, but the Bronco would just be visiting. It's an airy vehicle that's meant to expose the interior to the exterior elements.
The chief designer of the new Bronco is Paul Wraith. He had this to say about the new Bronco's exterior style. "Similar to the first-generation model, Bronco's square proportions, short overhangs and wide stance are optimized for off-road adventure."
"The side profile features a flat, no-nonsense surface with clear-cut edges and robustly flared fenders. Large, open wheel wells are a modular design with a quick-release attachment for simple customization."
The design architecture of the 2021 Bronco is so important, especially in its quest to outsell the Jeep Wrangler. The Bronco is available as a 2-door or 4-door model. Some Broncos come with 35-inch tires and you can even remove the roof panels and doors. Never before has such a lack of paneling looked so damn good.
The Bronco has a fully boxed steel frame with aluminum handles, doors, fenders, and swing gate. The chassis of the Jeep Wrangler and the Ford Bronco are quite similar – both body on frame. The Bronco has an independent front suspension like the Ford Ranger.
This independent suspension set-up is superior to the Wrangler because it gives the Bronco more responsive steering in more dynamic driving situations. The shocks and springs don't need to work as hard to maneuver the tires. When you pair that with a manual transmission and big tires, you get a superior crawl ratio.
Another added bonus of the Bronco's exterior is that it's going to be super easy to put a lift kit on it. Just imagine this thing outfitted with 35-inch mud tires and jacked up to the sky. The Bronco will be a big hit at the mud fest, for sure.
There are some brilliant colors available. You'll most likely see the new Cyber Orange in all the advertising clips, but the Area 51 and Antimatter Blue have a rugged, urban look. Noticeably missing are any green color choices. Maybe there'll be a green Bronco in the future.
Performance Capabilities
When it comes to driving and controlling the Bronco, you've got lots of options. Whether you want a little bit of help or a lot, there's a powertrain and performance kit to suit your needs. Ford has done an exceptional job of being inclusive of all skill levels. The first engine set-up comes straight out of the Ford Ranger and the upgraded engine is from the Ford F-150. Take a closer look.
The new Bronco comes standard with a 2.3 Liter EcoBoost four-cylinder engine. It delivers 270 horsepower and 310 pound feet of torque. That's best-in-class torque. You can outfit the 2021 Ford Bronco with a 2.7 Liter V6 engine that produces 310 horsepower and 400 lb. ft. of torque. That's another best-in-class for six-cylinder gasoline power.
You get two choices of transmission, too. There's a 10-speed automatic which is perfect for maximizing all that torque on demand. Then, there's a 7-speed manual transmission. That's right, folks. You can get hands on and really drive this thing.
Keeping with the motif of double options – there are two different 4×4 options. There's a part-time 4×4 with a 2-speed transfer case. You get neutral, 4H and 4L. This sort of electronic shift on the fly system works well enough for most drivers. The advanced 4×4 system has an electromechanical transfer case. You get an upgraded transfer case that has an auto mode.
"Bronco's advanced four-wheel-drive technology is at the core of its off-road capabilities, and at the heart of it all is Bronco's exclusive Terrain Management System™ with G.O.A.T. Modes™ that is designed to help drivers better navigate any type of terrain," said Mark Grueber, Bronco consumer marketing manager.
There are seven different drive modes with the GOAT that you can select on the new Bronco. There's Rock Crawl, Mud/Rut, Baja, Slippery and Sand, as well as your usual Normal, Eco, and Sport driving modes.
The 2021 Ford Bronco will be a seasoned off-roaders dream come true, but that doesn't mean novice trail hawks can't have their fun, too. Just engage the Trail Control and watch as your Ford Bronco automatically selects braking, torque, and throttle responses while you steer and shout "Whoohoo!".
There are other electronic off-roading assistance features such as Trail 1-Pedal Drive and Trail Turn Assist that help you look like a big boy even in some seriously sticky situations. The Bronco has a towing capacity of 3,500 pounds but isn't built for serious trailering.
The guys over at MotorTrend got a chance to review one up close and personal. Here's what they thought of the 2021 Bronco from Ford.
Interior Amenities
The interior of the 2021 Ford Bronco is purpose-built, but a little bit tight. The 2-door model has a passenger volume of 99 cubic feet. The 4-door with a soft top has a passenger volume of 108.2 cu. ft. So, if you're thinking to pile into the Bronco, forget about it.
Let's get back to its greatest highlight though. The interior has drain plugs for easy washout and rubberized flooring. Carpeted flooring is available, but that wouldn't be wise if you're thinking to use the Bronco for its intended purpose – accessing the great outdoors.
That doesn't mean you need to forget about all the creature comforts. You can equip the Bronco with a leather-wrapped steering wheel. That might not seem like much, but this vehicle doesn't have a true luxury trim. What it does have is technology.
New Technology on the 2021 Ford Bronco
Mark Grueber also wanted to highlight the Bronco's new technology in a company press release. "The trail mapping system available on Bronco is truly a game-changer in the off-road community," said Grueber.
"It works online or off on either of the navigation-capable 8- or 12-inch SYNC systems, allowing users to select one of hundreds of available curated trail maps to map out and then track, capture and share their adventures with others."
Additionally, you've got two 12V power points, a wireless charging pad, and dual USB chargers in the front and the back of the cabin. The new Bronco has push-button ignition and a 360-degree camera system, too.
Safety Gear
The 2021 Ford Bronco's safety features begin with the vehicle's construction. It's built to take a beating, so you don't have to. High strength is used heavily throughout the design architecture. The Bronco has steel plates strategically placed along the frame for added protection. There are also plates to protect the engine, transmission, and fuel tank.
"Bronco two- and four-door models leverage the company's Built Ford Tough durability and performance testing and take it even further off-road with Built Wild Extreme Durability Testing in the harshest possible environments, including the brutal trails of the King of the Hammers off-road competition," said Dave Pericak, director, Ford enterprise product line management, Icons.
When it comes to advanced safety features, the 2021 Ford Bronco dips its toe into the water just a bit. It has automatic emergency braking with pre-collision assistance, lane keeping assist, and cross traffic alerts.
This isn't the type of vehicle that comes with lots of autonomous driving features. That's simply because the target consumer for the new Bronco isn't looking for fewer occasions to control the vehicle. In fact, the opposite is true.
So, the 2021 Ford Bronco lacks some of the new era safety gear that you might find on new crossovers like advanced cruise control and parking assist. In that regard, the 2021 Ford Bronco is like an Indoraptor from Jurassic Park. It's a new breed, but still a dinosaur.
The Takeaway
So, will people be lining up to buy a new Bronco? Well, the base model 2021 Ford Bronco with 2-doors starts at an MSRP of $28,500. Four-door models start at $33,200. Just don't expect to drive off the lot at that price. With all the customization options and extras, you're bound to spend more money.
There's little doubt that the 2021 Ford Bronco is a quality vehicle with the right blend of fun and features. Yet, can Ford really dethrone the Jeep Wrangler with this bad boy? Experts from the automotive world are already taking sides.
Automotive analyst Karl Brauer from Automotive News had this to say in a recent interview: "From both a technical analysis and an emotional reaction perspective, this thing looks like it will have a very good shot at converting existing Jeep owners into Bronco buyers and will certainly convert non-Jeep general enthusiasts of off-roading."
My guess is that the 2021 Ford Bronco will attract more than just off-road enthusiasts. It's a cool-looking crossover that isn't just for show. (I'm looking at you Toyota C-HR). The 2021 Bronco has an available manual gearbox, V6 engine and 4×4 capabilities. So, guys who like a little bit of power on demand and lots of masculine style will flock to this vehicle.
What do you think of the new 2021 Ford Bronco? Is it cool enough to get people back into buying new cars and trucks?