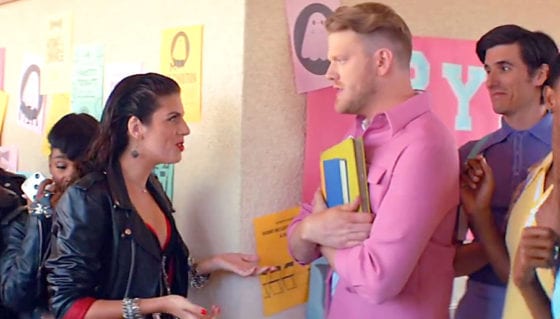 It was 40 years ago today that the world was introduced to the mega-hit movie musical, Grease, starring pop-star Olivia Newton-John and breakout movie star John Travolta.
Paying homage to the film, the most successful movie musical of all time, Pentatonix' Scott Hoying and pop singer Frankie drop their Grease-inspired music video for their new duet, "Ghost."
The song is a tongue-in cheek paean about ghosting – you know, when a new love interest suddenly stops responding to texts or phone calls and you don't know why…?
"I thought the song was so sick and said I'd love to sing on it," Hoying told Billboard. "I went to the studio within the next two weeks and laid down my vocals, we ended up falling in love with the whole thing."
Hoying brought on director Dana Creny who had handled video direction duties for Pentatonix and Hoying's side gig, Superfruit, and knew exactly where to take the video's storytelling: a gender-bending flip of Grease.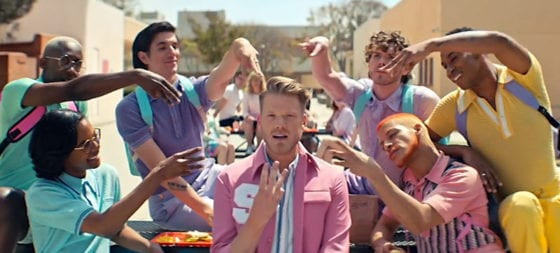 In the video, it's Frankie who's the coolest-of-cool leather-clad chick and Hoying is the squeaky-clean teen dream, complete with his own 'Pink Gays.'
Check the dancing, crafted by Lindsey Blaufarb and Craig Holloman, which gives a nod to the classic choreography by Pat Birch – from "Summer Loving" all the way down to an updated hand jive on the school football field.
According to Frankie, it wasn't until the team was shooting the video at Pasadena High School in April that the team realized the 40th anniversary of the movie musical was only two months away.
Says Frankie, "It was all so strange and it just felt like the stars were aligning."
Decked out in 50s fashion and dancing on sports cars of the era, the music video is a fab update to the venerable movie musical. 
Check it out below.