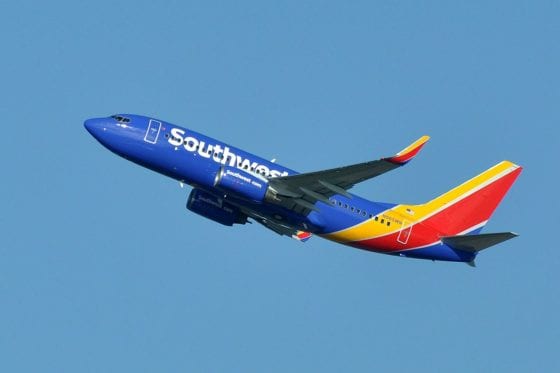 Two dads claim they were discriminated against
A gay male couple from Florida have gone public to share they were discriminated against by a Southwest Airlines gate agent.
Specifically, they allege they were denied the ability to pre-board with their three young children.
The incident is reported to have happened this past Sunday on a South West Airlines flight originating in Buffalo, NY with the destination of Ft. Lauderdale, FL.
Mr. Grant Morse and his husband, Sam, plus their three children and Grant's mom, got in line to pre-board the aircraft when a Southwest agent reportedly stepped out in front of them and said: "This is for family boarding only."
In a statement given to WGRZ, Morse explains:
"I feel as though we were profiled the minute we walked up the boarding area. This gate agent immediately approached my spouse and said this is for family boarding only, and my spouse looked up and said, 'Well, we are a family. It's myself, my spouse, and our three children.' She said it's family boarding only and got very sarcastic."
If this incident occurred, and we have no reason to believe it didn't, the behavior of the Southwest gate agent needs to be addressed.
Mr. Morse said this is the first time he's ever experienced anything like this.
"This is for family only!"
When approached for a comment, a spokesperson for Texas based Southwest pointed to the carrier's official "family boarding policy," which indicates that only one adult can board with any traveler who is "six years old or younger."
Related: People appear to be hooking up at airports a lot!
But Mr. Morse feels the vague language of the airline's family boarding policy is not the issue. Instead, it was how the gate talked to him, saying, "only families" were permitted. The implication of course is that his family didn't count.
Making matters worse, Mr. Morse shared that the airline sat his 83-year-old mom, who he described as "frail," in an emergency exit seat instead of next to him.
The Southwest spokesperson is reported to have said that if Morse's mother needed additional assistance, they should have requested that beforehand.
Just wow!
Mr. Morse told his story as well to NBC 2 through tears.
Federal aviation regulation is clear. To sit in an emergency exit seat, the passenger must be physically able to help evacuate the aircraft in the event of an emergency.
Given the description of Mr. Morse's mother, one has to wonder why she was seated in such a seat in the first place.
h/t: Queerty