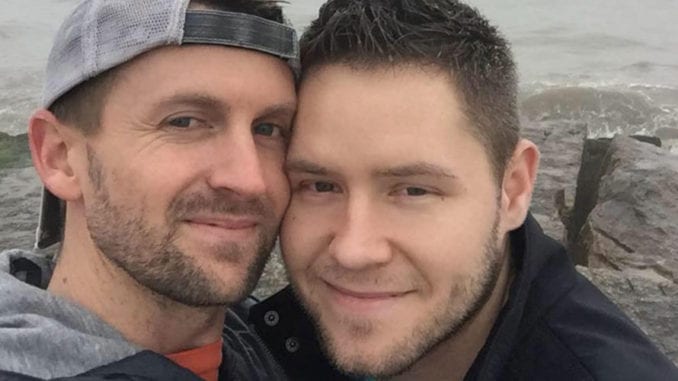 Remembering lives lost
In a touching interview offered yesterday, CNN's Anderson Cooper spoke with Bobby Eardley, the same sex partner of Las Vegas victim Cameron Robinson.
Mr. Robinson was an openly gay, 28-year-old man that was gunned down from a barrage of bullets that came raining down on the attendees of the Route 91 Harvest Country Music Festival.
One of the shots struck Cameron in the neck. Eardley was also hit in the shooting and sustained a shrapnel injury to his back. Fortunately, he survived.
The couple lived in St. George, Utah. Apparently, Cameron regularly made the two-hour trip to Las Vegas for work as part of his job as a legal specialist for the city.
Bobby Eardley's partner died in Las Vegas: "I just can not say enough amazing things about that man." https://t.co/Xw1gTMa5ef

— Meg Wagner (@megwagner) October 4, 2017
In the CNN interview, Cooper asks, "I don't know if you want to talk about what happened that night … but what do you want to say?"
Eardley shared the following:
"I just want to make sure that he knew that he wasn't alone in those [final] moments, and I held him and talked to him the whole time and I know that he wasn't the only victim and I know that so many other people are going through exactly what I'm going through and my heart goes out to every single one of them. And I really just want to make sure that the heroes of the situation are also noticed."
More: Marine Vet steals truck to save dozens of lives in Vegas
Eardley also revealed that he, his boyfriend and another injured man were all loaded into the back of a truck. They were then driven to the hospital for treatment.
On the way to the emergency room, a stranger administered CPR to his partner the entire way.
"It was so incredible to see that drive and that determination and just the will to help … complete strangers," Eardley said. "And I didn't get their name, and I don't even know their face and I just feel awful that I can't meet them and thank them for everything that they did as well as everybody else that helped so much."
A friend of Cameron, Valerie Alvey, created a GoFundMe campaign to cover the cost of his funeral and outstanding medical expenses.
On the page, Alvey shared that that Robinson "loved to cook, entertain, run marathons, travel, go camping, boating and the outdoors."
The Go Fund Me account has since become an online memorial to express memories of Cameron. Some are simply sharing condolences. At the time of this post, it has also raised over $25,000. That's $10,000 more than the original fund-raising goal of $15,000.
h/t: Hornet Stories