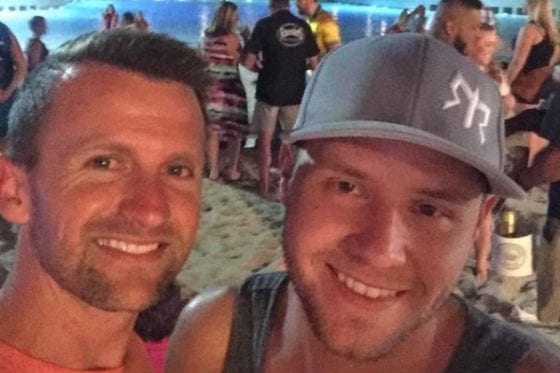 Gay Utah Couple Among The Victims
We are still in the hectic and traumatic aftermath of the shooting in Las Vegas which is now the deadliest shooting in US history.
Victims and families of those victims are still in the head space of the attack and are dealing with seeking medical attention, finding each other, and finding out if loved ones are no longer with us.
As such, some names of the deceased and wounded victims are coming out and it seems one of the first named gay couples has hit the internet.
Cameron Robinson and Bobby Eardley were a gay couple from the state of Utah. Unfortunately, only one of them escaped the scene with his life.
Cameron Robinson was a father of three from Cedar City but who worked for the city of Las Vegas and drove into the city every day.
At the shooting, Robinson was shot in his neck and died at the scene, while his boyfriend Bobby was hit by shrapnel in his back but was able to escape.
According to Robinson's sister Meghan Ervin, Eardley is expected to survive.
A GoFundMe page has been established to help with Bobby's medical expenses and the cost of Cameron's funeral.
In addition, if you wish to help other victims of the shooting there are multiple resources in which you can do that.
You can donate to another GoFundMe that's focused on all the victims. This victims' fund was started by the Clark County, Nevada commission chair Steve Sisolak.
Plus, there are other groups providing relief such as the local chapter of the American Red Cross and the National Compassion Fund.
In addition, we will keep you updated as more names of the Las Vegas shooting arrive.