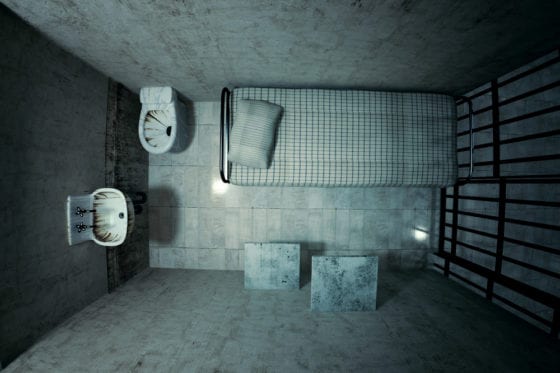 Massachusetts Gay Man Was Trapped And Assaulted
A 19-year-old man is being charged with a hate crime after he allegedly beat up and trapped a 50-year-old gay man in a basement apartment.
Jackson Sugrue from Framingham, Massachusetts is the man facing a hate crime charge after police found a beaten and bloodied Otoni Eliseu.
Police found Eliseu after responding to a call about a man being beaten with a bat. When local authorities arrived at Kendall Street around 5:39 p.m., they came across Eliseu who was covered in blood, bruises, and scratches. On top of that, Eliseu had no shirt or shoes on, just a pair of pants.
After being taken to the Metro West Medical Center, Eliseu filled the authorities in on what happened to him. The Massachusetts gay man was trapped and assaulted by a younger man he had befriended in the past few months.
"He said he had escaped from an apartment where he had been kept against his will for the past four days," said Prosecutor Krasinski.
Eliseu, who's recovering from drug addiction, was staying in a small apartment beneath the Philadelphia Baptist Church after church members found him living in the woods.
Eliseu and Sugrue started hanging out for several months after that. Eliseu told police that Sugrue used the fact that Eliseu was gay to take advantage of him by asking for money.
This relationship eventually led to this past Wednesday when the two were sitting around in Eliseu's borrowed room and allegedly using crack. It was then that Sugrue became violent.
"I didn't know he was going to hurt me." Man held captive for 4 days during suspected hate crime describes nightmare to @WFXTMalini at 10 #Boston25 pic.twitter.com/WpAdHVheFY

— Ken Donnelly (@fairwayhit) July 3, 2018
″(The alleged victim) tried to leave, but the defendant wouldn't let him leave the apartment," said Krasinski. "He (Sugrue) took his phone away and wouldn't let him leave. The victim was afraid if he tried to leave he would be hurt or killed. He said the defendant is a dangerous man."
For four days Eliseu was allegedly held victim in his own room without the ability to eat or drink. On Saturday, Eliseu says he was asleep when Sugrue allegedly grabbed him by the foot, dragged him onto the floor, and attacked him. Eliseu says Sugrue stepped on his throat, chocked him, beat him with a bat and a coffee table, and used homopboic slurs.
Somehow, Eliseu then escaped and it was then that the police got the call and found him on Kendall Street.
Police later arrested Sugrue at his 282 Belknap Road home at 8:46 p.m. Jackson Sugrue is being charged with a hate crime, assault and battery with a dangerous weapon (the coffee table), assault and battery, and intimidation of a witness.
FRAMINGHAM: Sugrue Jackson is accused of assaulting, & holding a man against his will for 4days. Police say, this was a hate crime. "Sugrue knew the victim was gay,&used him for favors". pic.twitter.com/o1jayKIhLI

— Malini Basu (@WFXTMalini) July 2, 2018
Despite all this, Sugrue and his parents say he's the real victim in this entire situation.
"He (alleged victim) was trying to entice my client to do things that were against his nature," said defense attorney Kenneth Gross.
"My son is a victim of a 50-year-old man," said mother Terry Sugrue who also shared that she and her husband had tried to limit the contact between their son and Eliseu.
"This is someone we tried to help," said Terry Sugrue. "He became obsessed with my son."
Jackson's parents shared that their son was home on Thursday and part of Friday, so there was no way he could have trapped Eliseu in the apartment for four days.
Terry Sugrue also shared that her son had scratches when he came home on Saturday. Jackson then shared with them that he was hiding from Eliseu in a neighbor's yard.
"It's absolutely ridiculous to suggest my son would have anything to do with a hate crime," said Frank Sugrue in an interview Monday afternoon.
Jackson Sugrue was held on $1,000 bail and ordered not to have contact with Eliseu. Sugrue is expected to return to court on August 1 for a pretrial conference.