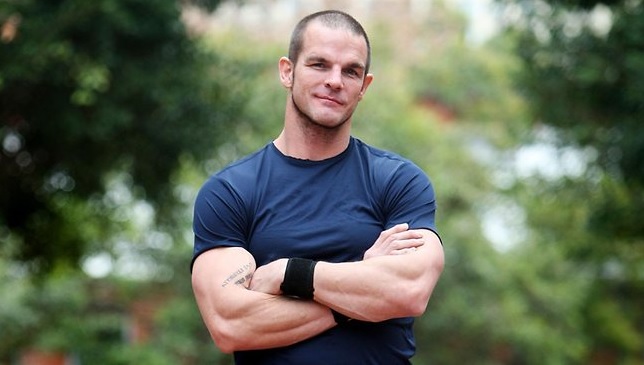 "I feel so proud for the game"
Openly gay rugby player Ian Roberts used his used his well known name to publicly gain the support of a powerful organization in the battle for same sex marriage in Australia. And guess what? He got it!
Quick background: After enjoying a long professional career as a footballer, Mr. Roberts came out in 1995. He was the world's first Rugby player to do so.
Hoping to change hearts and minds regarding the upcoming public vote, he typed out a heart-felt e-mail to Todd Greenberg, National Rugby League chief.
Ian Roberts in his pomp during his breakthrough season with #souths in #1989. Proper hard he was. #rugbyleague pic.twitter.com/UVdbsF68Ca

— dressingshed.com (@thedressingshed) September 2, 2017
In his electronic note, he passionately urged the league to voice their support behind the 'yes' campaign for marriage equality.
We are happy to report that on September 8, (Friday) he received a telephone call from Greenberg offering that support.
As reported in the Daily Telegraph, Roberts said: "I've never felt so proud about our game. This will save lives." He added, "This is a moment in time that will be remembered forever."
Back in 2015, the National Rugby League (NRL) publicly came out in support of marriage equality. This latest move is for the "yes" initiative.
More: Gay rugby ref comes out
Mr. Roberts sent the e-mail after four close friends committed suicide. They had been deeply struggling with their sexuality. One death particularly stung – the loss of 13-year-old Tyrone Unsworth; a gay teen who was bullied so badly at school, he took his own life.
Roberts shared: "His passing will not be in vain."
Opening up a bit more, he added:
"The poor kid was bullied at school for being gay. That's what triggered me into doing this."
In 2015, the NRL signed a corporate-led campaign to demonstrate support of marriage equality in Australia.
Roberts shared the rugby league has made enormous progress since first coming out 20 years ago.
"His passing will not be in vain"
"Rugby league has been so strong in breaking down barriers and raising awareness about many issues, whether it's to do with indigenous Australians or domestic violence against women.
'It's about saving lives because that's the power our game has.
'I feel so proud for the game. They've said its ok now.
'It's a huge thing and I can't thank the NRL enough,' he stated.
Same sex marriage survey forms will start going out on September 12, according to Lifehacker.
h/t: Daily Telegraph and GSN