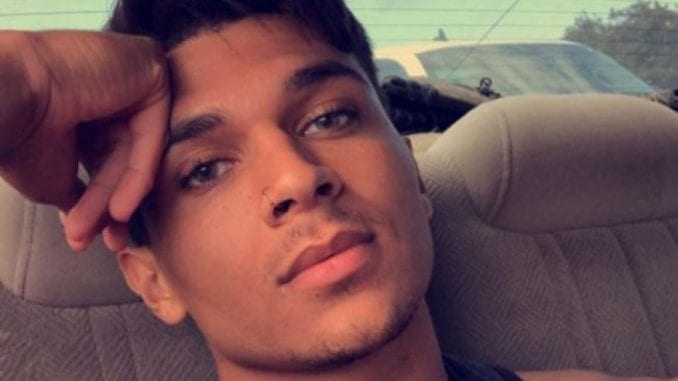 "We just wanted to let you know we think that's awesome"
Many stories about younger gay men coming out are themed around rejection and pain. That said, in the case of a 20-year old Nebraska college student, the opposite is the case.
Here's what happened.
When University of Nebraska track and field athlete Jace Anderson was alone on a balcony at a campus party back in 2016, with three football players, one of the lineman asked if he was gay.
Jace described the trio as "gigantic human beings". As you can imagine, he was plenty nervous.
"They were all football players, all linemen," Anderson shares in a homemade YouTube video. He goes on to share that he'd seen the guys on campus before but didn't know them.
"I find myself on the balcony with these guys, and my friends, they go inside. And this is kind of when things start turning."
That's when one of the players asked a direct question about his sexual orientation.
"He literally just confronted me about it," Anderson says. "I didn't really know how to respond to that, so I was just like, 'Yeah.' And then he goes, 'Hey, we just wanted to let you know we think that's awesome."
More: Olympic champion comes out prud and gay
Although the meeting ended with Anderson being commended, he was still visibly anxious.
"They each gave me a hug… because they could tell I was still very uncomfortable about the whole thing, I was obviously nervous. They probably knew that they caught me off guard. But that whole interaction, it just blows my mind."
Anderson explained in an interview with 1010 WINS that he decided to cut a video to explain his experiences being an openly gay individual in a sports environment.
He also shared that he can recall a time feeling extremely alone with his secret.
"Yes, you hear of out gay athletes such as Gus Kenworthy or Michael Sam," he says, "but it almost seemed unreal with their popularity because they were already at the top."
"Coming out, in general, is a difficult thing to do regardless of the case. You're finally sharing a part of you that you've hidden from your family and friends for so long." Anderson says he feels "honored and blessed" to be in a position where his story can be heard and make a difference in people's lives.
"Truly grateful."