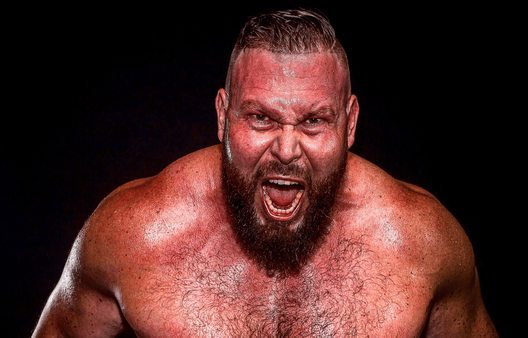 Mike Parrow outs himself to the world
Did you hear the news? Mike Parrow, a 34-year old pro-wrestler from Orlando, Florida has officially come out of the closet. The 6'4 hairy chested muscle stud shared his story with the world in an exclusive interview with Gay Star News.
"I've always known I'm gay," Parrow told Gay Star News in an exclusive new interview. "That was never a question in my mind."
Parrow then shares some of his journey, which helps to provide context to the moment.
"Growing up, I went to Catholic school my whole life. My mom's a Sunday school teacher. I came from a small town in upstate New York. It didn't have a flourishing gay community. The only exposure I saw of any gay culture was extremely effeminate and that was what was on TV. I'm not like Jack on Will and Grace, so I'm not gay."
More: Pro-wrestler Anthony Bowens comes out as bi
Given the hyper-masculine world of professional wrestling, Parrow reveals how he tried to keep his mind distracted while he remained in the closet.
Pushing myself by adding #CrossFit #workouts Crazy tired but it's all worth it #bear #wrestler pic.twitter.com/Mu2A3bZsfa

— Parrow (@Parrow_) November 17, 2017
He even tried dating women. But as time went on, he recognized that he wasn't being fair or honest. Plus, the relationships just weren't satisfying.
"I played football and did manly stuff. It wasn't because I was gay. Those were the things I gravitate to – competitive stuff."
He continues:
"In the beginning, when you're younger, it's easy – you're young. But the older I got, the harder it got for me to have any kind of emotional relationship with a woman. I would find ways to end it. I'd be like, 'Listen, I just don't think you're pretty.' And I was kind of mean to some women. It's wrong. And I wish sometimes I could have that back."
During his late 20's, he began to explore his sexuality. But from the sounds of it – the experiences weren't all that great.
Can you relate to what he shared?
"Gay men can be the meanest, cruelest people you've ever met in your life. I was "fat", I was "ugly", I'm a "closet case", and at the time I was just looking to understand what's going on. And so that put me further back in the closet than going forward. So I buried myself in wrestling and focused on my career. And I had some success, but that was always in the back of my mind."
Week one of my #diet in the books so after #GymSelfie. I really hate dieting. Now of to #Dallas #bear pic.twitter.com/hRTMeYW09X

— Parrow (@Parrow_) November 10, 2017
After going through a dark period of depression, he reached for alcohol and even had thoughts of suicide. The pain was so intense, he tried conversion therapy; something he recognizes upon reflection was not helpful.
"It was an absolute joke," he shared with readers.
It would take time but eventually, he found a therapist who helped him to accept himself as a gay man. Things got better. He then met his fiancée, Morgan. And it was through that relationship that Parrow found the strength to come out to everyone – including family and fellow wrestlers.
Well will you look at that #DallasCowboys #WASvsDAL #cowboyswin we are still alive in the #Nfl #Playoffs hunt and stopped #Philadelphia from locking up the #NFCEast #LetsGoCowboys pic.twitter.com/ECrVRbYiAS

— Parrow (@Parrow_) December 1, 2017
"Anyone I ever told thought I was kidding," he says. "Their perception of gay men was totally different. So when I tell them, they get shocked, but every time I tell someone it gets easier rather than harder, and I always try to tell people that."
The hunky athlete also shares that since coming out, he gets lots of questions from his wrestling colleagues.
"I find, especially with a lot of wrestlers, they have a lot of questions. A lot of questions. I'm open and honest when people ask me questions. So, I've not necessarily had hatred towards me. More curiosity."
h/t: Gay Star News