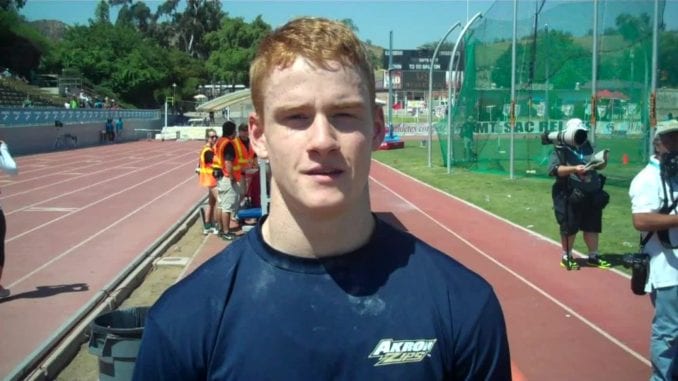 Canadian athlete comes out
Shawn Barber, 22, is a Canadian track and field athlete and the current reigning world champion in pole vault.
In a recent Facebook post he scribed on Monday, he shared with fans that he was gay. It didn't take long before his announcement went viral.
He shared with fans: "Gay and proud! Thank you to my parents for being such a great support.
"I continue to grow as a person and have a great support group. My parents are my greatest support and have helped me through a lot recently.
"To my friends, you are always my friends and I love you too!"
Since that time, Barber has been given the affectionate name of "Ginger jock" by many with the LGBT community.
His posting on social media has flooded with supportive messages from other athletes and fans from around the world.
One person wrote: "Be proud and being yourself is Important. You are a role model to the athletes of tomorrow."
Another shared: "Proud of you Shawn. The world is getting closer to the day when we accept everyone by how they conduct themselves, not by their sexual orientation or religious beliefs, etc."
https://www.instagram.com/p/BDwk4M1kdoP/?taken-by=vaultbarber&hl=en
He holds the NCAA indoor record in pole vaulting at 5.91 meters (19.38 feet), competing for the University of Akron. In 2016, he vaulted an amazing 6 meters; the youngest man ever to do it and 21st of all time.
More: Pro-wrestler comes out of closet as bi
Then, at the 2016 Summer Olympic Games in Rio de Janeiro, Mr. Barber placed tenth "in wet and windy conditions".
Three out Olympians represented Canada at the 2016 Games – footballers Melissa Tancredi, Stephanie Labbe and Marie-Eve Nault.
At the time of this post, Mr. Barber has made no additional comments. In some ways, it's fair to say he has set the example on athletes coming out. Barber shared his news with the world and appears to be moving on.
https://www.instagram.com/p/BJQHnJSBRPo/?taken-by=vaultbarber&hl=en
Perhaps there is something to be learned here? Mr. Barber and others like him shouldn't be thought of as "gay athletes" but instead, a gifted, talented sportsmen that happen to be gay.
We are extremely delighted this young man is embracing who he is and hope others athletes who might also happen to be gay or bi learn from his example.
You can follow Shawn Barber by visiting his Instagram page and on Facebook
h/t: Out Sports