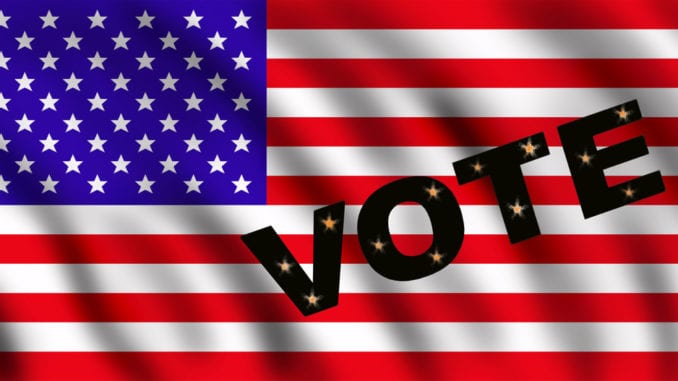 Here's how to get out the vote in 2020 in your PJs.
Want to help get out the vote in 2020? Hoping to flip districts and states from red to blue? Are you a progressive democrat who lives in a blue area and want to do more than give money to a candidate, PAC or organization?
Guest what – there are two POWERFUL ways you can do this. Right now, there are tremendous efforts taking place that will lay the important groundwork for getting the vote out in 2020.
And the best part is you don't have to call people on the phone or in person canvas to be part of it.
How To Help Get Out Vote in 2020
If you truly want to help get out the vote in 2020, increase democratic shares in congress and flip the Senate and White House Blue in 2020, I'm about to give you the rundown on EASY and FUN ways to do it.
VOTE FORWARD
This amazingly effective program allows you to contact unregistered voters who are very likely to vote Democrat from the privacy of your home. I've been doing it for a while now and it's way easy.
Simply visit the website Vote Forward and create an account using your Facebook, Google or Email address. Allow up to 36 hours for your account to be approved.
Once you get the green light, choose a district you want to write for and adopt a minimum of five voters. The Vote Forward website will then provide you the names and addresses of unregistered voters in that area to send letters to.
The BEST part of this program is they provide the template for you. Yep, that's right – they've done a lot of the hard work for you.
Here's what you'll need:
First class postage stamps (55 cents each)
A pen
Some No.10 Envelopes (4 1/8 inches high by 9 1/2 inches long
A printer
You write a short, personalized message on the template they provide and that's it. Once you are done, fold the envelope up, write the name and address of the recipient, stamp it, and you are done.
Some voter outreach efforts now include the ability to send the recipient a voter registration form. Be sure to check what is required for the outreach effort you select on the Vote Forward Dashboard.
TIP
Vote Forward has paired up with Swing Left. Make sure you visit the Swing Left Facebook page to interact with other volunteers and to find out other ways to help get out the vote.
See video below to learn more.
POST CARDS TO VOTERS
I've been doing this one for a long time and its SUPER fun. The process is very easy. Moreover, it's HIGHLY effective. Do you want to know why?
The people you send postcards to are already registered democrats. Yep, that's right. No need to persuade anyone because they already are blue.
With this effort, all you are doing is sending them a friendly note to remind them to vote in the next election. There have been research studies to show this is a very effective way to boost the vote, particularly in close elections.
Think about it for a moment. Don't you take notice when you receive a hand-written note from someone in the mail? In fact, when is the last time you got something hand written? Probably forever, right? That's why this program is SO powerful.
See this New York Times article to learn more.
Here's how it works.
1. Text JOIN to 484-275-2229 [easiest method] or email [email protected] OR fill out their web form.
2. Wait for instructions to be sent to you. There is a verification process so following the directions you are provided carefully.
A new volunteer writer becomes a "Verified" writer, once the photo of your sample card has been received via email, reviewed, and accepted by the Rapid Response Email Team.
3. Once approved, you simply contact Abby the Address Bot via text at 484-ASK-ABBY (484-275-2229) or use Facebook Messenger and send "Hi" Abby. She'll immediately message you back and ask which voter outreach program you want to be part of.
4. You can request anywhere from 4-50 addresses.
5. Start creating your personalized cards using the template provided to you by Post Cards To Voters. This is sent to you via text and email for each election effort you sign up for.
What You Need
Regular sized postcards (sized 4×6). You can use any type of postcard, provided it isn't offensive. Personally, I order voter postcards on Amazon in bulk because it's more cost efficient.
Postcard stamps. You can order these directly from the USPS or get them at your local post office. The current price per stamp is 35-cents.
A pen. Many volunteers make their cards stand out by using multiple, bright colors. If you are artistic, you may really enjoy this!
TIP
This is perhaps the BEST part. The Post Cards to Voters group has a massively engaged community of volunteers active on Facebook. Make sure you visit their Facebook page to see example cards that other volunteers have made. Interact with others and have fun.
You can also visit them on Twitter to see other examples and join in on the excitement.
See video below on Post Cards To Voters to learn more.
Wrap Up
If you live in a blue state or blue area, the days of not being able to help get out the vote in purple or red areas are LONG gone.
You can do a lot – right from the privacy of your own home. Not only will you be doing your civic duty to help encourage voting, you'll also be the change you wish to seek in the world.
How cool is that?