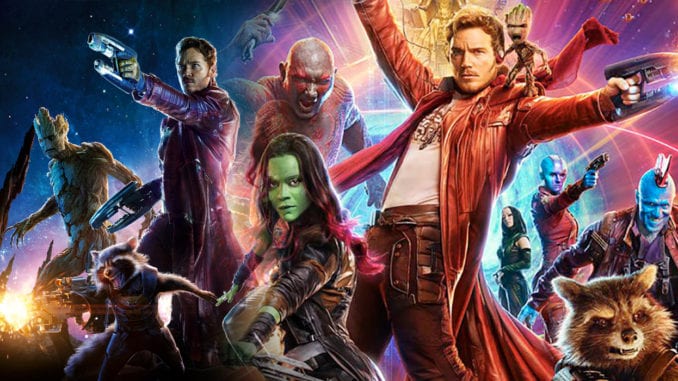 Movie review – Guardians of the Galaxy II
Over the weekend, we cracked open our piggy banks and pulled out some money to splurge on Guardians of the Galaxy II. Given how much we like Chris Pratt and because we enjoyed seeing the first "Guardians", we figured – why not?
So, for what it's worth …
We'll give you a general overview of the film without giving away the entire candy store.
FYI – if you are hoping for body inspiration to get your workout on by seeing Chris Pratt in this movie, think again. This isn't one of those films where beef and brawn are part of the superhero mix. But then again, you aren't coming to see this film for a superman experience, right?
Main Cast:
Chris Pratt played Peter Quill / Star-Lord
Zoe Saldan played Gamora
Dave Bautista played Drax
Vin Diesel played Baby Groot (voice)
Bradley Cooper played Rocket (voice)
Michael Rooker played Yondu
Karen Gillan played Nebula
Pom Klementieff played Mantis
Kurt Russell played Ego
Michael Rooker played Yondu
Storyline
A continuation from the storyline in the original Guardians of the Galaxy, the movie picks up pretty much where the first one left off.
Groot is still a baby (yes, he's in it) and the other four members of the Guardian crew are doing a contract job for the Sovereign race. A golden princess named Ayesha (Elizabeth Debicki) is their glamazon leader.
Peter Quill (aka Star-Lord, Chris Pratt), Gamora (Zoe Saldana), Drax (Dave Bautista), Rocket (voiced by Bradley Cooper) and Baby Groot are charged with defending a super valuable set of batteries from a monster called the Abilisk.
In exchange for their work, a prisoner that was being held by the Sovereigns, Gamora's sister, Nebula (Karen Gillan), is given to them.
Everything goes great with that part but Rocket can't keep his sticky fingers to himself. He ends up stealing the batteries on the way out the door. In turn, the Sovereign get ticked off and start hunting down the group.
We won't go into every single detail here but highlights include Peter Quill meeting his father – a dad who happens to be an all-powerful "Celestial". In other words, Peter's dad is deity.
FYI: "God" is played by Kurt Russell.
Long story short, God also happens to be an evil-doer named "Ego". There is a classic, good vs. evil battle that ensues as Ego tries to unite his powers with Peter's to destroy the universe.
We've already said too much because we don't want to spoil this film for you!
What we liked
The music and cinematography were excellent – truly. This movie could easily compete with the recent Star Wars film on this front.
To our eye, it was obvious Marvel spent every cent of the two hundred-million-dollar budget on costumes, makeup, CGI and set design.
There was one scene where Peter (Chris Pratt) took off his shirt and to be completely vapid and shallow, we both said, "Woof!". Additionally, Pratt's character ran around a lot with tight fitting clothes, which we must say he looked amazing in!
Beyond his physical appearance, there were other things we dug about this film.
It was cool seeing Kurt Russell play the role of a Celestial. Guess we just aged ourselves, huh? We also liked seeing quick parts by Sylvester Stallone and David Hasselhoff.
Groot was adorable as usual. Rocket was awesome too and in a unique way, he revealed a vulnerable part of himself in his relationship with Yondu (Michael Rooker).
Finally, the music used for the movie, true to form, was all from yesteryear with classics tuned from the 70's and 80's.
What we didn't like
Not many complaints here. There's one scene where Groot ends up killing someone who earlier bullied him. Meh, we could have done without that (he's too adorable to hurt anyone).
The intra-personal conflict between sisters Nebula and Gamora was OK but it went on a little too long. Plus, there was one scene where the two go at it and frankly, one of them should have been dead, given the level of violence.
But it's a sci-fi film with a larger message of human relationships and created family, right?
Final Thoughts
If you like action movies that are combined with humor and, sarcasm, you'll love "Guardians II".
Usually, sequels aren't nearly as good as the first movie but that's not the case here.
Given everything, we're going to award this film four out of five stars. It's worth checking out while at theaters. If you can't get to one or don't want to spend the money, it's absolutely worth steaming when it's digitally released.
Have you seen this movie? If so, what were your impressions?