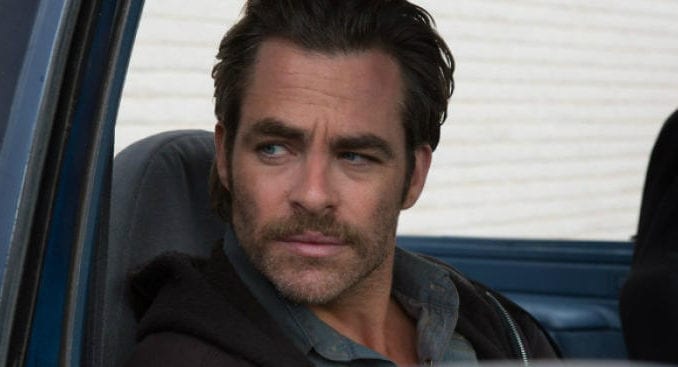 Hell or High Water was Amazing!
If you love Chris Pine like we do, you probably count down the days until one of his new movies hits the silver screen. That's why when Hell or High Water was released this weekend, we got our butts in line to scoop some tickets.
And we just want to say we weren't disappointed!
What follows is a quick review of Hell or High Water that includes our basic impressions. Like all movies that involve Mr. Pine, we want to be up front and state that we are biased. It's kind of hard not to be when you follow this actor's work like a bad habit!
As with all of our reviews, we'll do our best to provide you the basics without giving away the candy store.
Let's jump right in!
Main Cast and Characters
Chris Pine as Toby Howard
Ben Foster as Tanner Foster
Dale Dickey as Elsie
Jeff Bridges as Marcus Hamilton
Storyline
The essential plot involves two brothers named Toby and Tanner. Toby is a play by the rules, straight laced, divorced dad trying to make a better life for his son. Tanner, on the other hand, is an ex-con with a short temper and loose trigger.
As the story unfolds, the brothers join forces out of necessity to become the ultimate bank robbers. Time and again, they go after different branches of a bank that is foreclosing on their family's land. The robberies are part of a desperate effort to grab for a future where powerful forces have conspired to ruin their happiness.
Things seem to be going well until the brothers find themselves on the radar of a nasty, foul-mouthed Texas Ranger (Marcus Hamilton) who is looking for a last hoorah before retirement. As Toby and Tanner plan their final bank robbery, an epic showdown is in the making.
What we liked
First, we liked the western vibe of this film. Hell or High Water is set in Texas but was actually filmed in New Mexico. The directors and screenwriters did a fantastic job of making all of the scenes memorable. And the flick is a kind of commentary on our times without getting political. Although Richard Roper did mention in his review that the NRA could point to this flick as a reason people need guns (we disagree).
We particularly liked the dynamic between the brothers who seem to have been short-changed since the time of their birth.  In their struggle to right the universe, they metaphorically speak for everyone who has been shafted by the system.
And we loved the part of Ranger Marcus Hamilton! As revealed towards the end of the film, his crusty, wise-cracking demeanor is only a cover for a more vulnerable, human side.
Finally, we enjoyed watching a Chris Pine film that wasn't flashy – something many of the flicks he appears in seem to be. Not that it's his fault or anything. Hey, we'd be down to see this guy in a silent film where he watches paint dry!
Oh, if you are looking for a rugged Chris Pine in this film, you are going to see it. All we are going to say is that he channels a lot of a younger Brad Pitt in this movie. We totally dug the facial hair, mustache and cowboy look. It fits him.
What we didn't like
There wasn't a lot we didn't like about this film. It's fairly standard in length at 1 hr and 42 mins. If we had to gripe about something, it would be the slow burn that takes place leading up to the movie's climax.
In some ways, this was unavoidable because the story of the town and the brother's connection to it needed to be told for context. There were some slow scenes, but not many!
Our Recommendation
This one is a no brainer – you should go see it. We're not saying that just because we dig Chris Pine either. Seriously, this is a fantastic film that hits all of the right chords of drama, action and adventure.
If you are into movies where the little guy gets a chance to get revenge against the universe, Hell or High Water is a must see!
Rating: 3.5/4.0 Stars
h/t Entertainment Weekly. Photo: Facebook