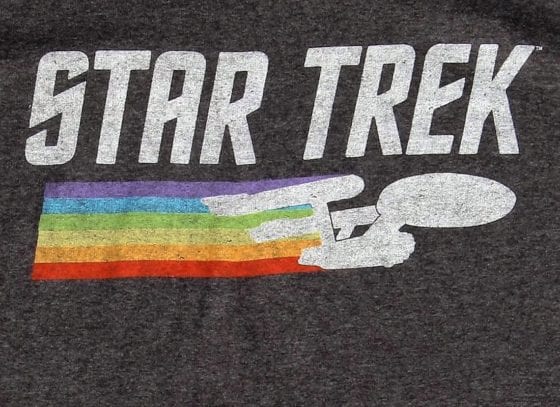 Star Trek is getting it's first gay character
By: John Hollywood
It was just a few weeks ago that we were talking about Star Trek going gay. Sure, our fantasy got a bit carried away when made our case for Captain Kirk (Chris Pine) getting a boyfriend.
But if truth be told – we'll take any form of gayness that might breakout on the deck of the Enterprise. That's why we were thrilled to hear there's finally going to get a gay character!
Related: Why Captain Kirk needs a gay boyfriend!
According to a story in the Herald Sun, it looks like Sulu is going to come out of the closet in the movie, Star Trek Beyond.
"Helmsman of the USS Enterprise, Hikaru Sulu, played by John Cho, is shown in Star Trek Beyond as the loving father of a daughter with a same sex partner. And in typical trailblazing Trek fashion — it's just not a big deal.

Cho visited Sydney to promote the third movie in the franchise successfully rebooted by JJ Abrams in 2009, along with cast mates Chris Pine (Captain Kirk), Zachary Quinto (Spock), Karl Urban (Dr McCoy) and director Justin Lin.

He said the decision by writer Simon Pegg and Lin to make Sulu gay was a nod to George Takei, who played the character in the original 1960s series, and was a sign of what he hoped were changing times."
Here is what John Cho said about how Star Trek is rolling out the gay:
"I liked the approach, which was not to make a big thing out it, which is where I hope we are going as a species, to not politicise one's personal orientation."
Star Trek has always been a cultural front runner since it first went on the air back in 1966. Example: They were the first TV show to have an interracial kiss.
But if you are a longtime follower (aka: Trekker or Trekkie), you've notice LGBTQ folks have been missing from the dynamic. For many fans, that always seemed odd because a large portion of the Star Trek fan base also happens to be gay.
Sure, they got somewhat close to it with an androgynous species during ST-TNG (Star Trek: The Next Generation) but they never really went gay.
That is until now …
Here at the blog, we are thrilled that Star Trek is finally going to have a same-sex relationship mentioned.
For those who don't know, the part of Sulu was played by George Takei during the original series. Not only is he an amazing actor, he's a completely out gay man and advocate for LGBTQ rights.
FYI: Word is he's not completely thrilled about this news per a report in THR.
In any event, be sure to visit his Facebook page.
Now will they finally give Captain Kirk a boyfriend? We'd be down with that too!
PS: If they go gay on the reboot of Lost in Space, that would be awesome!