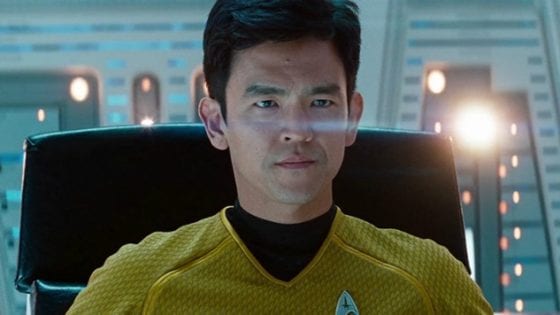 John Cho plays Sulu on Star Trek. But what else do you know about him?
Actor John Cho has been receiving lots of buzz lately. He's the guy who plays Sulu in the Star Trek movies. Much of the chit-chat going on relates to the fact that writers made his Sci-Fi character gay.
But beyond the sensational headlines, what else do you really know about him? What follows are 10 quick facts about John Cho that you might not know.
We've thrown in a few imagery from Twitter just for fun. Are you ready? Let's jump right in!
John Cho Bio File
Birthday: June 16, 1972, Soul, South Korea
Zodiac Sign: Gemini male
Eyes: Brown
Hair: Brown
Height: 5'10
You haven't seen everything @JohnTheCho can do. @e_alexjung talks with the actor: https://t.co/x3e7VsskW7 pic.twitter.com/EglmIZXwgP

— Vulture (@vulture) July 20, 2016
1. Grew up in Los Angeles
While Cho may have been born in South Korea, he grew up in the United States. He officially immigrated in 1978. After living in a number of different cities, his family settled into the Los Angeles area.
2. He taught high school
John holds a BA in English from University of California, Berkeley; earned in 1996. He used that degree for a short period of time to teach high school students at Pacific Hills School in West Hollywood. This came in handy as a primary job while he searched for acting gigs.
3. He appeared in "American Pie"
You may remember John Cho from his breakout movie, American Pie. His character helped to make popular the now common term, MILF. If you aren't sure what a MILF is, here's a definition.
4. He's refused to do stereotypical Asian accents
When John was auditioning for the role of director Dusty Wonger in the 2002 comedy flick, Big Fat Liar, he was asked to use a thick Asian accent.
To his credit, he refused to do this because he didn't want kids seeing a film that might be viewed as making fun of Asians. He explained it in a Reddit interview.
5. John Cho is straight
While John Cho's character on Star Trek may be gay, he identifies as straight. He is married to actress Kerri Higuchi (since 2006). The couple have two children together: a son, born in 2008, and a daughter, born in 2013.
As part of the promo for the movie, Star Trek Beyond, Cho and actor Chris Pine staged a "gay kiss" on the streets of London. Sadly, it was just a faux pose and not the real thing (oh, how we wished!)
We're gonna take the beginning of this song and do it easy. Then we're gonna do the finish rough. pic.twitter.com/t1U4dX2Mz2

— John Cho (@JohnTheCho) July 19, 2016
6. He'd like to play Batman
John Cho apparently loves superhero movies. He's on record as saying that he'd like a shot at getting the part of Batman. "After Ben [Affleck] retires, I call next."
Cho probably make a pretty good one, don't you think?
7. He's Korean is "So So"
Cho has been asked if he speaks Korean in several public interviews. He is quoted with this response: "I can only speak basic Korean." Then he added, "But I'm told my accent is decent."
8. He's worth an estimated 16 million!
According to the website Celebrity network, John Cho is worth something like 16 million dollars. Though primarily known for the Harold & Kumar trilogy, his most profitable films have been J.J. Abrams' Star Trek movies.
That makes sense when you consider the Star Trek franchise is one of the most profitable on the planet.
9. He's apparently friends with George Takei
When Cho was first cast as the new Sulu in the Star Trek franchise, he met with the original Sulu, George Takei.
Public reporting shows the two are still friends and email one another.
Related: 10 things about Star Trek you might not know
10. He admits to having a shoe problem
Everyone has a vice and apparently, it's shoes for John Cho. As reported in August 1, 2016 edition of the Globe, Cho is attributed with saying the following: "The thing that I own the most is shoes. I have a problem."