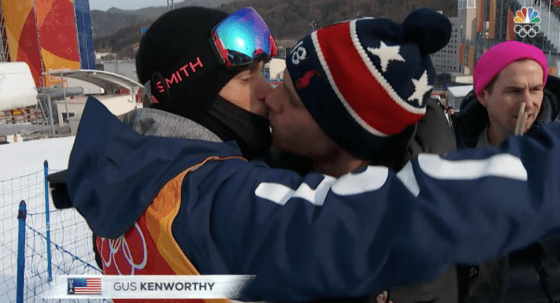 Kenworthy Kissed His Boyfriend Live
We're writing about Gus Kenworthy again, and this time its for a pretty amazing reason.
Some people are starting to get a little sick of reading about Gus Kenworthy every other day or so (as I've personally been told). But with us being in the middle of the 2018 Winter Olympics in Pyeongchang, South Korea, and Kenworthy being one of the four only openly gay male athletes participating, we're sure to find more stories about him to share.
And this latest story that we're sharing is not only great but historic.
Kenworthy finally got to participate at the Olympics after about a week of waiting and training. Then, as he prepared for his slopestyle skiing run, Gus Kenworthy kissed his boyfriend, Matt Wilkas, for a bit of love and luck. Unbeknownst to him, Kenworthy was being filmed by NBC in a broadcast that went across the United States of America.
"That's something that I wanted at the last Olympics – to share a kiss with my boyfriend at the bottom – and it was something that I was too scared to do for myself," said Kenworthy, "And so to be able to do that, to give him a kiss, to have that affection broadcasted for the world is incredible.

"I think that's the only way to really change perceptions, break down homophobia, break down barriers is through representation. And that's definitely not something I had as a kid. I definitely didn't see a gay athlete at the Olympics kissing their boyfriend. And I think if I had, it would've made it a lot easier for me."
My Seoul mate! So happy to have my bf, my family and some amazing friends here in Korea to cheer me on! Tomorrow's the big day (tonight for y'all in the US) and win or lose I just wanna thank you all SO much for your support and encouragement. I wouldn't be here without you. pic.twitter.com/XwqWKldwbN

— Black Lives Matter (@guskenworthy) February 17, 2018
Meanwhile, his boyfriend Matt Wilkas agreed that the soft peck was sweet yet powerful.
"I think it's positive. I think it's great," Wilkas said. "I think exposure to that is a great thing for our community. But also part of me thinks, well, big deal. It's the tiniest kiss in the world. I could've made out with him if I had I known."
That said, Gus Kenworthy's three runs didn't go well and placed him in twelfth with no medal in sight.
But hey, Kenworthy's already received a silver from his time at Sochi, and he's certainly made history in Pyeongchang. That's a lot to be thankful for.