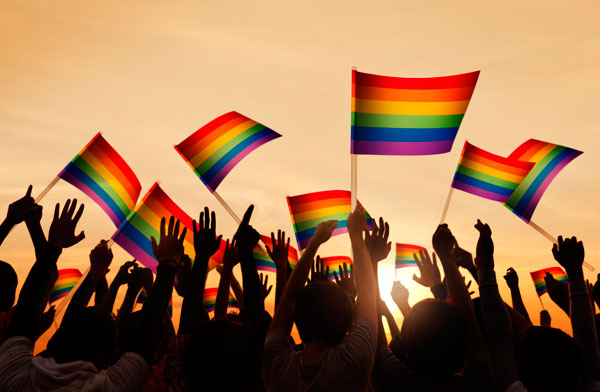 Freaking out? Here's what you can do
Are you worried that we are super close to having important LGBTQ rights taken away – like marriage equality? Concerned that a woman's right to choose is about to be nixed? Freaking out that voting rights may be obliterated, particularly for people of color?
Well, guess what – you should be worried – all of us should be. The fact of the matter is now that Justice Kennedy is stepping down from the Supreme Court, Trump and his ultra-right-wing followers have a chance to vastly reshape SCOTUS in ways that will be extremely harmful to civil rights.
YOUR RIGHTS.  
But here's the thing – we don't have time for handwringing. We also don't have time to play the game of "I told you so" or "I wish we would have …" with others.
Here's why …
We have just a few months before the mid-term elections on November 6, 2018. Between now and that date, there is A LOT you can do to help preserve the many important rights progressives have worked towards.
Below, we have outlined 7 concrete activities that may help tip the balance and stop Donald Trump, Mitch McConnel, Anthony Perkins and others from carrying out their dream of permanently taking away your rights.
1. Register to Vote or Register Others
Now is the time to register to vote if you have not already done so.
Already registered? Double check to make sure you are still on the voter rolls in your area and have not been purged.
Finally, make sure everyone you know is registered. Get as many people as you can over to the site I WILL VOTE to get them registered.
2. Give to a Progressive Super Pac
There are many different "SUPER PACs" that you can give to which badly need your financial support. PACs provide needed monetary assistance to different causes and candidates by bundling donor money.
There are too many to list in this one post but a few to consider include Priorities USA,  LPAC, and the DSCC.
3. Give to a Democratic Senator in a Red State
Many people who live in blue states aren't sure how they can help. If this applies to you, listen up.
Give money to progressives in red states. Example: right now, Senator Bill Nelson BADLY needs money in the state of Florida.
He is up against hard right winger, Rick Scott. Without a Florida win in the midterm elections, progressives may be seriously screwed.
Visit this link to give a few bucks
4. Call Up Senators Murkowski and Collins
There are two Republican Senators who have traditionally been friendly to a Woman's Right to Choose and other civil rights issues.
Specifically, we are talking about Lisa Murkowski of Alaska and Susan Collins of Maine.
Give BOTH of these senators a call and let them know you do not want them voting for any Trump nominee from the list of SCOTUS choices as supplied by the Federalist Society.
Murkowski's number is (907) 271-3735. Collins is (207) 622-8414.
5. Educate Yourself on the Courts
Conservatives have always had their eye on the Supreme Court. For many wingers, "The Court" is even more important than the presidency.
The problem is progressives haven't been the best at emphasizing this like the right has. As a result, they've managed to stack the court with their people.
Did you know that progressives ALSO have an education and action group that is similar to the right's Federalist Society? Yep, it's true! Visit the American Constitution Society.
If you can, make a donation.
6. Give to LGBTQ Civil Rights Groups
There are several prominent LGBTQ civil rights groups that you can give money to. They seriously need your help with financing legal battles, messaging progressive causes, and making sure Americans know what is at stake for this year's midterms.
Head on over to LAMBDA Legal for starters. Read a few of their press releases and hit that donation button.
You can also make a quick stop over to the Human Rights Campaign. Go through their site and click on their donation area as well.
FYI: There are other groups that look out for LGBTQ folks, women, and persons of color. A big one is the ACLU.
GPB encourages you to follow all of them on social media as well. Make sure you get their updates on your newsfeed.
7. Fight Every Day for Your Rights
The final thing you can do is stay focused on the future. It's easy to get discouraged and depressed. That's what they want! Don't fall for it.
Instead, do something every day – even if it is just one thing – to help progressives this fall.
Examples include helping spread the word on a candidate, encouraging others to give, volunteering your time or making phone calls.
One way to do this is to "Like" or "Follow" LGBTQ communities on Facebook. We like Gay and Fabulous for example. The important thing is to not stay idle. Reach out, communicate and organize.
Finally, vote this fall and drag every person who cares about civil rights to the polls with you.
Wrap Up
Obviously, these are difficult times. But we have to stick together and push hard to preserve all that we have worked so hard to achieve.
Folks, there's precious little time to engage in "The Sky is Falling" stuff.
NOW is the time to act. What are you doing to create change?