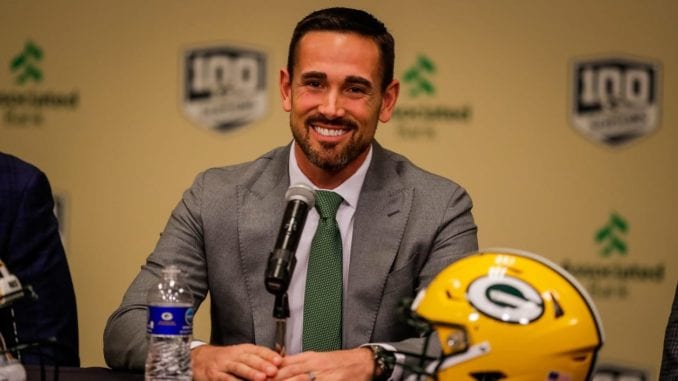 Matt LaFleur – A Closer Look
If you are an NFL fan, you've no doubt seen the head coach of the Green Bay Packers, Matt LaFleur. He's the guy on the sidelines who has a striking resemblance to megawatt celebrity, Ryan Reynolds.
But aside from his handsome good looks, what do you really know about him? Many people want to know his background, like if he's married, where he's from and his ties to professional sports.
Given interest in LaFleur, I thought I'd write a quick piece that offers answers. As a person who hails from Green Bay, I can tell you that anything having to do with the Packers is of keen interest to fans.
That said, even if you aren't a Packers fan, it's still good to know about a team's leadership.
What follows are five quick facts of Matt LaFleur you might not know. Check it out:
POP FILE: MATT LAFLEUR
DOB: November 14, 1979, Mount Pleasant, MI.
Height: 6 FT
Eye Color: Brown
Ethnicity: French Belgium Mix
Zodiac Sign: Scorpion Male
Shoe Size: 11.5 wide
College: Saginaw Valley State
https://www.instagram.com/p/B0rjaFHhInS/?hl=en
1. Football goes way back
Matt has been involved with football since his time in college. He played wide receiver for Western Michigan University in Kalamazoo in 1998 and 1999. He was quarterback for Saginaw Valley State from 2000 to 2002.
2. Coaching is his thing
Matt's coaching career is extensive, starting with his Alma mater, Saginaw Valley State, followed by several other colleges. As time went on, he coached for several professional teams, including the Washington Redskins, Atlanta Falcons and Tennessee Titans.
3. Married with kids
A lot of people want to know if Matt is married and if he has children. The answer to both questions is yes. He is married to Breanne LaFleur and the duo have two children, Luke and Ty.
3. It's in his blood
Coaching is in Matt's blood – for real. Both of his parents were coaches. His mom and dad both taught physical education (and coached) at Mount Pleasant High School in Michigan
And did you know Matt's brother is a coach? Yep, it's true. Mike LaFleur is a passing game coordinator with the 49ers.
Oh, and his grandpa was a coach too back in the 60s and 70s at Loy Norrix High School in Kalamazoo, Michigan.
4. His positive attitude comes from his mom
According to public reporting, Matt has a very positive attitude and it comes from his mom. "I've learned so much from my mom, watching her with her teams and how positive she was with those kids, and just how powerful that is," Matt shared with the  Tennessean. "If people know you believe in them, it raises their play and their confidence in what they can do."
5. Multi-million salary
While the exact number is not known, his contract with the Packers is for four years. His estimated pay between five million and five and a half million.
We're not making this up. The information comes to us from the Milwaukee Sentinel Journal.