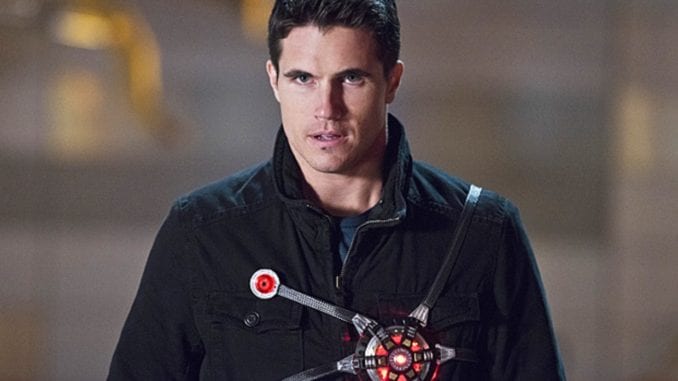 Can Robbie Amell Throw A Ball?
Robbie Amell wasn't taking Twitter criticism sitting down.
Back in 2015, The Flash star starred in the film The DUFF alongside Mae Whitman. The high school dramedy followed a girl investigating and revolutionizing the social structure in her school after being labeled "The DUFF" (Designated Ugly Fat Friend). Of course, the teen flick had to include a romance angle between Whitman's character and Amell's quarterback role.
And if you're wondering why we're bringing up this 2015 that went under the radar for most of mainstream audiences, it's because one Twitter user decided to critique a certain scene from the film. Or rather, a single throw within that single scene.
Twitter & The Throw
Marcus Mosher is a sports reporter who runs the Locked on Cowboys podcast, works as an editor for The Raiders Wire podcast, and contributes to several publications. But its an instance of Mosher being a film critic that went viral. Yes, Mosher posted yesterday his thoughts on a throw Amell made in The DUFF.
"Check out this 'star QB' throwing motion. Why do actors struggle to throw a football like a regular humans? [sic]"
Check out this "star QB" throwing motion. Why do actors struggle to throw a football like a regular humans? pic.twitter.com/eHhUhpVfav

— Marcus Mosher (@Marcus_Mosher) August 5, 2019
As much as Amell was serious about critiquing the throw, the comment was made mostly in jest. But the tweet then took off, as random posts on Twitter do. The original post now has more than 40 thousand likes, 5.5 thousand retweets, and 1.4 thousand responses. Many of those responses also joke at Amell's expense.
Director's notes: Please throw a football as if it's gross and you prefer not to touch it.

— Brett Kelman (@BrettKelman) August 5, 2019
— Jake Jackman (@Jjackman9) August 5, 2019
https://twitter.com/FearRobDeer/status/1158487478862585856
It's like his shoulder blades are tied together

— Burgers and Blitzes (@NotToBeTrite) August 5, 2019
he throws like i floss

— natecraig (@hypeman) August 5, 2019
That said, there are some who came forward to support the actor and his throw.
I actually know the answer to this. They have a PA standing right off camera to catch the ball. (he or she nervous about this) The sound guy is complaining that he's hearing the ball being caught: too loud. Also the actor is worried about hurting the PA, and this is what you get

— JoelHeyman (@JoelHeyman) August 6, 2019
There's likely thousands of dollars of equipment right in front of him and he was probably directed to keep his eyeline close to the lens. It's a cheat that ultimately did not work. pic.twitter.com/9LV6kVWRve

— Josh Braaten (@JoshBraaten) August 5, 2019
Amell Throws Back
But possibly the best response to the original post by Marcus Mosher is one from Robbie Amell himself.
Feeling a bit peeved and intimidated by the viral tweet about him, Amell decided to throw back his own response. But instead of just mincing words, Amell decided to record himself giving the throw another try (in the middle of his date night!).
"Apologies to my very pregnant wife @italiaricci for having to video this but she's in no condition to catch. It's not perfect but at least it's better than the movie. Off to salvage date night."
https://twitter.com/RobbieAmell/status/1158584656620449803?ref_src=twsrc%5Etfw%7Ctwcamp%5Etweetembed%7Ctwterm%5E1158584656620449803&ref_url=https%3A%2F%2Fwww.menshealth.com%2Fentertainment%2Fa28621377%2Frobbie-amell-the-duff-quarterback-throw-football%2F
Amell's tweeted received its own fair share of response (though, not as much as Mosher's original post).
Still terrible form

— Trevin (@tmilner96) August 6, 2019
Worth it.

— Marcus Mosher (@Marcus_Mosher) August 6, 2019
Seriously there's no news about sports that you guys are talking about a movie that is 4 years old and let's remember Robbie doesn't play for the NFL so what's the big news here.

— Wendy Araujo (@WendyEAraujo) August 6, 2019
Not a conventional throwing motion but it gets the job done

— Davis Mattek (@DavisMattek) August 6, 2019
So, do you think Amell redeemed himself with the throw? Do you think he shouldn't have even bothered? Or, do you just want to move on to the next Twitter moment?