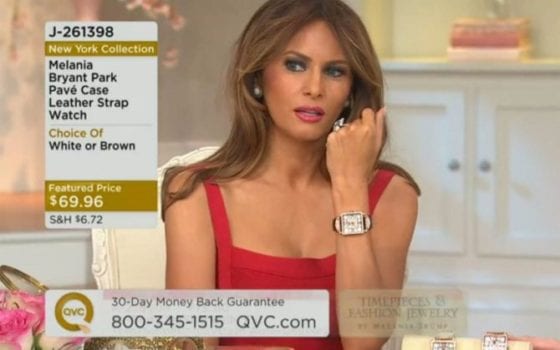 Within an hour or so after Donald J. Trump took the presidential oath, the White House began purging its official website of various pages.
Almost instantly, the LGBT Rights page was erased, followed by the HIV/Policy, Civil Rights and Healthcare pages.
Related: LGBT rights page appears to be erased
One page that went live at pretty much 12:01 pm was Melania Trump's official White House biography.
It's a complete slap in the face to millions of Americans who care about these issues and may suggest unpleasant things to come in the future.
While it is possible that Mr. Trump's team may bring the scrubbed pages back (in some form) down the road, for now, the priority seems to be making sure everyone knows all about Mrs. Trump's OVC jewelry line.
What's interesting about the new First Lady's bio is the how the page mentions that she is: "Only the second First Lady born outside of the United States. The first since Louisa Adams, wife to John Quincy Adams, the nation's sixth president."
What's missing is the part about Mrs. Trump also working illegally in the United States while she was an immigrant, as reported in the Washington Post.
Other "important" information appears on the page as well, including a brag list of accomplishments as a model:
"As a model, Melania has appeared in high profile ad campaigns and worked with some of the top photographers in the fashion industry, including Patrick Demarchelier, Helmut Newton, Arthur Elgort, Ellen Von Unwerth, Peter Arnell, Antoine Verglas and Mario Testino."
And there are the magazines she has graced the cover of:
"She has graced the covers of Vogue, Harper's Bazaar, British GQ, Ocean Drive, Avenue, In Style, and New York Magazine. Her major layouts include the Sports Illustrated Swimsuit Issue, Allure, Vogue, Self, Glamour, Vanity Fair, and Elle. In addition, Melania has appeared in numerous television commercials and television programs, including co-hosting The View with Barbara Walters."
Apparently, this type of information is far more crucial to the health and wellbeing of a nation's people than civil rights, health care or issues impacting vulnerable communities.
How very sad.
Update 11 pm: The W.H. has updated the First Lady's bio and scrubbed the QVC plug. Washington Post has reporting on this.
LGBT Rights page still … gone.
h/t: Queerty
—