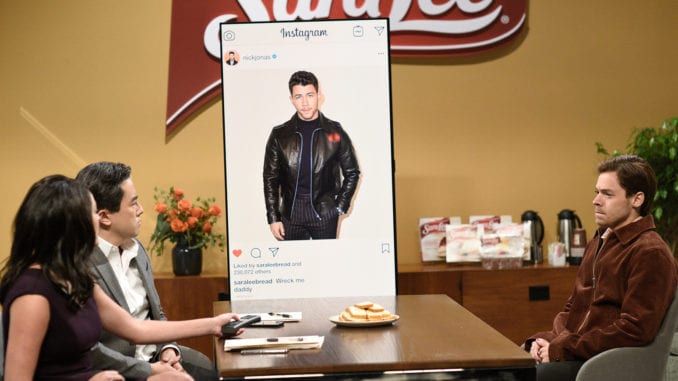 Harry Styles And SNL
Harry Styles has become an idol to the gay/bisexual communities and the ire of the Sara Lee company.
This past weekend, Harry Styles hosted Saturday Night Live. And like with many hosts before him, the singer decided to appear in a few sketches. The most popular sketch of the night involved Harry Styles being a thirsty queer social media manager.
In the sketch, which was written by gay cast member Bowen Yang and gay show writer Julio Torres, Harry Styles plays the social media manager for baked goods company Sara Lee. The problem is, he keeps posting social media posts that are "off-brand." Namely, calling Nick Jonas "daddy" and all kinds of thirsty gay hilarity.
You can watch the video down below.
Sara Lee's Nightmare
As funny (and shocking) as that video may be, it's the aftermath of the video that really got our attention. Unfortunately, for Sara Lee, the news didn't end there.
After the SNL skit made the air, social media users touched down on Sara Lee's Instagram and Twitter accounts. They then swarmed the social media pages with comments mocking the brand and mimicking Styles' comments from the skit. Skimming through comments, you could see several eggplant emojis, lines like "rail me" or "wreck me daddy," and more.
While you would think that Sara Lee would enjoy the new boost to engagement, and surely an increase in sales, the company eventually had enough of it. In the end, the bread and bakery company turned off comments to its Instagram account.
In response to the social media shut down, Bowen Yang tweeted out, "Sara Lee disabling and deleting IG comments wow they really could have been THE bread for f**s."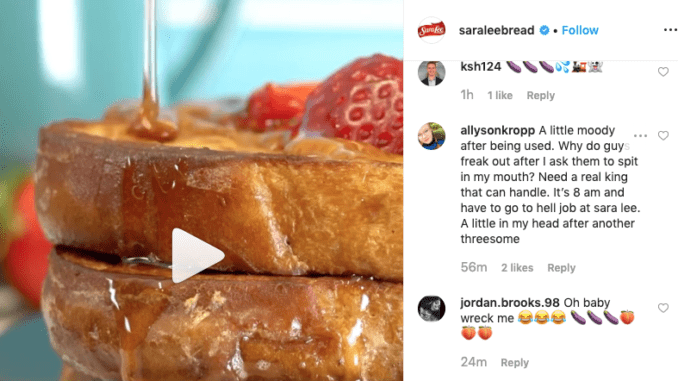 Harry Styles Is A Queer Icon?
But what does Harry Styles think about the entire situation? This is yet another LGBTQ-related situation surrounding the singer.
Questions about the singer's sexuality have followed him for a decade since the original rumors of his relationship with fellow One Direction member Louis Tomlinson. The singer then pushed the situation by creating music hinting towards his interest in both men and women. In his song "Medicine," the singer sang about "messing around" with "boys and girls."
Then he released the single "Lights Up" on National Coming Out Day. The latter song talks of stepping into the light, knowing who you are, and embracing the here and now. The adjoining music video even shows Styles shirtless and rubbing up against a crowd of men and women.
That said, Styles insists on not labeling himself. As he told the Rolling Stone, he'd rather live his truth while being seen as an ally.
"I want to make people feel comfortable being whatever they want to be," he said. "Maybe at a show you can have a moment of knowing that you're not alone.

"I can't claim that I know what it's like, because I don't. So I'm not trying to say, 'I understand what it's like.' I'm just trying to make people feel included and seen."

"It's not about me trying to champion the cause because I'm not the person to do that. It's just about not ignoring it, I guess.

"Everyone in that room is on the same page and everyone knows what I stand for. I'm not saying I understand how it feels. I'm just trying to say, 'I see you.'"
So, it appears that Harry Styles is becoming more comfortable being open about the LGBTQ factors of his life while still not having to define or label them. And that's fair in his own personal pursuit of happiness. After all, we still get to see music videos like "Lights Up" and sketches like SNL's "Sara Lee," so we're fine with it.