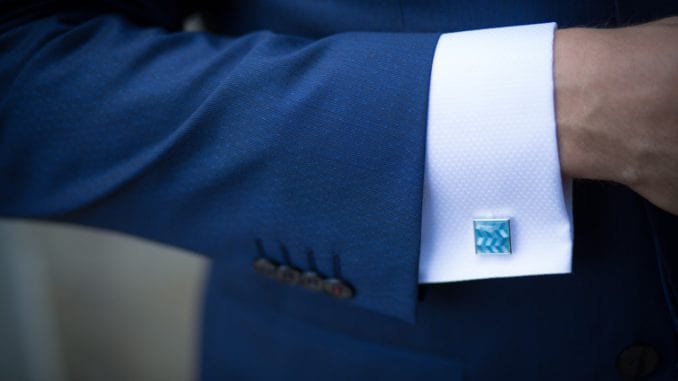 How To Buy a Men's Suit Made Simple
Buying your first suit can be intimidating. Put it right up there with buying your first car or an engagement ring. There are so many variables at play and men typically aren't accustomed to applying a certain level of nuance when purchasing their clothes.
A good suit is an instrument of confidence and persuasion. Somehow, wearing a well-fitted suit persuades you to exemplify the best qualities of style and sophistication.
It also persuades others to view you as a man of distinction. The right suit can help you secure a romantic partner, the next business deal or land you a decent job.
Eventually, you should aspire to own a collection of fine suits, but a bad experience at the onset can put you off from wearing suits all together.
That's why we put together this style guide to take some of the guesswork out of buying your first suit.
Are you ready? It's time to get dapper.
The Occasion
The first thing to consider when looking for a new suit is the occasion on which you'll be wearing it. That's the most important detail. Are you going to a wedding, a job interview, a nightclub, or a power lunch? What time of year is it? Will it be hot or cold?
The type of suit you'd normally wear to a summer wedding is quite different from the suit you'd want to wear in an office setting. You don't want to choose bright colors for a business suit.
Related: How to pick great house shoes
You also wouldn't want to wear a tuxedo to a birthday party at a nightclub (unless it's uber-formal). A suit conveys a message. The type of suit you're wearing sets the stage for your presentation.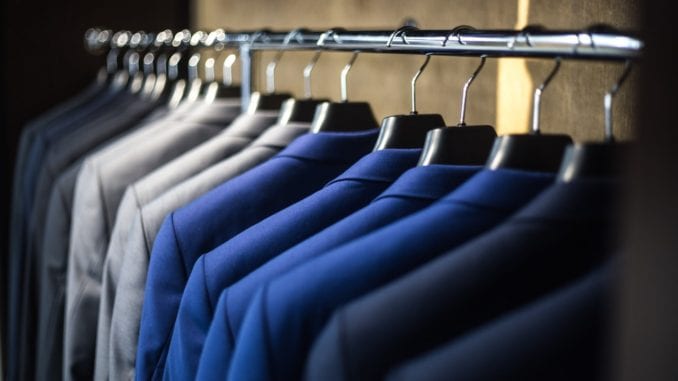 Buy Off the Rack or Go Custom?
Ready Made Suits – already fully-constructed and designed to fit a wide variety of body types. They're mass-produced. So, you need to take care when selecting one. It's all about the fit. Never buy a suit that feels small. You can always take a large suit to a tailor and get it trimmed down, but a tailor can't magically create more fabric to make a small suit fit you properly.
Try it on. Button the coat and cross your arms. If the coat feels tight in the shoulders, then keep looking. The crease of the shoulders should cut right down the middle of where your shoulder meets your arm.
The sleeve should fall to your wrist bone. Some people like a sleeve that falls slightly above the wrist bone so that their shirt and cufflinks are clearly visible. That's a matter of preference.
Try on the trousers. Some leeway can be given when considering the trousers because it's quite common to get some alterations done.
If you don't plan on having any alterations, then you should make sure that the trousers are ready for everything you'll be doing in them. Squat down. Do a dance. Cross your legs. Make sure that the trousers have a flowing effect that isn't too tight in the crotch or back.
Bespoke Suits
Getting a tailored suit made from scratch is a rite of passage. It can take up to a year to complete and require you to make four or five visits for a proper fitting.
There's no substitute for how you'll feel though. During the process, you'll get to know your tailor and glean little tidbits of gentlemanly wisdom. Most importantly, you'll get to collaborate on the best fabrics, textures, styles and colors to suit your body.
This is the most-costly option, but you must consider that a tailored suit is a handcrafted work of wearable art. The suit will last ten, maybe even twenty years or more.
At the end of the process, you'll have a one-of-a kind garment that will inspire you to find suitable occasions to show it off.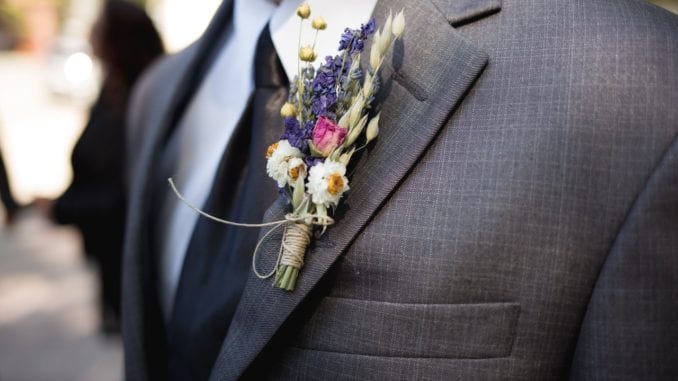 Materials Matter
For hotter climates, you'll want to look for materials that keep you cool, such as light wool, linen or cotton. If you need to keep warm, you'll want to go for something in cashmere, heavier wool, or even flannel. In general, wool is the best fabric choice because it's so versatile. Cotton tends to crease and wrinkle easily. So, opt for a cotton suit only if all other variables are in your favor.
You've probably seen those fabric flipbooks and thought – I can't make heads or tails of that thing. Here's what you need to know. Fabric, weight and texture correspond to how a suit will drape on your body and heavily influence the overall cost of your suit.
You should go right to the 10-ounce cloths, the medium weight section of the flipbook. Anything lighter will tend to look flimsy and cheap. The heavier cloths will tend to bulk and look over-sized for your body.
The pattern and color will affect whether or not the suit matches your skin tone and features. Generally, you should avoid shiny palettes and textures that look overly-busy. Just think about Daniel Craig or Idris Elba. You've never seen them wearing a shiny suit, have you?
Subtly will serve you better in nearly every occasion. Heavyset gentlemen might find a pinstripe to be form-flattering and attractive, but you should avoid flat black.
You'll look like you are part of the security detail, and not the guest of honor. Men of average build and slim gentlemen can get away with wearing just about anything they want, but you should avoid lightweight fabrics.
Again, these fabrics will tend to over-accentuate your slimness and make you look puny.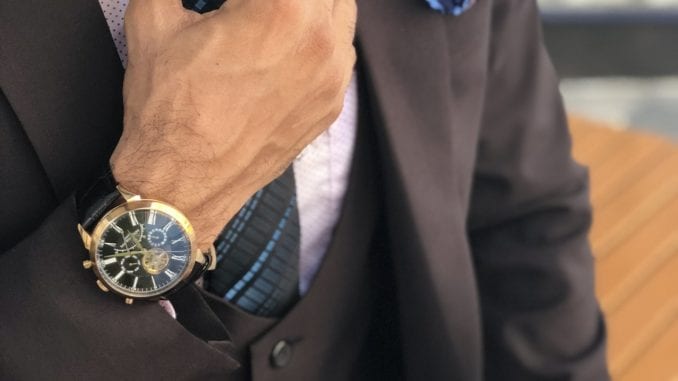 Suit Styles
You can think of suits in three different style categories.
There's the British heavily-structured suit. This is the type of suit you typically see for formal occasions like weddings and sadly, funerals. English tailors took the British military uniform as their inspiration and created a style that is athletic, masculine and angular.
Then, there's the French or Neapolitan suits. These suits are popular right now because they're made of light materials that are ideal for spring and summer.
If you're looking for a casual suit, then go with the Neapolitan style. There's little to no padding. Other characteristics are patch pockets, soft sleeves, and a high collar on the jacket.
Related: Why Rolex watches are popular
The other style is Italian. These suits are form-fitting, V-shaped jackets, and they tend to favor the slender man. Italian suits have padded shoulders but little padding elsewhere.
You must be careful when buying an Italian suit because you run the risk of looking garish if you don't buy the right size, texture and color.
The Takeaway
When buying your first suit, pay attention to the details. The occasion and the conditions will rank high on your list of qualifications for a good suit.
You should also look at your budget when considering whether to choose a suit off the rack or have one tailormade. Suits off the rack come a dime a dozen, but there's no substitute for an exclusively-tailored garment.
Starting with a tailored suit with put you on the right track straight away, but you'll be making a serious investment into your style quotient.
A tailor will also help to guide you through the process, but most people rush to buy a suit specifically for an upcoming event, such as a wedding or an impromptu business meeting.
When you're buying a suit in a hurry, take special care to test it out thoroughly. Go with something subtle that fits like a charm.