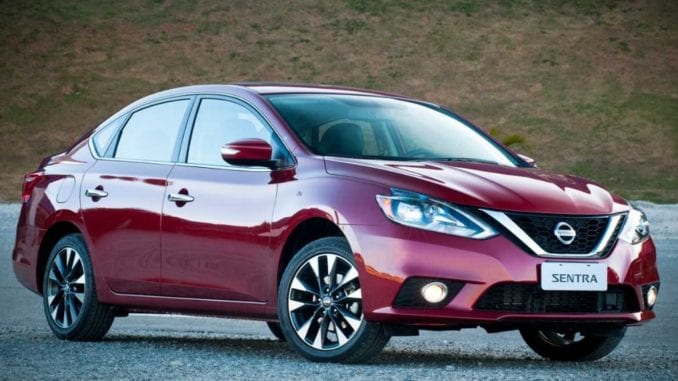 Introduction to the Nissan Sentra
The 2019 Nissan Sentra is a four-door, compact sedan that's surprisingly affordable and capable on the road. The Sentra has come a long way since its first introduction back in 1982. The new Sentra has competitive fuel economy and safety features.
It also has some impressive style elements that have since been copied by other automakers in the category. Far from a GT-R, the Nissan Sentra lacks the performance chops of its big brother, but still delivers a spirited drive. With an entry point of just $17,700 MSRP, it's hard to overlook the 2019 Nissan Sentra.
Available Models
The 2019 Sentra is available in a variety of model trims – six in all. The S base model comes with a rearview camera, 7-inch touchscreen display, and Bluetooth streaming audio capabilities. The SV model upgrades the exterior with 16-inch aluminum alloy wheels, a keyless entry and push button start system, as well as some improvements to the interior materials.
The Sentra SR gets 17-inch wheels, a subtle rear spoiler, cruise control and LED headlights. The SR Turbo upgrades the previous trim with a turbo-charged engine, CVT transmission, and a power-sliding moonroof.
The SL model trim finally upgrades the vehicle to leather seating, a BOSE premium sound system, and fog lights. Finally, there's the Sentra NISMO. It has sport-tuned suspension, steering and a stylish NISMO body kit with 18-inch wheels.
Performance Capabilities
The base model Sentra comes with a 1.8 Liter, four-cylinder engine and front-wheel drive. It's the same setup for the SV, SR, and SL models. When paired with a 6-speed manual transmission, the base powertrain is capable of 130 horsepower and 128 lb. ft. of torque.
The available CVT automatic transmission is slightly less feisty with 124 horsepower and 125 lb. ft. of torque.
If you want to improve these paltry performance numbers, then you need to skip right to the SR Turbo and NISMO models. These models have a 1.6 Liter, direct injection, turbo four that achieves 188 horsepower and 177 lb. ft. of torque.  Unfortunately, the SR Turbo is only available with the CVT automatic transmission with manual shifting mode.
It does have sport tuned suspension, steering and larger brakes. The NISMO echoes many of the same features of the SR Turbo, but you can choose between a 6-speed manual or that lackluster CVT.
Overall, the performance capabilities of the Nissan Sentra are a bit tame, even on the turbo setup. If someone is impressed by your NISMO badges, just try to avoid further discussion about your 2019 Sentra's speed and horsepower.
Exterior Style
The 2019 Nissan Sentra has a small footprint. It measures just 69.3 inches wide, 182.1 inches long, and has a curb weight of just 2866 lbs. What the Sentra manages to accomplish with that small frame is quite impressive. It has the signature V-motion front grille and hood of all its stablemates. The profile is attractive without relying on any garish cuts or lines.
The rear is subdued, but doesn't manage to break away from its competitors in the style department. When you upgrade the 2019 Sentra above the base model, you can select larger aluminium-alloy wheels, LED lights, and fog lights.
The NISMO model has some of the best signature style cues for the Sentra's exterior. It has a custom rear spoiler, slimmed-down front and rear fascia as well as side sills that are a bit more dramatic. Bright red accents, chrome finishes and NISMO matches add the finishing touches.
Interior Amenities
The interior cabin of the 2019 Nissan Sentra is ample for a compact sedan. The rear bench would rival some mid-sized vehicles in terms of comfort. The Sentra has 95.9 cubic feet of interior passenger volume and 37.4 inches of leg room in the back.
By comparison, the Ford Fusion only has 33.2 inches of rear legroom and 90 cubic feet of total passenger volume. The 2019 Nissan Sentra has rear seats that fold flat or can be split 60/40. When you have that level of access to the trunk, you get to enjoy 15.1 cubic feet of cargo space.
The 2019 Sentra base model does have one of the most under-whelming interiors of the category with cheap materials and economy cloth seats. There's just a lack of refinement there that can't be overlooked.
Luckily, the Sentra has available leather-appointed seats, a panoramic moonroof, lots of small stow-and-go storage options, and heated front seats on higher trim styles. The NISMO model delights with leather-wrapped steering wheel and matching shifting knob, faux carbon fibre inlays, suede seating with red accents stitching, and NISMO badges throughout.
Safety Features
The 2019 Nissan Sentra comes with a full complement of advanced airbags and emergency braking is standard on all styles except for the Sentra S trim. The vehicle's frame is also well protected with side guard rails, crumple zones and an energy-absorbing steering column.
Advanced safety features is a drawback for the Sentra. You can equip the 2019 Sentra with rear cross traffic alerts and blind spot warnings, but that's nearly the limit.
Only the highest-priced vehicles can be outfitted with lane departure warnings and adaptive cruise control. There are also no parking sensors to enhance the rearview camera. For 2019, that's rather disappointing.
Final Verdict
As the saying goes – you get what you pay for. Well, luckily, with the 2019 Nissan Sentra, you get quite a lot of features and amenities for the price you pay. Even the SR Turbo is modestly priced at an MSRP of $22,570.
With that small upgrade, you get a turbo-charged engine, advanced safety features and some premium amenities like 17-inch wheels and heated front seats. The 2019 Sentra has a combined MPG of 30, making it one of the more fuel-efficient vehicles in this price category. It has good safety ratings, but not a lot of advanced safety features.
So, if you want functionality, style, and comfort at a price that's easy on the eyes – take a closer look at the 2019 Nissan Sentra.
Do you own a Nissan Sentra? If so, what has been your experience? Do you like this vehicle?