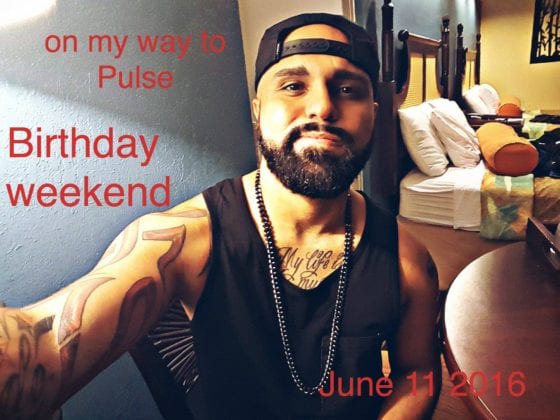 Pulse Survivor Luis Javier Ruiz Speaks Out
Luis Javier Ruiz was one of the survivors of the tragic shooting at the Pulse nightclub in Orlando, Florida two years ago. Many people were injured in the incident and 40 people were killed. Ruiz is grateful that he wasn't one of them.
"I should of been of number 50 [sic]," he wrote in a Facebook post on April 27 (found below).
Not only is Ruiz greatful to still be alive, but he also says he's happy that moment started his journey towards changing his sexuality. Now, Ruiz says that he's no longer gay, and he has his Christianity to thank for that.
"Going through old pictures of the night of Pulse a memory were my struggles of perversion, heavy drinking to drown out everything and having promiscuous sex that led to HIV my struggles were real [sic]," he added.

"The enemy had its grip and now God has taken me from that moment and has given me Christ Jesus I've grown to know his love in a deeper level."
Ruiz also shared more on his love of the Christian faith and how he'll be committed to it from now on.
"I have the chance to live in relationship and not religion not just loving christ but being in love with christ and sharing his love I know who I am and I am not defined with who the enemy says I use to be but who christ Jesus says I am [sic]."
While some people commented on Luis Javier Ruiz's Facebook post with praise of his change in sexuality, others stated that he need not change for anyone and that conversion therapy was bad.
That said, Ruiz insisted that no one forced him to go through treatment and that this was all his idea.
In addition, Ruiz shared hashtags promoting the Freedom March on May 5. At this event, supporters of conservative and Christians values will march in Washington, D.C. to raise attention to conservative values and people who have changed their sexual-orientation to straight.
As the organizations website says: "The mission of Voice of the Voiceless is to defend the rights of former homosexuals, individuals with unwanted same-sex attraction, and their families."
Keep in mind that current science says that there is no evidence to prove that changing one's sexual orientation actually works. In fact, a 2009 review of 83 studies focused on conversion therapy by the American Psychological Association found that the practice is actually more harmful than anything else.
h/t: Newsweek