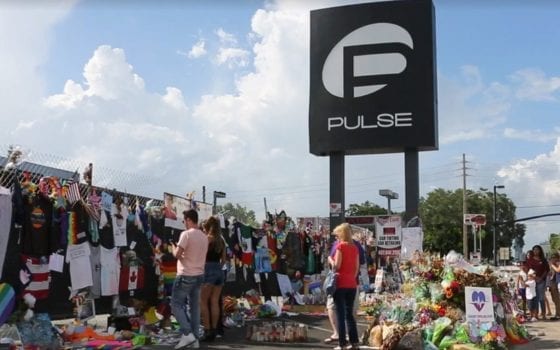 Pulse Interim Memorial
The site of the 2016 Pulse shooting now has a temporary memorial.
Earlier this week, the onePULSE Foundation opened up an interim memorial in remembrance of the 49 people who were killed at the tragic Pulse nightclub in Orlando, Florida.
The memorial opened at 3 pm on Tuesday, according to AP. This is the first time that the site of the nightclub has been open since the shooting back in June of 2016.
This interim memorial has been in the works since October when the Orlando City Council approved the design for the location. Though, construction on the site only began on February 26.
Some of the improvements and installments to the area were the updating of the club's sign and the erection of a new fence. In addition, a collage of pictures depicting gay pride events and LGBTQ functions adorn the walls outside the building. Some other installments were the reshaping of the landscape, the addition of lighted benches, and a perforated steel wall for visitors to leave messages and mementoes.
There's still more to come however as plans are being made for a more permanent memorial. Until those plans for a permanent site come to fruition, the memorial will stay as it is for an expected two more years.
In order to ring in the opening of this temporary and interim memorial, Pulse nighclub owner and onePulse Foundation founder Barbara Poma gave a speech. She thanked the many local communities who have respected the lives and memories of those who had fallen at the shooting.
Poma also quoted the Dalai Lama in praising the community's support, according to the Orlando Sentinel.
"He says, 'Love and compassion are necessities, not luxuries. Without them, humanity cannot survive.' I really do feel that everyone here is a reflection of that statement."
She also took a moment to express love for the families of the fallen.
"They gave selflessly to make decisions for those who could not," she said.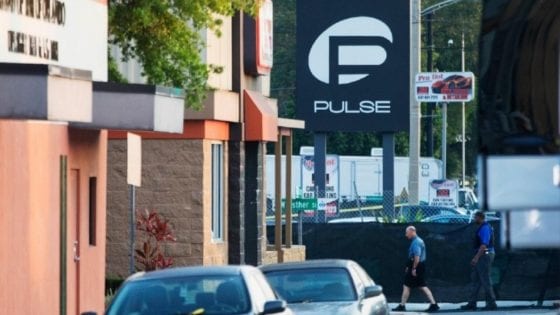 Later this past Saturday (May 12), U.S. Senator Bill Nelson visited the site after canvassing in Lake Mary earlier that day.
The senator, who brought a bouquet of flowers to place at the location, was joined by State Rep. Carlos Guillermo Smith and Christine Leinonen, the mother of one of the victims.
Nelson praised the site as "very meaningful" and emotionally overwhelming.
"That is very emotional when you come up and see it," Nelson said, adding it reminded him of the Vietnam Veterans Memorial in Washington, D.C., where the names of the dead are engraved in marble.
He added, "Really, it overwhelms you."