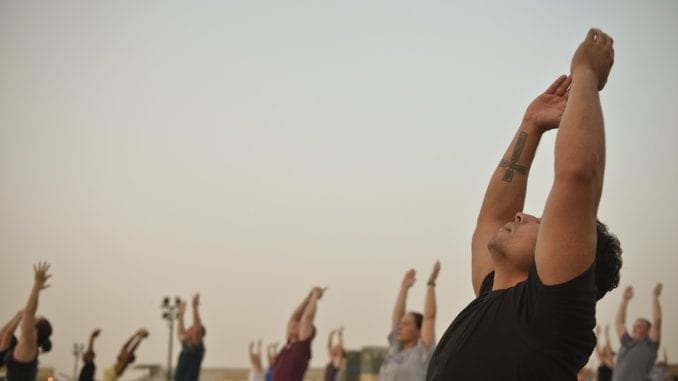 Yoga and channeling energy
Is regular yoga just not doing it for you? Well, how about some screaming, swearing and drinking with your chakra?
Welcome to Rage Yoga! And as Instructor Ashley Duzich says, it will get you "zen as [expletive deleted]!!!"
The new twist turns classic yoga on its head by mixing yelling, joking, swearing and drinking in with traditional positions. While currently offered in Edmonton, Calgary and Houston, this is not your typical quiet yoga studio.
"It allows you to have a safe space to let go of your anger and frustration and rage in a healthy way," Instructor Duzich told CBS News in the Brash Brewery where her classes take place in Houston.
The instructor explained that yoga means a union with your self and that's not always super calm. During class, people yell out as they move to expel emotions and bad energy.
There are also drink breaks so participants can grab a beer during class, though alcohol is not mandatory.
Duzich said that she has heard all sorts of things yelled in her classes, usually directed at people in her student's lives. "I told you to do the dishes," was one she remembers being screamed.
Rage Yoga founder Lindsay Istace describes the style as "alternative yoga for the modern badass." However, she also cautions it's not for everyone.
"There are some people who find it easier to get centered in the middle of louder music stuff with sweet guitar riffs," Istace explains. "Or letting go of that F-bomb that you've been holding on to all day. And those are the people we made Rage Yoga for."
To further illustrate her point, the Rage Yoga logo is a meditating woman with what Istace calls "fist unicorns," otherwise known as double extended middle fingers.
But such a radical idea must have created waves in the yoga community?
Yoga instructor Abby Wilson of Fit Atelier thinks Rage Yoga might be on to something. "I think traditional and Rage Yoga both have similarities and differences that can benefit everyone, depending on what you need that day," she told Health Magazine.
Instructor Madison Hudson of Conviction Yoga also told Health, ""No matter what style of yoga you're doing, you're still doing at least some aspects of yoga. And because of that you'll get some benefits out of it."
Rage Yoga is certifying new instructors worldwide and soon there could be a Rage Yoga near you. If you can't wait, they offer "Rage At Home" online courses through their website.
Also, Rage Yoga obviously recommends you don't bring your children to class.
Related: Is the treadmill a good choice for cardio?