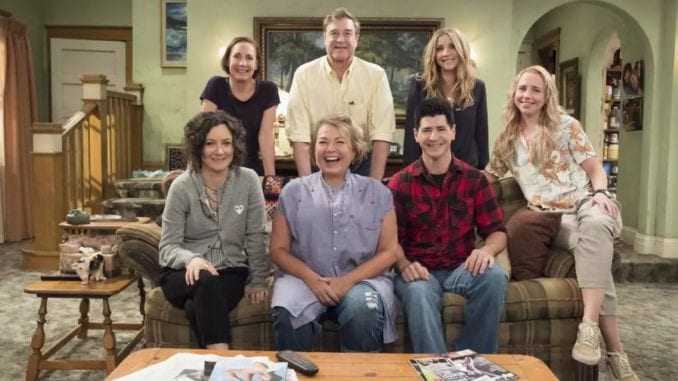 Could the show continue?
As the entire planet now knows, "Roseanne" was swiftly canceled from ABC after Roseanne Barr created a racist tweet earlier this week. Now that the dust is settling, there has been very real talk about the showing continuing – without Roseanne.
Per a report in Entertainment Weekly, there could be a scenario whereby ABC salvages major parts of Roseanne "Without having to say goodbye to some of the best actors on television." Apparently, the network has not entirely "washed its hands of the family comedy".
Part of the appeal of the sitcom's comeback featured a wealth of acting talent including Laurie Metcalf and John Goodman and posted very strong ratings, so it would make sense for the network to want to salvage it somehow without the offending protagonist.
There are obvious problems to overcome. To begin with, "Roseanne" was created by none other than Roseanne Barr and she is the person who conceptualized the characters.
Translation – she may stand to gain financially if the show were to continue it its current form; something that is not likely to pass mustard with network executives.
Some websites are suggesting a new form of the show might occur. For example, TV Line explored 5 ways this could happen. One option is to rename or relaunch the series under a title like: "The Connors" (or some variation).
Officially, ABC isn't talking about any new chapter for the now-beleaguered series, but Disney-ABC Television Group president Ben Sherwood sent out a statement to staff in the aftermath of Roseanne's firing that suggests he may be open to something.
People are focusing on the words: [we] "hope to find another way to work together down the road".
Ben Sherwoood just sent this out to ABC staff re: Roseanne pic.twitter.com/UPOggwC7k1

— Oliver Darcy (@oliverdarcy) May 30, 2018
While most certainly a long shot, it's not as outlandish as some might think. Other shows have continued after the main star exited a series.
Examples include CBS's "Two and a Half Men" where Charlie Sheen was replaced by Ashton Kutcher. "Valerie" was re-named after the main actress Valerie Harper was canned in a pay dispute. Her character was killed off in a vehicle accident was renamed from "Valerie" to "The Hogan Family."
A new show might mean killing off Roseanne and then continuing the Connor family saga. As reported in ScreenRant:
"In many ways, yes, it would; viewers would be well aware of why it was happening, and an off-screen death would allow Roseanne to continue in its current format until it came to a natural endpoint. For fans of the Conner family, in particular Dan, (John Goodman) and Jackie Harris (Laurie Metcalf), it would give way to more storylines focused on them."
ScreeRant continues:
"It would also be interesting to see how the Conner family adjusted to life without their matriarch; how Dan would cope alone, for example.
The only trouble with that idea is that there would have to be an on-screen acknowledgment of the character's death and seeing the family grieve for Roseanne would not sit well with many. Not to mention the fact that the show is called Roseanne; kind of difficult to continue with that when the titular character no longer appears."
The relaunch of Roseanne earlier this year proved highly successful for ABC; a show that brought in 18 million-plus viewers, and continued with a super-sized audience throughout its nine-episode run.
For ABC to simply walk away from the advertising money the show brought won't be easy.
Could the show comeback in some form? Perhaps. But most industry insiders are saying it would be difficult (but not impossible).