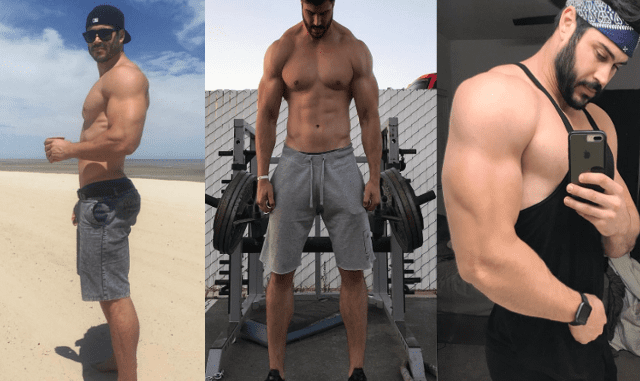 Two years ago, we came across the Tree Man Danny Jones. Jones became a sudden internet sensation after people started comparing him to a tree.
And recently we started to wonder, what's Tree Man Danny Jones up to? Turns out, a lot.
Fitness
The 6 foot 7 inch tall South Carolina man is known for his physique. And it turns out, he wants it that way.
Yes, the Tree Man craze started out around the time that Jones was trying to build his social media presence. And why was he doing that? Because he wanted to build a name for himself as a muscular guy and fitness trainer.
Thanks to the Tree Man sensation, Danny Jones has been sitting pretty as an internet trainer with his own fitness challenge and all. YouTubers and Instagram users have even attempted the training and given their thoughts on Tree Man's workout.
Looks like Danny Jones fitness is going strong.
TV Appearances
And thanks to all that attention Danny Jones got for his looks, his fitness lessons and star quality are growing. Earlier this year, Danny Jones appeared on the medicine and health talk show The Doctors.
On the show, Jones talked about how he got the nickname "Tree Man." He also talked about his 30 fitness challenge to help people slim down and bulk up.
"It's amazing. I think a lot people, they underestimate what you can do in a short about of time," he explained on the show. "Now granted, you know, you don't want to do too much to when you're losing a ton of weight in 30 days or hurt yourself. But I've had clients healthily lose 15-20 pounds… you can really whip yourself into shape. For each of the clients, I make a customized meal plan and workout routine and they follow that for the whole 30 days."
The fitness trainer even gave a few workout tips while he was there.
And Prom?
But possibly the craziest story to happen to the Danny Jones was being asked to prom by a teen (and Twitter not being ok with it).
At the start of the year, a high schooler by the name of Shawn sent a direct message to Danny Jones. The teen asked Jones if he'd be willing to take him to prom. Specifically, Shawn asked how many retweets it would take. Jones responded with 100k.
PLEASE TWITTER DO YOUR THING! 🙏🏼 pic.twitter.com/0fXaNb0eBw

— shawn (@grandeslices) May 5, 2018
After Shawn shared this convo with the world, the world talked back. And they didn't like the idea. While the tweet now has over 99k retweets, it has only reached that point months after the fact. As for why many people wouldn't support the date, it's because they thought Jones was too old for the teenager.
Honestly, we have to side with Twitter on this one. It was a cute idea from the teen, but a terrible setup in real life.
this man looks 27 do yalls school not have age limits dam

— mila🌑 (@vsmallprincess) May 9, 2018
How you'll be on prom night pic.twitter.com/KbYsyizpIt

— Stiamh (@S_tevxn) May 7, 2018
Tree Man Danny Jones
We're happy to see that Danny Jones is still out there doing his best. After wondering what's Tree Man Danny Jones up to and finding out, we have to give him props for staying committed to fitness.
He may have gotten global internet attention for his looks, but the man's in it not just for the attention but for the fitness itself. And that's pretty great.
https://www.instagram.com/p/BxcpwMvl4ae/