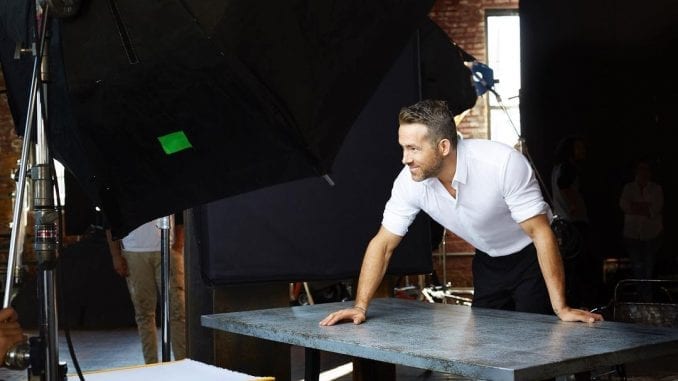 Ryan Reynolds Is A Great Businessman
Ryan Reynolds is an unappreciated wonder. While the actor is celebrated for his comedic timing and his acting skills, not enough people praise Reynolds for his business prowess. Forbes named Ryan Reynolds as the second-highest-paid actor in 2020. He has a net worth of about $71.5 million and he's second only to Dwayne 'The Rock' Johnson. But why is Ryan Reynolds so rich and why is he a great example of how to be a businessman? Here are six reasons to convince you.
He Makes His Own Projects
While Ryan Reynolds is happy to star in projects led by other creatives, the actor is also happy to produce as well. In fact, Ryan Reynolds has become used to the job and responsibility of producing a project. From pushing the Deadpool films forward to producing a long line of upcoming projects like Everday Parenting Tips, Christmas Carol, Clue, Dragon's Lair: The Movie, and more.
By producing, Ryan Reynolds may be shelling out a lot of money, but he's also keeping his movie-making connections strong, he's creating jobs, and he's keeping his name out in the entertainment world. Smart. And eventually, it'll financially support him as well.
Several Side Hustles
But, of course, Ryan Reynolds learned the hard but true fact of being a big name actor in Hollywood. You need to have a side hustle. In fact, you probably need 2 or more. At the end of the day, acting will only last you so long. Meryl Streep is lucky, not every actor gets to continue acting and be a household name for several decades. The reality of acting is, you never know when your time will end. And when it does, how will you provide for yourself? Ryan Reynolds is smart because he has several other sources of income. And as a bonus, he has several different interests and ways to spend his time.
A Diversity of Investments
With that, has diversified his income by becoming a true businessman. He purchased a stake in Aviation Gin in 2018, and he partnered with Virgin Atlantic airline later that year. Reynolds then joined the board of Match Group, Inc., the parent company of several dating apps like Tinder, OkCupid, Hinge, PlentyOfFish, and more. Reynolds became one of the owners of Mint Mobile, the low-cost cellphone carrier, earlier this year. Then lastly, he's looking into becoming an investor of the Welsh soccer team the Wrexham Association Football Club. He'll be joined by It's Always Sunny in Philadelphia creator Rob McElhenney. The two might invest around $2.5 million into the team.
Creative Ads
But how does Ryan Reynolds support his multiple businesses? One way is through his insanely creative advertisements.
Take, for instance, the surreal ad from 2018 to promote Deadpool 2. In it, we see Reynolds' iconic red-suited character. The thing is, the character is also dressed up like PBS/art icon Bob Ross. The late painter happened to be having a resurgence of popularity at the time, so Reynolds aptly tapped into pop culture with his ad. Reynolds then added even more humor by having the character reference colors as offbeat jokes like "Betty White." Or, take the Aviation Gin ad from the same year. Reynolds utilized his longstanding friendship/feud with Hugh Jackman and created an advertisement out of it.
So, how does Ryan Reynolds make such great advertisements? He finds the fun in it.
"Before Deadpool, I had never looked at promotion as anything other than obligatory," Reynolds told Fast Company. "But what I realized was that it can actually be creatively satisfying. And a lot of fun—not just for me, but for the audience."
Programs Giving Back
No matter how much Ryan Reynolds has earned, he has also taken the time to give back. This not only supports his public image, but it soothes his soul, and it looks good on his tax returns. But really, it helps him to make more connections for the future as well.
In just this year, Reynolds has done so much charity work and giving. In the midst of the coronavirus pandemic, Reynolds donated $1 million to Feeding America and Food Banks Canada. Then with his wife Blake Lively, Reynolds donated $400,000 to four New York hospitals. Last year, he and Lively donated a pair of $1 million donations to the NAACP Legal Defense Fund and the Young Center for Immigrant Children's Rights. They then donated another $200,000 this year to the NAACP Legal Defense Fund during the height of the George Floyd protests.
On top of that, Reynolds has championed initiatives and programs to give back. Reynolds started a fund that donated 30% of online Aviation revenue to out-of-work bartenders in the U.S., Canada, and the U.K. The actor and businessman ended up making more than $50,000 for that cause. Then, Mint Mobile offered a month of free data to all customers. Plus, used his own salary to hire BIPOC and other minority staff for a new film. That way, minority groups can start to get experience and connections within filmmaking.
"Making a film is a group effort, but for entirely too long that group has systemically excluded Black, Indigenous, people of color and several other marginalized communities," Reynolds said in a video announcement.
He Knows When To Get Out
Last, but not least, Ryan Reynolds is a businessman who knows how to get out and sell when need be. Despite loving Aviation Gin, Reynolds ended up selling the company for $610 million earlier this year. Reynolds sold it to Diageo, the world's largest spirits maker.
But, Reynolds won't be receiving all of that money. He'll get $335 million of it. The rest will depend on what happens with sales in the next few years.
"I'd like to take this opportunity to apologize to everyone I told to go f*** themselves in the last 24 hours," he wrote in a public statement. "My lawyers just explained… I'm not as George Clooney as I thought… to those listed below, I'm sorry."
Reynolds then jokingly added a list of names that included his wife Blake, his mom, Clooney, The Rock, Betty White, and others.
Ryan Reynolds. He's funny, he's charming, and he's a great businessman.