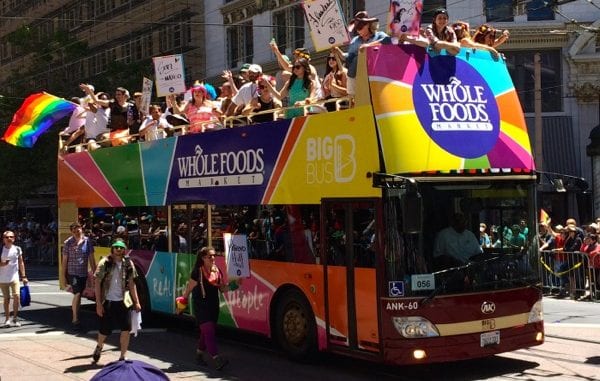 Large capital management firm considering a bid for Whole Foods
Whole Foods Market, a favorite of many LGBTQ shoppers and highly rated by the Human Rights Campaign, may be up for sale. According to several reports, the company is facing its worst economic slump in more than a decade.
Word on Wall Street is that the parent company of Albertson's, Cerberus Management, is seriously eyeing the organization for a takeover.
Bloomberg News reports that Cerberus has already entered into preliminary talks with bankers about making a bid for the struggling grocery food chain.
Whole Foods, with 87,000 employees worldwide, has been trying to change public perceptions about being a luxury brand. To cope, the company has been pushing its "365 products" to customers, as well as its spin off chain, "Whole Foods 365".
More: Goldman Sachs asks job seekers if they're gay
It doesn't seem to be working.
They've lost money for six straight quarters as same-store sales continue to dramatically decline. As a result, the chain has had to close locations to rein in costs.
The retailer, which helped pioneer the organic-food movement, has long been favored by many LGBTQ shoppers. Several years ago, the company moved aggressively to place its stores in gay neighborhoods, including the Castro in San Francisco and the Lakeview area of Chicago.
The company has also sponsored a number of LGBT Pride Festivals over the years.
Cerberus Capital Management, which also owns Chicago based Jewel-Osco, specializes in taking over "distressed" companies.
GPB spoke to two random gay men in Chicago about the potential takeover to assess their thoughts.
Steve Minor, a 35-year old single gay man who frequently shops at the Whole Foods on Halsted Street in the city's Boystown area shared the following:
"I've been shopping here for a few years now. They cost more than other stores but I like their selection of fresh vegetables and fruits."
Rick Tekor, a 50-year-old, self-identified gay man who only shops at Whole Foods once a month had his own thoughts about the potential takeover.
"All of my friends call it Whole Paycheck. A lot of gay men I know go there … but honestly, I don't know how they can afford it. For me, it's a once a month visit for things I can't get at Jewel.
Still, I hope they keep their identity. Whole Foods really has been supportive of LGBTQ people. I always seem them at Pride."
A representative for Cerberus didn't immediately respond to GPB's inquiry about the potential sale. Whole Foods declined to comment.
Whole Foods Market is traded as WFM on the NASDAQ.