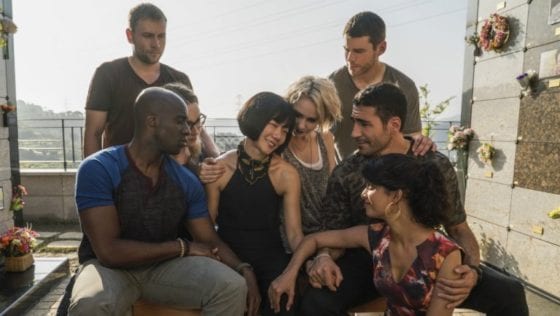 If you're a fan of Sense8, you might want to start tweeting about it.
Season 2 of Sense8 debuted a couple weeks ago and it received high reviews from professional critiques. Fans of the show were celebrating, just like the actors at Sao Paolo's Pride Parade, at the show's return.
But, it seems like there might not be a third one to celebrate.
Sense8 is a Netflix original sci fi series in which eight people from around the globe. America, Iceland, Kenya, South Korea, Germany, India, and Mexico specifically.
They find out one day that they're suddenly all connected to each other. They can hear each other's thoughts, see visions of each other, and feel each's emotions/physical sensations. And then an evil organization pops up and tries to kill them (of course).
[youtube https://www.youtube.com/watch?v=a8NYhEXnOhA]
After the show's first season premiered in June of 2015, it took till August for the show to get renewed for a second season. And it was reported that each episode back then cost about $4.5 million to make.
Well, Deadline reported that the contracts for would be extended till June to give breathing from for renewal negotiations, it's also been reported that each episode of season 2 cost around $9 million.
This, plus the fact that the show isn't as well-known as Orange is the New Black or Stranger Things, is causing those negotiations for a third season to look pretty shaky.
Some fans of the show started to notice something was up and took to twitter to ask actor Brian J. Smith, who plays Chicago cop Will, his thoughts.
Brian retweeted one of the fans who asked and responded with, "This might be a good time to start making some noise."
Fans have started to freak from his words and are now starting to storm towards twitter with the hashtag #RenewSense8.
https://twitter.com/postbadsense_8/status/869307102786965506
https://twitter.com/SUNSCAPHEUS/status/869520005871919104
Me when I read Sense8 might not be renewed.#RenewSense8 pic.twitter.com/Eo0vBSpZfi

— Frank 🌈 (@vlavivlava) May 30, 2017
So, if you're fan of Sense8 like the many who are starting to pop up on Twitter, you might want to head over there and a get word or two in more.
Otherwise, we won't get to see the hot leading men anymore. And wonderful queer characters like Lito, Hernando, Nomi, and Amanita will be lost to us forever.