Sound waves being used for largeness
Have you always dreamed of having a larger peen? Do you wish there were natural ways to grow your size? If so, you wouldn't be alone. Lots of guys want to be bigger.
That's why a recent story in Men's Health grabbed our attention. In an article entitled, New Year, New Dick, a series of treatments were revealed for men who naturally want to become larger.
The one that really stood out to us (no pun intended) involves the use of high-intensity acoustic soundwave therapy.
So, what's this all about?
Well, it's all based on shock wave treatments. Yep, you heard that right – shock waves.
In the past, this form of therapy has been used to break up kidney stones. We'll explain below.
Soundwave Therapy to Grow Your Peen
How it works
Apparently, all of this occurs at a clinic that specializes in this type of thing. The procedure is explained in the video below.
Once you arrive for your appointment, you are taken to a room where you smear numbing cream over your junk. Then, you lie back on a table and allow a clinician to blast your crotch with a wand for approximately 20 minutes.
Cost: $3000 – $5000, depending on number of visits needed
Time commitment: Six to twelve sessions spread throughout the year.
What to expect?
According to Ben Greenfield who has undergone this treatment, he claims it was a painless vibrating sensation, followed by two months of evening erections.
What the science says: A published study in Therapeutic Advances in Urology concluded that low-intensity shock-wave treatments is a "revolutionary treatment of ED and possesses unprecedented qualities that can rehabilitate erectile tissue."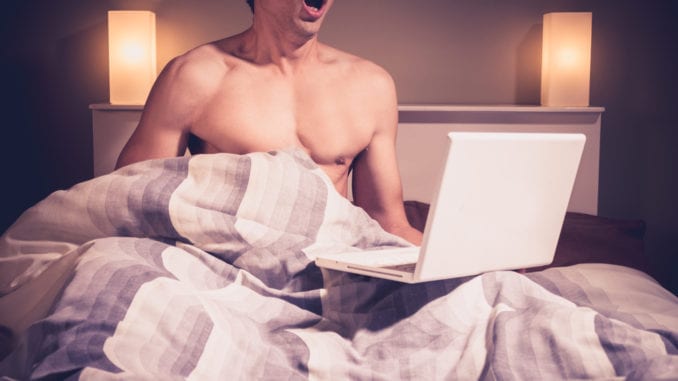 The Unexpected
In the interview, Greenfield shared that the numbing agent placed on his penis wore off after several hours.
He also said that occasionally throughout the day, he popped serious wood spontaneously for no apparent reason. He tells one story about a time where he was eating dinner at a restaurant with his grandmother.
Apparently, a situation arose where he had to excuse himself from the table.
"I popped a tent like a teenager on the bus. I excused myself from the table and went to the bathroom to check myself. My penis was venous, big, and throbbing," reports Greenfield.
Other treatments are mentioned in the article as well, including platelet-rich plasma (PRP) injections and the old school approach of edging.
The piece also touches upon previous research that demonstrates men who ejaculate at least 21-times per month may reduce their risk for prostate cancer.
Well, there you have it. Sound wave therapy for a larger, more venous peen!
Source: January/February Men's Health