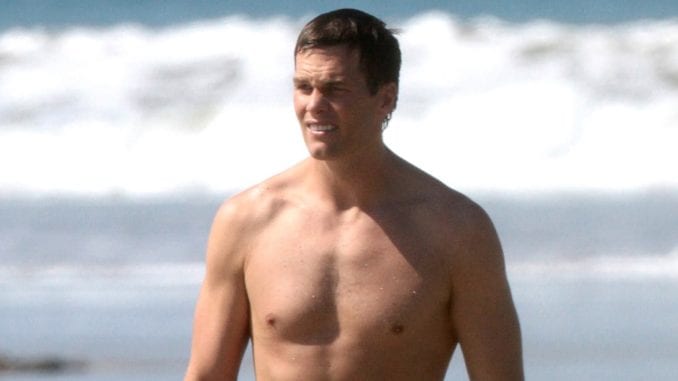 Why are people body shaming Tom Brady?
Did you hear the news? Tom Brady, quarterback for the New England Patriots, has been on the receiving end of serious body shaming for not having a chiseled six-pack.
The drama started after a series of photographs were posted on the website TMZ, showing Brady and his wife Gisele vacationing in Costa Rica.
TMZ put the photograph on Instagram and included the caption: "Tom Brady & Gisele are a sun-kissed couple and he proves you don't have to be ripped to shreds to be the G.O.A.T."
When you look at the picture, you can clearly see that both are having an amazing time. Sadly, that's not what a lot of people were talking about. Instead, it was about how Brady looked without his shirt on.
More: I was fat shamed by a jock at my gym
What's unfortunate here is that people have an expectation that athletes, including Brady, to be buff 24/7, replete with bulging muscles and six-pack abs.
I'm old and out of shape and somehow look just as good as Tom Brady https://t.co/NlPtRtZDX4

— Jason Fegadel, lifelong San Diego Padres fan (@JFegadel) July 17, 2018
Some of the comments made by people about the vacation photographs are simply horrible with a few that involve fat shaming.
The hard truth is like this – nobody can maintain a perfect body forever. Somehow along the way, we've placed football players and other athletes so far up on pedestals that we forget they are human.
I don't know how anybody that's not a patriots fan could try to use this picture to roast pats fans/Tom Brady…. if you think that's not up to par for the nfl body, shouldn't you be embarrassed he dismantles your team every week😂😅 not to mention kissing a model worth $350+mill pic.twitter.com/v0fCP1j7f4

— Jason MoCourty (@NickMo39) July 19, 2018
This means just like us, their bodies will change over the course of time.
This isn't the first time we've seen men in the public eye get bodied shamed. Actor Taylor Lautner was the brunt of jokes when pictures of him came out that showed up with less than a perfect body.
Body shaming – and fat shaming – are insidious forms of judgement that not only cause the person being talked about to feel badly but also serve to set a societal expectation that athletes, entertainers and others look perfect.
How about we live and let live?