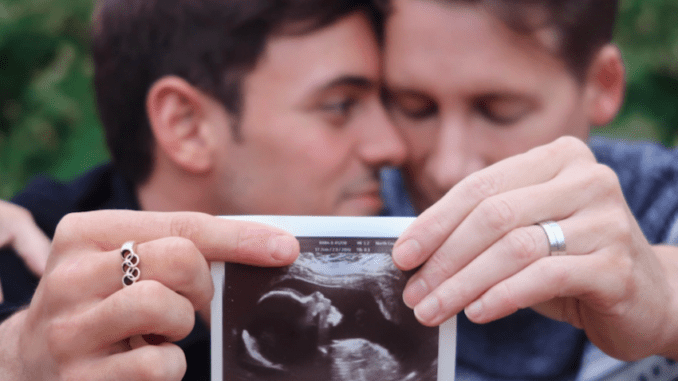 Catholic activists make ugly remarks about Tom Daley and Lance Black's baby announcement
Chances are you have probably heard Tom Daley and husband Dustin Black are having a baby. The couple made the announcement last week on social media (see our post).
While specifics about how the baby will come into the world are unknown, conventional wisdom suggests the duo likely are using a surrogate; a widespread practice among straight and gay couples nowadays.
In the wake of the couple's announcement, Daley and Black have been the target of ugly homophobic remarks by religious zealots and folks who simply don't like LGBTQ people.
Sadly, one anti-LGBTQ Catholic group has gone to the extreme and made a seriously nasty remark about Olympian Tom Daley.
Elizabeth Howard with Catholic Voices told the website Christian Today: "A baby is always a blessing and someone of inestimable value.
However, Tom Daley's baby will be deliberately deprived of a mother, and no matter how much Tom Daley and his partner love the baby, it will not make up for the enormous loss inflicted on him or her."
Then she added: "As a donor-conceived person, I know myself that to grow up without one's genetic parent means a huge loss of identity and often leads to a sense of not belonging."
Then, Christian Today columnist James Macintyre remarked: "Because there were no details released, we do not know if money has changed hands on this occasion.
But questions should be raised about babies becoming commodities, the result of transactions. After all, what more appropriate mark of our transactional society is there than that?"
FYI: Surrogacy for sale is not legal in the United Kingdom.
In a related matter, Radio LBC (a UK based station) issued an apology after making the suggestion that the couple's baby news was "sinister".
Previously, the broadcaster had tweeted: "Tom Daley and his husband are having a baby.
"Is there something sinister about the woman's exclusion in this scenario?"
A representative of LBC said to Pink News: "We unreservedly apologise for what was a badly worded debate today, which does not reflect our values and should not have been worded in this way.
We apologise for any offence caused, that was not our intention."
h/t: Pink News
Featured Image: Wiki-Commons