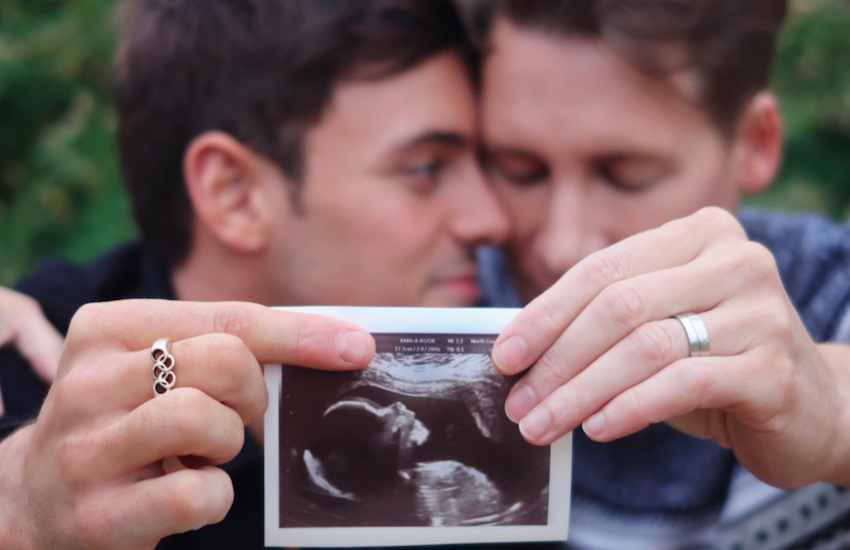 Couple made announcement on social media
You read the headline right – Tom Daley and Dustin Black are expecting a baby. The couple shared a picture together on social media heralding the news, just after lunch on Valentine's Day.
On Twitter, Dustin posted: "A very happy #ValentinesDay from ours to yours."
Tom Daley aged 23 also shared the same message on his Instagram, with an equally cute picture:
The couple posted a picture together on social media announcing the news, just after lunch on Valentine's Day.
Tom made the announcement on Instagram | Photo: @TomDaley
The happy couple made the announcement on social media | Photo: @TomDaley
Not long ago, Tom Daley sold him Bermondsey home in central London. The gossip on the street was that they wanted to move to a larger home to prepare for a coming baby.  Well, it looks like those rumors were indeed true!
It's after Dustin revealed on BBC Question Time that he and his hubby were thinking of starting a family, suggesting they might be looking for a bigger place.
Speaking about Britain leaving the European Union, he said: "I'm here from the United States of America. I didn't get to vote on Brexit, because in this country because I fell in love. Because I call it home and because I hope to raise a family here."
What wonderful news – truly – particularly after an ugly period where Mr. Daley found himself having to deal with some backlash about leaked photos that had hit the internet from several years ago (see this Tom Daley post).
Daley and Black were married last May in a beautiful wedding in Denonshire. Since that time, their relationship has been well documented in both the main stream press and by blogs within the LGBT community.
We wish the couple much happiness and congratulate them on their baby to be!