Tom Daley Facts
Tom Daley is a handsome young athlete you've no doubt seen on social media. With hazel brown eyes and a million-dollar smile, the world champion swimmer is hard to miss!
But beyond his chiseled bod and disarming grin, what do you really know about him? For example, where's he from and what's his background?
This quick post will present 25 amazing facts on Tom Daley that might surprise you. As an openly gay athlete that is followed by fans around the world, our hope is to give you a holistic view of this remarkable young man.
Along the way, we've tossed in several cute pictures from his Instagram account (and other places) to enhance your learning experience.
Are you ready to find out more about Tom Daley? Let's jump right in!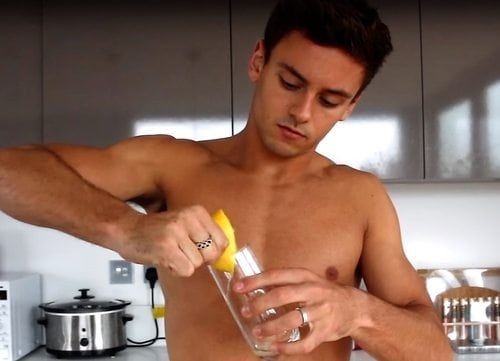 Gay Pop File: Tom Daley
Birthday: May 21, 1994, Plymouth, UK
Birthname: Thomas Robert Daley
Zodiac: Gemini Cusp
Height: 5'10
Eye Color: Brownish Green
Body Type: Swimmer
1. Tom Daley started diving at age 7 as a member of the Plymouth Diving Club and has been involved with water based athletics ever since.
2.He was born on May 21 1994, to parents Rob and Debbie Daley. His birthday falls on the cusp between Gemini and Taurus.
3. Tom has two younger brothers, William and Ben.
4. Tom has a cousin named Samuel and public reports show they are best friends. Check out Sam's Twitter feed.
5. Tom's specialty is the in the 10 metre platform race. In 2009 at the young age of 15, he became the World Champion!
6. Tom's dad, Robert, passed away at the age of 40 after a 5-year struggle with a brain tumor on May 27, 2011.
7. In the year 2010, Tom won two gold medals for his homeland of England at the Commonwealth Games.
8. In 2008, Tom was ranked at a stunning number 63 in Time's 100 Olympic Athletes to Watch!
9. In 2012, Tom won a bronze medal at the London Olympics.
10. Attitude Magazine conducted a poll in 2013 where voters named Tom Daley as the World's Sexiest Man!
11. Daley appeared on ITV in 2013 to present a celebrity diving reality television show. Renewed, the show was on the air again in 2014.
12. On 2nd December 2013, Tom shared a video on YouTube disclosing his sexual orientation as bisexual (video a bit further below). He also revealed he had been in a same sex relationship since the spring 2013. This YouTube video got over 10 million views within a month of it going online.
13. Tom Daley is besties with One Direction's, Liam Payne.
14. Daley is engaged to Dustin Lance Black, a civil rights activist in the United States and well known within the film industry.
15. In March of 2013, Tom and Dustin met at the Kid's Choice Awards in Los Angeles.
16. For his 18th birthday, Tom's mom, Debbie, got him a voucher so he could get an Olympic tattoo. He was able to get the 5 Olympic Rings drawn directly onto his right bicep. As much as he dug the new ink, he shared with fans doesn't think he'll be getting another tat. Said Tom, "To get one it has to mean something".
17. He's apparently a huge fan of black-eyed peas.
18. Between the ages of 11 to 14, Tom Daley attended Eggbuckland Community College; a private academy in Plymouth, England.
19. He revealed that he had been a victim of bullying prior to the 2012 Olympics while acting as a spokesperson for the National Society for the Prevention of Cruelty to Children (NSPCC). You can still read it in The Herald; a local Plymouth Newspaper.
20. Daley was granted a full scholarship to Brighton College, but his dad didn't want him to go because of the distance from home. Through negotiations, he entered local independent school, Plymouth College.
21. During the 2012 season, a bad thumb injury made Daley withdrawal from the National Cup days before the competition. The 10m platform title was won by competitor, Max Brick.
22.  At the 2016 Summer Olympics, Daley and his swimming companion, Daniel Goodfellow won a bronze medal in the synchronized 10m platform!
23. In the 2017 FINA World Series, Tom took home 1 bronze medal in Beijing (10m Platform), 3 bronze medals in Kazan (10m Platform, 10m Synchro, and 3m Mixed). He also won a silver medal in Guangzhou (10m Platform)!
24. Daley won the prestigious 2007 BBC Sports Personality of the Year [Young Personality Award].
25. Tom Daley and Dustin Lance Black officially married on May 6, 2017.