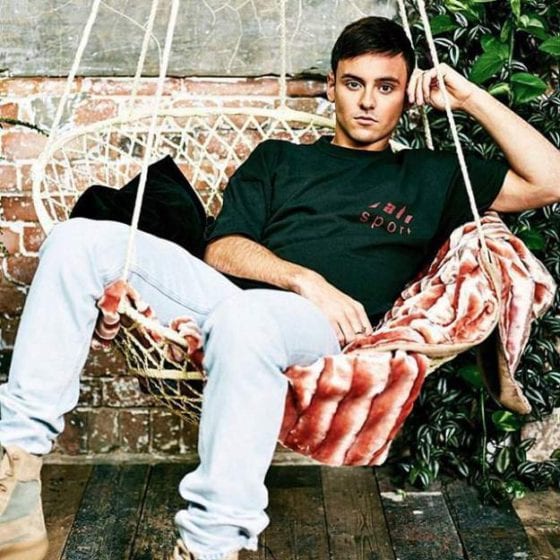 Did you hear the news? Olympic swimmer Tom Daley is making a surrogacy film for BBC One. Word of the documentary comes several weeks after Daley and his husband, Dustin Lance Black, shared they had given birth to their son Robert Ray Black Daley.
After announcing their baby was born in June, both men were the subject of horrible Internet taunting and homophobic comments on social media.
As reported in Pink News:
"Mumsnet women's rights board, which is dominated by self-identified "radical feminist" campaigners who lead pressure campaigns against transgender inclusivity, accused Daley of "child abuse."
To his credit, Mr. Daley has not let the ugliness get him down. Just prior to his son's birth in April, Daley said that he gets "tons [of abuse] every day, but at the end of the day, I'm married with a kid on the way and I don't care what anyone says."
The documentary is set air sometime in 2019 and will be an hour long. According to reports, the film will feature Daley confronting people who have problems with two men having a child through surrogacy.
In the United Kingdom, current laws make it illegal for people to advertise for surrogacy. Apparently, it's also against the law to pay someone to carry a baby. The documentary will help to educate the public on these issues and could create a conversation about whether those laws should be changed.
Per the Pink News report, Mr. Daley is also slated to travel to the United States where he will visit California. There, he will talk to experts and parents about this. That's because California's surrogacy laws are much less restrictive than other locations in the world.
The working title of the film is Surrogacy.
Tom McDonald, BBC's head of commissioning for natural history and specialist factual, said: "Surrogacy is one of the most complex issues in modern society and the laws which govern it are radically different across the world.
As new fathers through surrogacy, Tom and Lance are both committed to exploring all of the nuances around this very emotive subject.
I'm thrilled that Tom is going to be our guide in this deeply personal and intelligent film."
[h/t] Pink News