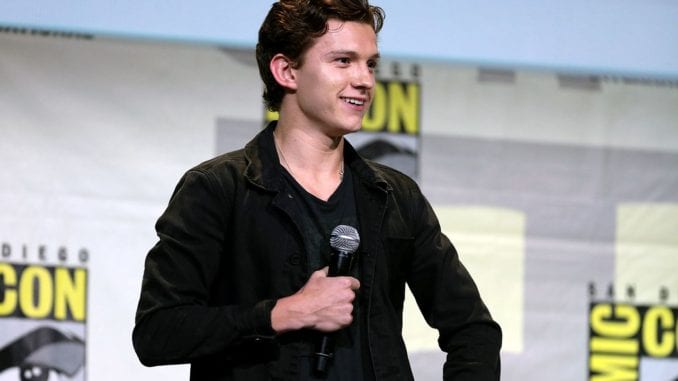 Tom Holland Saved A Fan
Guys, Tom Holland is a true English gentleman.
We don't know why, but people go crazy when they're near a celebrity. Self-respecting people will start screaming and hollering like crazed babies when a singer or actor is nearby. And that's exactly what happened to Tom Holland lately.
While out making the rounds for his upcoming movie Spiderman: Far From Home, Holland found himself in New York City. And while New Yorkers are often considered to be calm and nonchalant while walking around and hanging out in the city, a group on Monday were not so relaxed.
The 23-year-old was signing autographs on Monday night and some fans just couldn't contain themselves. Again, people just can't act civilized when around a celebrity, and that eventually became a dangerous situation. Some irresponsible fans, notably grown men, started pushing into the crowd to reach Holland.
While Holland is ever the gentleman, these autograph chasers acted like complete idiots. They escalated the situation so much that one fan got pushed down. This woman was locked between the chaotic men and the barricade separating the hectic crowd from Holland.
Related: 7 Surprising Facts About Tom Holland
The Twitter Thread
This fan later shared to Twitter, through the account @NamelessCass, her perspective on the situation.
Cass shares that she was so scared of getting hurt that she was beginning to have a panic attack. Thankfully, that's when Holland stepped in.
"TOM HOLLAND JUST THREATENED GROWN ASS MEN THEN THREW THEIR POSTERS BECAUSE I WAS CRUSHED AGAINST THE BARRICADE HE SAID "IM GONNA THROW YOUR SHIT ON THR GROUND IF YOU KEEP PUSHING HER,'" she wrote on Twitter. (And yes, her tweet was in all caps).
HE REALLY THREW ALL THE SHIT TOO FLABDKSB pic.twitter.com/zgLjtWmRYx

— cass (@namelesscass) June 24, 2019
The fan then shared photos and videos of the incident online. In the video below, we see Holland telling the woman, "It's ok. I got you. I got you."
https://twitter.com/NamelessCass/status/1143308204904013826?ref_src=twsrc%5Etfw%7Ctwcamp%5Etweetembed%7Ctwterm%5E1143308204904013826&ref_url=https%3A%2F%2Fwww.menshealth.com%2Fentertainment%2Fa28181716%2Ftom-holland-rescues-fan-spider-man%2F
Other Twitter users then joined the conversation to condemn the "fans" who escalated the situation. Many referred to these autograph seekers as "graphers," people who collect celebrity autographs to either keep or sell for profit.
https://twitter.com/myfireescape/status/1143197541049278465?ref_src=twsrc%5Etfw%7Ctwcamp%5Etweetembed%7Ctwterm%5E1143197541049278465&ref_url=https%3A%2F%2Fwww.menshealth.com%2Fentertainment%2Fa28181716%2Ftom-holland-rescues-fan-spider-man%2F
it is so disappointing that people who claim to be his "fans" act like this. says a lot about the fact that they only care about themselves and not him at all. he doesn't owe anything to you and y'all are not putting him in a position in which he'd be inclined to sign etc

— 𝐚𝐛𝐛𝐞𝐲💔 (@eurydisolea) June 24, 2019
i'm so glad people are justly calling out graphers (who are typically older men) because these grown ass adults shove and push teenage girls for an autograph that they're gonna end up selling on ebay.

— marisela (@marryIopez) June 25, 2019
How about people just be respectful and act normal in a barricade woah who would've thought of that!!! This wasn't a concert or a show with a mf mosh pit this was a literal weak ass barricade in the middle of a nyc street….

— cass (@namelesscass) June 25, 2019
Be A Holland, Not A Grapher
The biggest message from this story is to just be calm when in situations like this. We get that being near celebrities is exciting, but don't bum rush them like crazed animals. You're not only making the crowd frantic, but you also scare and bother the celebs themselves.
On top of that, graphers looking to make monetary gain should relax the most. We get that they make this small task into a career, but they don't have to make mayhem while doing it. And if they do, there should be more people like Tom Holland calling them out.
At the end of the day, Tom Holland saved a fan by speaking up. But, he didn't have to be the only one. While he's certainly the hero of the hour, he's not the only one who can be a hero during crazy times like this.