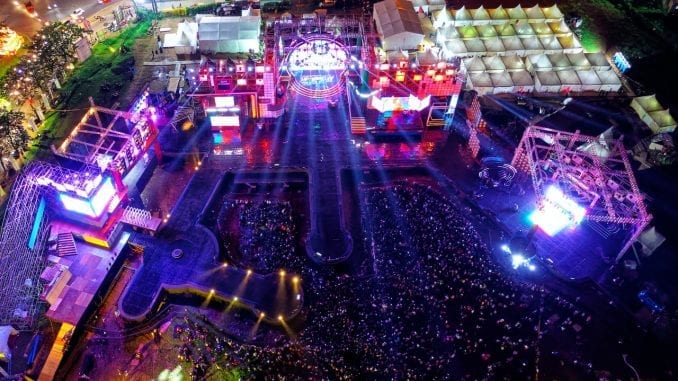 Ultra Music Festival Nixed
Ultra Music Festival has just been canceled for the second year in a row. The annual electronic music festival held in Miami was first postponed in 2020 before being canceled altogether due to the COVID-19 pandemic. Now, it's clear that the 2021 Ultra Music Festival won't be held either.
Meanwhile, across the pond, Glastonbury Festival just announced their cancelation for 2021. This would be their second year in a row, just like the Ultra Music Festival. Glastonbury Festival is perhaps the largest open field music festival currently running worldwide.
It's not just Ultra and Glastonbury. Festivals and concerts are canceling their 2021 dates all over the world. The bounce back hasn't happened yet, and nobody knows when it will. It seems as if the experience of dancing to your favorite DJs in live venues has been postponed indefinitely.
Ultra Music Festival canceled for 2021 https://t.co/nzBgXpvyov

— billboard (@billboard) January 22, 2021
Ultra Music Festival is a huge boon to South Florida's economy, drawing 50,000 people to the festival each day and millions of dollars in revenue. According to market data from Statista, there were 165,000 attendees in 2018. A cancelation for 2021 is an economic disaster. Without music festivals like Ultra and Glastonbury, the tourism and hospitality sectors in those areas bear the full economic brunt of their absence.
And what about the people that bought tickets before the pandemic? In the case of Ultra, ticket holders launched a class action lawsuit that went into arbitration last year against the organizers of the music festival because their tickets weren't refunded.
Instead of refunds, those pre-paid tickets were rolled over for this year's festival. With the announcement of another cancelation, ticket holders have been left in a 2-year limbo. So far, there haven't been any announcements about which musical acts and artists will play in any future Ultra Music Festivals. The City of Miami has not granted a new permit either.
With the threat of mass gatherings being a danger to public health amidst the new climate of rampant infectious diseases, this latest news begs the question – will we ever have big music festivals again?
According to statistics from Pollstar, the live music industry lost more than $30 billion dollars in 2020. These figures take into account all the revenue from transportation, restaurants, merchandise sales, concessions, and other ancillary sources.
It's difficult to say when people will be able to gather en masse to hear live music. Big festivals are such obvious targets for government-mandated restrictions on public gatherings. Any estimates or predictions about when festivals will return are guesses at best.
Efforts to stamp out COVID-19 by the US and UK governments haven't inspired much hope in a timely return to normalcy either. One of the major roadblocks for music festivals is the amount of planning that takes places. Organizers need several months to coordinate all the moving parts of a festival's successful operation. With the pandemic raging around the world, there's just not enough certainty to make plans for venues, travel, and bands.
Most concert organizers are depending on herd immunity created by a successful campaign to vaccinate people against COVID-19. During an interview with MSNBC, Dr. Anthony Fauci admitted that reaching herd immunity "really is going to depend on the efficiency of the rollout."
By Dr. Fauci's calculation, the end of March or April will likely see widespread distribution of the COVID-19 vaccine. That's the first step to reaching herd immunity and Fauci thinks herd immunity could create enough of a sense of normalcy by the Fall of 2021.
NEW: Dr. Fauci estimates that Americans with no underlying conditions will begin to receive coronavirus vaccines at the end of March, beginning of April:

"It really is going to depend on the efficiency of the rollout." pic.twitter.com/XecZvsrNGW

— MSNBC (@MSNBC) December 14, 2020
The fate of Ultra Festival hangs in the balance. 2019 wasn't a spectacular year for one of the hottest dance festivals on the planet. The venue changed from Bayfront Park to Virginia Key in 2019. It was a disaster.
The sight of thousands of exhausted and dehydrated festival goers walking down the 3 mile stretch of the Rickenbacker Causeway to basically get back to civilization looked like something from an episode of The Walking Dead. It wasn't a good look for the festival.
Despite the revenue boost to South Florida's economy, the logistics and corporate influx made diehard EDM enthusiasts wonder if Ultra Music Festival will ever be the same again. Yet in a dramatic twist of fate, the pandemic might have actually saved Ultra Music Festival.
The 2020 venue was still going to be at Virginia Key, but the COVID-19 pandemic forced an impromptu cancelation. In talks with the City of Miami about plans for the 2022 Ultra Music Festival, organizers wrote a letter to city manager Arthur Noriega asking for a return to the Bayfront Amphitheater. If the Ultra Music Festival gets approval, then the dance festival that inspired so many others will return in March of 2022 in its best venue.
That might seem like a long time to wait for a dance, but realistically, Ultra could be one of the first festivals to return after the pandemic. If ravers can dance in the heart of Miami again, then that would serve as a greenlight for the rest of the beleaguered live entertainment industry. So, mark your calendar for the Spring of 2022 and practice your moves.