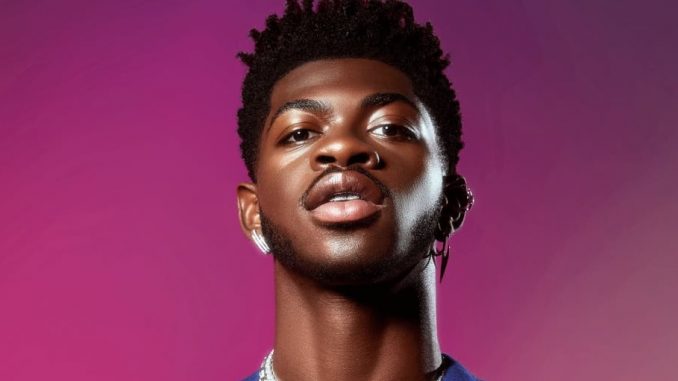 Lil Nas X is one of the hottest pop artists out right now with big hits like "Call Me By Your Name" and "That's What I Want". Previously, Lil Nas X released an EP called "7" and his latest move is the debut album "Montero". Nas X fully recognizes his value to the LGBTQ community and steps up to the challenge with Montero.
The unique title of the album is Lil Nas X's given name. The promotion and controversy surrounding Nas X's new album has been crazy. He definitely knows how to get everyone's attention. First, there was the fuss about his Satan shoes that had human blood in them. Then, photos and videos were released of Lil Nas X sporting a baby bump. He was pregnant with his "Montero" album, y'all.
BABY MONTERO IS HERE!!! pic.twitter.com/9TzhXDuyPE

— MONTERO (@LilNasX) September 17, 2021
He wowed the fashion world with his outfit at this year's Met Gala. He took out several hilarious billboards across LA where Nas X played the role of a cheesy lawyer. One billboard reads "Gay? You might be entitled to financial compensation."
At the end of the day, it's all entertainment and it gets everyone's attention for the new album. That attention comes as a bit of a double-edged sword for Lil Nas X. Due to his sway with young audiences there's been some blowback against Lil Nas X simply for being so visible as a gay man.
The haters can't stop Lil Nas X though. His debut album is hot.
Lil Nas X's debut album has some pretty tough competition though. It's going up against Drake "Certified Lover Boy" and Kanye West's "Donda" album. Yet, "Montero" seems to be giving the music veterans a run for their money on the charts.
What's The Montero Album Like:
Pros:
Diverse Sound
Excellent Features
Solid Body of Work
Cons:
Dark Second Half
Brisk Pace
Hot Tracks from the Lil Nas X Montero Album
Montero has 15 tracks in total. There are features from Doja Cat on "Scoop", Jack Harlow on "Industry Baby", Elton John hits the keys for "One of Me", Megan The Stallion joins Nas X for "Dolla Sign Slime" and Miley Cyrus steals the show on "Am I Dreaming". Lil Nas X also has some production contributions from Roy Lenzo, Kanye West, and Omar Fedi to name a few.
Listeners got their first taste of Montero from a few singles that were released, but most of the album is brand new material. The breakout single "Montero" has breathtaking visuals. The video is both artsy and controversial. It features Nas X giving the devil a lap dance. Visual gimmicks aside, the song itself is catchy and club worthy.
"Dead Right Now" keeps the up-tempo album moving forward. It showcases Lil Nas X's strong voice and rapping abilities, reminding everyone that he can string together some wicked bars. "That's What I Want" is another pop single from the album.
Nas X released another controversial music video for the song. It has a steamy high school football locker room sex scene that will certainly raise some eyebrows. The video exposes a double standard in the entertainment industry. It's way more acceptable to see a heterosexual love scene in a music video. It's even acceptable to see two women getting it on in a music video, but it's jaw-dropping to see a mainstream gay male pop act doing the do in a music video. So, kudos to Nas X for pushing the envelope and challenging the status quo.
Related: 7 Scientific Reasons Bromosexual Friendships Are Surging
Back to the album. Doja Cat has a strong outing in "Scoop". Elton John's song "One of Me" is one of the most enjoyable and melodic songs on the album. It manages to be light and introspective at the same time, but that can be expected from a master musician like Elton John. He didn't sing on the song, but his musicality is definitely present.
By the time you reach the eight track "Lost in the Citadel" you get the impression that this isn't just a gay pop album. Listeners might be surprised to find a hard-hitting rock song in the middle of a Black pop star's album. It's a welcomed surprise that shows Lil Nas X's diversity as an artist. Unfortunately, "Dollar Sign Slime" was the low point of the album. Megan the Stallion and Nas try to wrangle in the hip hop listeners, but the move is overplayed.
The second half of the album is a bit of an emotional drain as Lil Nas X gets to the source of some of his inner struggles. In a tweet before the album release, Lil Nas X opened up about those inner demons. He said that this album was like therapy for him.
i love joking but on a serious note making this album was therapy for me. i began healing many unchecked wounds, facing skeltons in my closet i never wanted to, fighting internally every day and crying persistently, MONTERO is truly my baby. thanks for the love 💕🦋

— MONTERO (@LilNasX) September 18, 2021
Related: The Proud Family New Season Will Feature Two Gay Dads
Is Montero Album of the Year?
This is the question on everybody's lips after listening to Montero. It is much more diverse that I thought it would be. This isn't a one-dimensional collection of pop radio singles. The top half of the album has those moments, but each track is executed flawlessly.
Lil Nas X shows everyone that he can perform on different levels. He can be controversial, sexy, and say whatever he wants without much compromise. He's had big hit records before with "Old Town Road" and "Panini" but this is a body of work, a well-orchestrated album. It certainly says that Lil Nas X has the potential to be an iconic artist and not just a product of the LGBTQ buzz.
I can't leave this review without mentioning the feature with Miley Cyrus to close the album. It is absolutely amazing. He opens the album with his title track Montero and closes it out with Miley Cyrus. It is like a full circle moment because of his previous collaboration with her father – Billy Ray Cyrus.
"Old Town Road" launched Lil Nas X to stardom. Now, he's working with Billy Ray Cyrus' daughter on such a beautiful track. It wasn't wild and crazy. It wasn't experimental. It was a beautiful excursion into Miley's world.
Will this be the pop album of the year? Album of the year? Among them, for sure. Lil Nas X is very young and his future is bright. Imagine Lil Nas X ten years from now. He absolutely can have that level of longevity in the music business.
True artists always go against the grain and that keeps them relevant. Madonna. Michael Jackson. Prince. Lil Nas X might be mentioned in the same breath as those legends if he keeps it up. He gives voice to the gay community and that's very powerful, but the artistry on display with "Montero" will transcend boundaries.