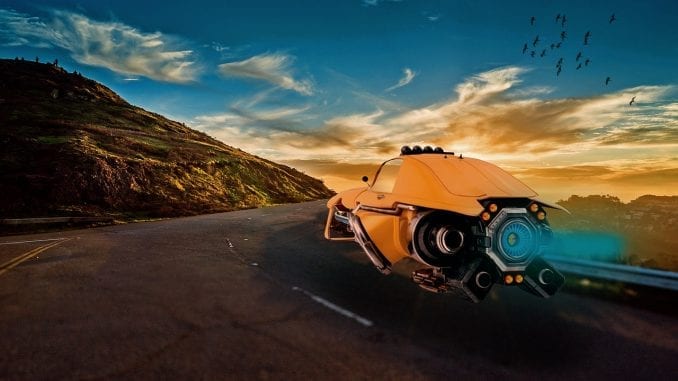 Buckle your seatbelts. Travel is about to get futuristic!
Jetpacks, flying taxis, and supersonic trains will be the preferred modes of transportation for the future. Travel experts and sci-fi writers have been saying it for decades, but it seems like the push for futuristic modes of transportation is finally on the horizon.
Self-Driving Vehicles Are Here Now
Vehicles are becoming more autonomous. They can practically drive themselves and present new opportunities for transit leisure activities. You can catch up on the daily news, finish up some last minute grooming or spend quality time with other passengers while the car does all the heavy lifting. Self-driving vehicles will revolutionize the way people interact with their commute.
Tesla and Audi are frontrunners in the domain of semi-autonomous vehicles, but other automakers are rapidly gaining ground. The 2021 Tesla Model S can park itself, navigate on and off ramps at highway speeds and the onboard AI doesn't need a gear shifter. It uses sensory data to anticipate which direction you want to go and just makes it happen.
Related: What's New with The Tesla Model X?
Auto shows are debuting concept vehicles that completely revolutionize the interior space of the automobile. Some vehicles like the Mercedes-Benz Vision AVTR don't even have a steering wheel. The Nissan IDS concept has more of a lounge aesthetic with hardly any user interface controls to operate the vehicle itself.
No More Gas Guzzlers on the Road
In one of the most ambitious announcements of Joe Biden's new presidency, he announced that all the U.S. government's vehicles will be replaced by electric vehicles. That's a bold statement when you consider that the U.S. government owns and operates roughly 645,000 vehicles. According to government statistics, in 2019 there were only 4,475 electric vehicles in the fleet. So, there's some work to do, eh?
Pres. Biden: "The federal government also owns an enormous fleet of vehicles, which we're going to replace with clean electric vehicles made right here in America, by American workers."https://t.co/figJbDMrpt pic.twitter.com/racgwk9VGw

— ABC News Live (@ABCNewsLive) January 25, 2021
President Biden didn't set a hard date for when this massive change to the nation's automotive industry would take place but campaigned that the move to electric vehicles would create one million new jobs.
General Motors is phasing out all its Internal Combustion Engine (ICE) vehicles by the year 2035. That isn't a long time from now, especially when you consider that GM has also made a commitment to make 40 percent of its vehicles run on battery electric power by 2025. Over the next five years, GM is planning to invest $27 billion dollars toward this endeavor.
In a GM press release, Chairman and CEO Mary Barra stated that "General Motors is joining governments and companies around the globe working to establish a safer, greener and better world. We encourage others to follow suit and make a significant impact on our industry and on the economy as a whole."
Environmental Defense Fund President Fred Krupp chimed in on the about-face from General Motors. "With this extraordinary step forward, GM is making it crystal clear that taking action to eliminate pollution from all new light-duty vehicles by 2035 is an essential element of any automaker's business plan."
That rings true for automakers and nations alike. In an ambitious plan to reduce pollution and bolster the zero emissions strategy of a new Britain, the United Kingdom plans to ban all new ICE vehicles by the year 2030. UK Prime Minister Boris Johnson announced the plan in November of 2020, giving the plan a 10 year window.
The ban does not include existing vehicles but prohibits the sale of new petrol and diesel cars.  Other European nations like Belgium and Portugal have made similar plans to phase out ICE vehicles in the next 10 years.
It's Time for Flying Vehicles
At the 2021 Consumer Electronics Showcase (CES) General Motors debuted the Cadillac of flying vehicles. It's an eVTOL or electric vertical take off and landing vehicle. The Cadillac eVTOL is a 1-seater that travels 56 miles per hour.
There are about 15 different companies working on flying vehicles. Some are personal carriers while others seek to gain space as mass transit alternatives. These aren't just engineering upstarts either. Big brand transport names like Aston Martin, Rolls Royce, and Hyundai have invested millions into the future of flying cars.
Although none of the flying vehicle prototypes have a locked in rollout date, there is some important developments coming out of the United Kingdom. In January of 2021, Hyundai got official clearance from the UK government to build its first eVTOL Air Port, a transport hub called Air-One.
The new airbase for flying vehicles will be based in Coventry. It aims to reduce road traffic with a premiere facility that serves to spearhead infrastructure support for an emerging transportation initiative.
Hyundai has partnered with Urban Air Port to create the first VTOL hub in the UK and revealed that their very own flying car will be ready for launch in 2028. So, it would make sense that the automaker would want to create urban air ports. Air One will operate off-grid by providing its own electricity and zero emissions.
Related: Why Time Slows Down When You Fly
Just imagine a morning where you catch an extra 15 minute nap sleeping in your self-driving car as it takes you to the Urban Air Port. You order a cup of coffee by waving your hand at the robotic barista and hop onto a flying taxi that takes you into the city center.
Well, you don't have to stretch your imagination. Just check out this concept video.
Cities Connected by Superfast Trains
If taking to the skies raises goosebumps for you, then how about traveling along the ground at 670 miles per hour? That might not sound much easier on the senses, but Virgin hopes that commuters will board their mega fast trains that run 3 times as fast as high-speed rail.
It's called Hyperloop, and in November of 2020 the first passengers took a spin. Hyperloop is secured by magnetic levitation and propelled by electric battery engines. The train runs in a near-vacuum environment that minimizes drag coefficient and facilitates the high speeds of the Hyperloop.
Related: How to be an Astronaut and Get Your Extreme Vacation On
By riding a hyperloop train, commuters can go from Los Angeles to Seattle, Washington in 1 hour and 48 minutes. That's a distance of 960 miles. You can experience a passenger commute in first-person with this Virgin interactive video.
Virgin Hyperloop will start running sooner rather than later. There are ongoing builds in France, India, Dubai and Los Angeles.  Tickets will cost about as much as a high-speed rail travel, making
Virgin Hyperloop
affordable for average commuters.
Is The Future of Urban Travel Really Affordable for All?
One of the biggest fears of futuristic travel is that only the elite would be able to afford it. Thankfully, that doesn't seem likely to happen. If traditional automakers seek to stay in business, then they need to make the shift to electric vehicles and make those vehicles affordable for everyone to drive.
Making trendy travel gimmicks won't save the environment or boost the bottom line if only wealthy people can afford them. With that being said, there will still be travel options that mimic luxury vehicles that we have now. Some personal VTOL travel pods will cost as much as a supercar.
There's also the flipside to consider. Governments are planning to tax vehicles that run on internal combustion engines, making them more expensive to drive. That might attract a certain level of automotive enthusiast who is willing to pay exorbitant taxes in order to drive a classic muscle car around the city. Ironically, it might cost more to drive an old beater than a self-driving Tesla in the near future.
There are still uncertainties surrounding the new forms of urban transportation that are glinting on the horizon. However, it does seem fairly certain that these futuristic modes of travel will become a reality. The future of automotive travel is coming faster than a hyperloop train and chances are likely that Average Joe will be able to afford a ride.