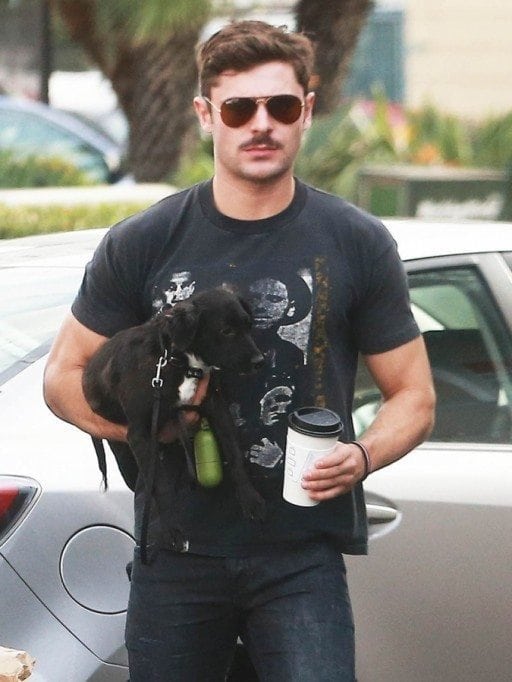 Zac Efron's New Puppy … and Girlfriend
Zac Efron isn't the only one capable of spreading cuteness. It turns out that his new puppy is just as adorable as his daddy! Word has leaked that he seriously dating up and coming model, Sami Miro. In late November of 2014, the two stopped into a pet store and adopted the black little pooch. We will give you a rundown of his new girlfriend – plus some cute pictures of the puppy.
Sorry to anyone interested but Zac seems to be taken right now – in the clutches of someone he likes. 
Here are some fun facts about his new main squeeze.
1. She's a model
Miro recently signed a contract with DT Model Management in November of last year. The modeling agency is the same group who has Paris Hilton as a client, according to People Magazine.
2. She's a college graduate
Zac's new woman is a college graduate and attended Santa Clara University, earning a bachelor in Marketing. She's apparently pretty smart because she also holds a Masters in Global Entrepreneurship from the University of San Francisco.
3. She's physically active
Miro won six gold medals in gymnastics in the California championship. Word is she is a hot yoga fanatic and that she doesn't eat fast food – she's never had a bite from McDonald's!
4. Her and Zac are super close
According to several news reports, Zac and Miro have been playing kissy face quite a bit. On Zac's birthday (Oct 18), the two were spotted with tongues each other's mouths at the VIP room at the Treat's Halloween Party on Los Angeles.
5. She's a world traveler
Zac better polish up on his language skills and geography. His new girlfriend has studied and lived in Paris, Barcelona and Taipei. The two have traveled internationally before. The pair previously spotted together in October at the airport in Amsterdam.
Puppy Love Final Thoughts
Our basic question is why did Efron and Miro get a puppy when they apparently just started to date one another? Most couples who decide to adopt (or purchase) an animal have generally been together for a little while before taking such a big step.
Was the pup purchased as a way of creating a shared bond between the two or was it simply a PR stunt? Did Zac just buy it for her because she thought it was cute?
Oh well – there you have it. Zac Efron's new girlfriend plus the puppy!