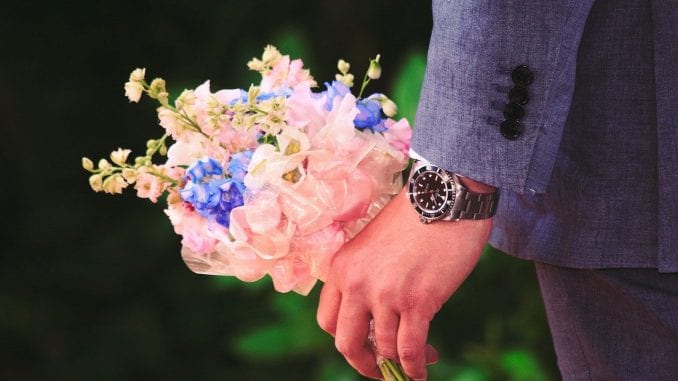 Men's Watch Ideas for Spring
It's time to show off some skin. It's finally Spring and you might finally get the chance to wear shoes with no socks and fully explore the versatility of your khaki shorts. When you step out of your lair post lockdown and roll back your sleeves, what do you want everyone to see?
How about a really nice timepiece on your wrist?
Sub 300 Carbon from Watches of Switzerland
DOXA is an independent Swiss watchmaker that hasn't made a collection available in the States since the 1970s. They've recently partnered with Watches of Switzerland to create a stunning collection of timepieces with carbon cases. They come in 10 different colors, all bright and vivid, with a water resistance up to 300 meters.
https://www.instagram.com/p/CMzkW2tL-rE/
When it comes to this colorful collection of timepieces from DOXA and Watches of Switzerland it's going to be hard to choose just one. My suggestion is to think of your favorite color, the one that you wear most often, and choose a watch color that complements your favorite color. So, if you wear a lot of green, then maybe you should get the yellow Sub 300 Carbon watch.
These stunning dive watches retail for just under $4,000 each. You can pick up a Sub 300 Carbon watch directly from the DOXA retail site.
Related: Why This Bell and Ross Laughing Skull Watch Rocks!
Victorinox Swiss Army Men's Maverick Watch
The Maverick Swiss Army men's watch from Victorinox comes in five different varieties. There's one with a stainless-steel bracelet and a couple of others with a two-toned, stainless-steel bracelet. However, the real stunner of the bunch is the all blue Maverick watch with rubber strap and blue dial.
It has a classic chain link pattern, but it's comfortable and durable enough to wear for any occasion. It has a stainless-steel case with rotating bezel. The blue Maverick watch has a classic look, but it's surprisingly lightweight. It weighs just 3.6 ounces.
You can find the Victorinox Swiss Army Men's Maverick Watch on Amazon.
Timex M 79 Automatic
These are certainly difficult times, and you might want to have a timepiece that reminds you of better days. Enter the Timex M 79 Automatic. Its design is inspired by the Q series watches that Timex put out in the 1970s.
It has 21-jewel mechanical movement, a stainless-steel mesh band and three different bezel designs. There's a red and black Coke-a-Cola bezel, a black and blue bezel, as well as a classic black on black. The dial is black with analog indicator markings that glow. There's also a day and date window over the 3.
The M 79 has a 40-hour reserve of power, a domed jewel case and it's water resistant to a depth of 50 meters. You can pick one up from retailers that sell Timex watches or via the Timex website.
https://www.instagram.com/p/CMe6sS9DuMm/
Lacoste Men's 12.12. Quartz Watch
The Lacoste 12.12 has a blue silicone strap with red and white stripes. The analog dial doesn't have numbers on the face, but there's the signature Lacoste crocodile at the 3 o'clock line. The case itself is a nylon and silicone resin that's exceptionally lightweight.
It's important to add that the Lacoste 12.12 is not especially water-resistant. So, don't plan to take it diving; it only has 50 meters of water resistance. The bezel is made of plastic, too. Just keep in mind that this is a sport watch and not a sophisticated timepiece.
Take the Lacoste 12.12. with you on trips to the gym or on your daily rounds. It will certainly add style points to any casual outfit. You can find this sporty Lacoste watch on Amazon.
Tissot Men's Gentleman Auto Stainless Steel Dress Watch
Tissot has been making quality watches since 1853. The gentleman auto dress watch certainly bears witness to a long-standing commitment to excellence. It has a leather bracelet that comes in brown or black. It's held together by a classic push-button butterfly clasp.
It features a stainless-steel case, index dial with date indicator and Swiss quartz movement. You can take this timepiece for a swim. It has 10 bars of pressure resistance and a depth rating of 100 meters.
This sophisticated timepiece from Tissot is available from Amazon.
PAUL HEWITT Men's Stainless Steel Quartz Watch
Just one look at the simplistic white dial and red, white, and blue nylon strap and this Paul Hewitt watch will make you want to get on a boat. It has a large round face, quartz movement and analog display. It's simplistic and classically sophisticated.
The latest watch from Paul Hewitt has 50 meters of water resistance and can withstand pressures of up to 5 bars. There's a silver anchor on the sixth hour marker and a stainless-steel fixed bezel. For a timepiece that could double as a form of men's jewellery, you'd probably expect to pay hundreds of dollars.
The Paul Hewitt men's stainless steel quartz watch is available on Amazon for a great price.
Related: Here's Why Rolex Watches Are So Popular!
Diesel Men's Mr. Daddy 2.0 Chronograph Watch
Heading out to the nightclub or kicking it with the boys? Well, you'll turn heads for sure with a Diesel Mr. Daddy 2.0 on your wrist. It's bold, masculine and athletic with a very highly detailed mechanical dial and quartz clockwork inside the case. It's made of stainless steel with several different color palettes available.
The band is made of stainless steel, but you can find several different band styles. It connects with a deployment style clasp in the back. The bezel is stationary, but there is so much mechanical motion taking place inside the dial that you'd hardly notice anything else.
The Mr. Daddy 2.0 weighs 8.8 ounces and has a water resistance of 100 feet. There's one model that comes with a black agate beaded bracelet, but it's a quick sellout item. Add it to your wish list on Amazon at a good price.
Oris Big Crown ProPilot TLP
This pilot's watch celebrates a partnership between Oris and the Tactical Leadership Program for NATO pilots. Thankfully, you don't have to clock hundreds of flight hours to look like a Top Gun. The Oris Big Crown ProPilot TLP has a military green dial and a matching olive-green band that's made of highly durable cotton.
The crown, case and bezel are made of gun-metal grey PVD with anti-glare coating. The bezel itself was inspired by the turbines of a jet engine. The movement is automatic with a single winding knob. The ProPilot TLP comes with a travel pouch and a certificate of authenticity.
Only 750 pieces will be constructed for this limited-edition watch. You can pick up one directly from Oris. The ProPilot TLP retails $2,400.
Rainbow CasiOaks
It's not a Royal Oak from Audemars; it's a Casioaks from G-Shock and IFL Watches. The original rainbow-colored CasiOaks were a limited edition, but gained such a popular following that they've been released again for the general public.
The case and strap have a monochromatic, almost matte finish that is highlighted by rainbow-colored indicator markings and rainbow accents around the bezel. Each piece is hand-painted with a stunning, eye-catching finish.
https://www.instagram.com/p/CMPrQP3Lju3/
There are black and grey models and also a galaxy model with stars in the dial. You can pick up a Rainbow CasiOak for $650 from IFL Watches.
Audemars Piguet Full Platinum Royal Oak
Have you seen the Audemars Piguet full platinum Royal Oak? If you're fortunate enough to gain entry into one of Audemars' exclusive AP apartment showrooms, then you'll want to make a beeline for the platinum Royal Oak watch.
https://www.instagram.com/p/CMk38cbLsag/?utm_source=ig_web_copy_link
It's ultra-thin – just 8.1 millimeters with a jumbo sapphire crystal face. The dial has a smoke green color backing and 18kt gold indicator markings. Inside, there's a 22kt gold winding rotor. Mechanically amazing and aesthetically gorgeous, this rare timepiece is one for all seasons.
There are only 100 full platinum Royal Oak Audemars. The price is $105,400. It's only for an elite caliber of timepiece collectors.