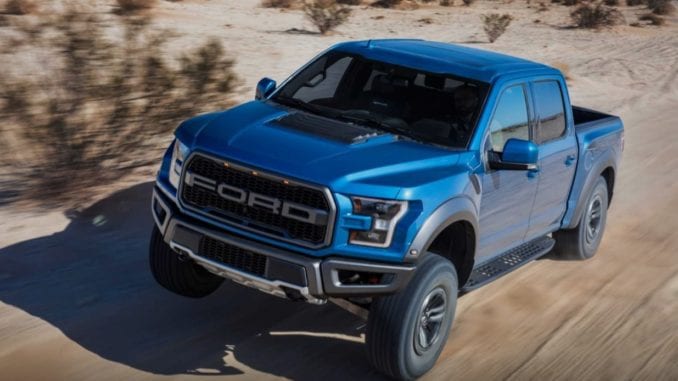 Review of the 2020 Ford F-150 Rapture
The 2020 Ford F-150 Raptor isn't a bargain-priced truck with a starting MSRP of $53,205. It's marketed at rugged outdoorsmen, not just weekend warriors. It has a wide stance that can seem out of place on a true city street, but you'll never feel a pothole or a curb. Hands down, this is the most powerful stock pick-up truck on the market.
Introduction to the Raptor Truck
The Ford F-150 is one of the highest rated trucks on the market. The new 2020 Ford Raptor is the muscular, off-road version of the F-150. Guys love the Raptor truck because it has so much style and utility, all wrapped up in one platform.
The new Raptor truck passes unchanged from the previous year. There are three new exterior paint palettes, but otherwise, the 2020 Ford F-150 Raptor continues in an unbroken chain from the previous year. It's difficult to say when the Raptor truck will get a full refresh because it has been so successful in its current generation.
You can find the Raptor in two model trims – SuperCab and SuperCrew. The latter has more space in the back seat, but if performance is your primary lure then go for the SuperCab. It's a bit shorter, but there's little compromise in interior comfort. You might not seat five in the SuperCab, but you can certainly keep four adults on the edge of their seats.
https://www.instagram.com/p/B6MN0XgJMXX/
Aggressive Exterior of the Raptor
There are plenty of style elements that separate the Raptor edition from any of the other six Ford F-150 model trucks. It has a large front skid plate, a Ford logo front grille and a signature hood design. It has air extractors in the center of the hood and the big, boxy letters of the front grille are a bold statement of power.
The profile of the Raptor has aluminum running boards and LED lights on the side mirrors. They're super bright and help the Raptor function as an outdoor companion even when the sun goes down. The SuperCab has four doors with two hidden handles in the back. The SuperCrew has four full-sized doors. The wheel wells can accommodate 19-inch wheels, but you get 17-inch wheels from the factory with heavy duty all terrain tires.
There are a couple of unique features in the rear, as well. There's a huge Ford logo across the tailgate. It has LED lights in the cargo box. This helps you do impromptu repairs on equipment and gear or at least make it a lot easier to load and unload. There's a step ladder attached to the tailgate near the handle so you can easily get in and out of the truck bed itself. One you do, there's 52.8 cubic feet of cargo volume back there to play with.
The Rapid Red paint comes at an added price of $395, but the Lead Foot grey color also matches well with the chrome accents of the Raptor's exterior. It might be worth a few extra bucks to add the Raptor graphics on the hood and profile just in case people are wondering exactly what you're driving.
Related: What's New with the 2020 Toyota 4Runner
Surprises in the Cabin
The interior of the 2020 Ford F-150 Raptor edition is quite sporty. Unique cloth seats come standard, but you can upgrade the interior with leather seats in a package. You can add power adjustable pedals and a power rear sliding window. The Luxury option group adds heated seats and a Bang & Olufsen sound system.
Many trucks boast seating for five, but the F-150 Raptor is one of the few trucks that can easily accommodate five full grown passengers. Each person gets an individual seat. There's no rear bench for a middle occupant to get lost in.
Pro Buyer's Tip: You can add carbon fiber accents to the interior, but they come at an additional cost of $1,000. There's another option though. You can add the blue accent package to put two-toned patterns on the seats and it automatically adds the carbon fiber and aluminum panels.
Performance Capabilities
The 2020 F-150 Raptor is not some lumbering beast; it's no Frankenstein. This pick-up truck has a 3.5 Liter twin-turbo V6 engine that produces 450 horsepower and 510 pound feet of torque. That's the same engine that's in the Ford GT Supercar. In a full-sized truck, this powertrain delivers best in class performance. You can go from zero to 60 miles per hour in just 5.1 seconds.
In the 2020 Raptor, the twin-turbo V6 is mated to a 10-speed automatic transmission. It's a paddle shifter and it's been asked to work very hard for its money. The gear ratio is about as tweaked as it possibly can be. Low gears respond quickly, but the transmission can struggle to find its legs at higher speeds. Your gas mileage is 15 MPG in the city and 18 MPG on the highway.
The Raptor can do some serious heavy lifting, too. It can tow 8,000 pounds and carry 1,200 pounds in the payload. You might never need to access the full capabilities of the Raptor, but it's comforting to know that you'll almost certainly never push it past its limits.
The 2020 F-150 Raptor isn't just about rugged, masculine looks. It's strictly a 4×4. The main reason you'd want a Raptor truck is for its off-road capabilities. There are five driving modes: normal, haul, sport, snow/rain, and EcoSelect.
It has a type of cruise control for off-roading called Trail Control. You just set the speed range and the Raptor truck systems will automatically adjust the throttle, torque and braking so that you can enjoy the view while you steer.
That much get-up-and-go needs to be reigned in with some serious suspension, shocks and brakes. The suspension is top tier for full-sized trucks.  The F-150 Raptor has an independent front suspension with unique upper and lower control arms.
There's an electronic-locking rear differential and a torque on demand transfer case. The springs are specially designed for the Raptor, but the F-150 has excellent springs on any model. Well, the shocks for the Raptor are exclusive. They are from FOX Racing and have an electronic valve that provides continuously variable damping.
The Raptor truck is not invincible though. Just look at this Raptor F-150 getting thoroughly stuck in the mud.
https://www.instagram.com/p/B8SoquZJB21/
See what a 2020 Raptor can do off-road
Should You Drive A New Raptor?
The 2020 Raptor is large and unapologetically powerful. It's fast and capable of nearly anything that a pick-up truck needs to do. It can haul. It can tow. It can off-road. Just keep in mind that you can't tuck this bad boy into a conventional parking space at the shopping mall. You need a lot of space.
The 2020 Ford Raptor F-150 has a wide footprint. It's 86.3 inches wide even with the side mirrors folded. It has a larger track width than any of the other F-150 trucks. The Raptor sits high over the road with a ground clearance of 11.5 inches.
If you're not into off-road adventures, then this truck might not be the right choice for you. However, knowing that you have a pick-up truck that's made for this might entice you to stretch your wings and fly a little bit. This truck can take you places that even other off-road trucks would find challenging.
From purely a stylistic point of view, the 2020 Raptor is brutally beautiful. The big Ford logos front and back are unmistakable. The chunky, off-road tires make a grand statement that is definitely masculine, definitely aggressive. It's a visual chest thump in every way.
They say a dog is a man's best friend, but maybe the Raptor truck can be a man's best bro. You don't have to go off-roading in the new F-150 Raptor. Even if you just wanted to lord over your small town, the Raptor truck will certainly instill a higher level of confidence. It's expensive but promises to thrill you with high-revving romps that can't be stopped by conventional means.
What do you think of the 2020 Ford F-150 Raptor? Is it worth the money or just an expensive ego boost?