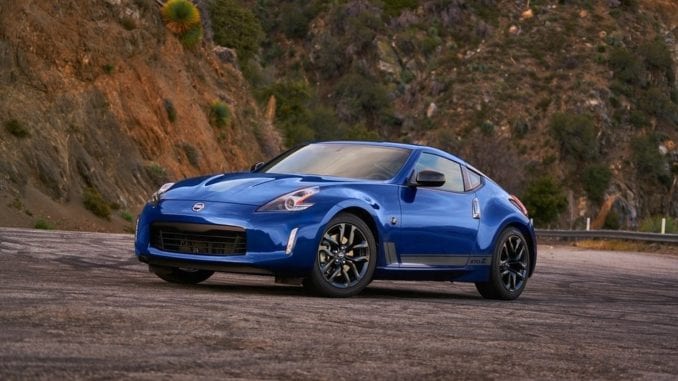 Review of the 2020 Nissan 370Z
The 2020 Nissan 370Z celebrates 50 years of exhilaration by keeping the punchy little sports car largely unchanged. Its high-revving V6 engine has a raspy exhaust note and the 6-speed manual is heaven sent. Yet, this aging sports car might already have one foot in the grave.
50th Anniversary of the 370Z
The 2020 Nissan 370Z comes in five different model trims. There's the base model 370Z which comes with a V6 engine and manual transmission at an MSRP of $30,090. The Sport model gets slightly larger tires, a rear spoiler and better brakes. Then, there's the Sport Touring model of the 370Z. This trim improves the interior significantly. You get a larger touchscreen, navigation, and leather seating.
The next tier up is the 50th Anniversary Editions. There's one with silver and black exterior graphics and one with red and white graphics. Visually, they are quite stunning with their two-toned paint jobs, dual chrome exhaust tips and attractive interior fabric stitching. Both get 50th Anniversary badges, signature tachometer, special wheels and leather seating. Pricewise, they fit right in-between the Sport and Sport Touring at a cost of $36,420.
The top of the pack is the 370Z NISMO. It has racing-inspired enhancements to the engine, chassis, suspension and lots of aerodynamic improvements to the exterior. There'll be more on the NISMO 370Z later.
Exterior Points of Interest
The Nissan 370Z really shows its age when you consider the coupe's exterior. It hasn't really changed much since 2009, even as competitors have updated and, in some cases, completed changed their platform. For example, just look at the Honda Civic Type R. The 370Z does have simple, classic lines so its dated exterior still holds up well over time.
Related: What's new with the 2020 Ford Mustang Shelby GT 500?
The 2020 Nissan 370Z has a smooth, contoured look. Lines flow seamlessly from front to back creating a capsule of cool that is universally recognized. The 370Z is also a favorite platform for modders and gearheads who put elaborate ground effects kits and graphic wraps on their 370Zs to make signature racers. This new 370Z, especially the 50th Anniversary edition, doesn't need much additional adornment to become pleasing to the eye.
Interior Amenities
The interior of the 2020 Nissan 370Z is anything but spacious. It's unapologetically a driver's car. There's just 51.6 cubic feet of interior volume and an abysmal 6.9 cubic feet of cargo space. Yet, when you compare the 370Z against other coupes, you find that the 270Z has more front head room and leg room than the 2020 Audi TT.
The 2020 Nissan 370Z gives different priorities to different passengers depending on which model you choose. For example, the base model and NISMO 370Z give the driver an 8-way manual adjustable driver seat, but the Sport Touring model and 50th Anniversary Edition provide heated seats and 4 way power adjustable passenger seats.
Two 12-Volt DC power outlets, USB port, power windows and doors, push button ignition, and a cabin microfilter come standard on all the new 370Zs. The Sport Touring houses the best technological interior features. It comes with SiriusXM radio, 8 speaker BOSE audio, voice recognition and navigation. Nissan can get away with keeping things a bit bare bones in the 370Z because people that are interested in this vehicle place more value on performance than creature comforts.
370Z Classic Performance
The 2020 Nissan 370Z is powered by a 3.7 Liter V6 engine that produces 332 horsepower and 270-pound feet of torque. When you consider that the 370Z only weighs 3,333 pounds, you can see how this nimble little coupe can really move. The 2020 Audi TT costs $45,500 but only produces 228 horsepower and 258 lb. ft. of torque with its four-cylinder turbo engine.
The 370Z's also a member of a small club of new vehicles that still offers a 6-speed manual gearbox. You can have the option of a 7-speed automatic, but that's not really what this coupe was built for. The performance clutch in the manual setup makes for easy acceleration. The tachometer also has a new feature that effectively preloads the throttle for better downshifting.
The 370Z is world-renowned for its handling. It comes standard with Yokohama tires, oversized brakes, and a vehicle weight distribution that favors downforce. The 370Z sends power to the rear wheels so adding downforce really helps with cornering. The 2020 Audi TT might have the 370Z beat with its invulnerable quattro all-wheel drive, but the 370Z has its own way of countering luxury rivals.
2020 Nissan 370Z NISMO
NISMO is the motorsport division of Nissan and several vehicles in Nissan's line-up get special NISMO tweaks for added speed, handling and style. The 370Z in NISMO guise is a driver's dream. Putting a V6 engine in a car this size is a bold move. When you lift the hood and see the signature red NISMO-tuned 3.7 Liter engine inside the NISMO 370Z you fully understand that bold is the intention. It's capable of achieving 350 horsepower at 7,400 RPMs and 276 lb. ft. of torque. You can choose between a 6-speed manual or a 7-speed automatic drivetrain. That translates to the 2020 Nissan 370Z NISMO shoving around corners at blistering speed.
It's got lots of control, too. The brakes in the NISMO 370Z are much larger. There are 14 inch 4-piston front brakes and 13.8 inch 2-piston brakes in the rear. You'll be able to see those bright red calipers quite clearly through the spokes of the 19-inch wheels. Those staggered width NISMO wheels are attached to Dunlop SP Sport Maxx GT600 tires. For enhanced handling, the 2020 Nissan 370Z NISMO has a stiffer suspension, reinforced chassis and active dampers both front and rear of the vehicle.
It's quite easy to tell the difference between a NISMO 370Z and a base model 370Z purely from aesthetics. The exhaust note is a bit different in the NISMO version because it has a slightly modified exhaust system. The NISMO vehicle has signature red ground effects all around the exterior, a redesigned front fascia and rear spoiler. The ground effects are for style points, but the front and rear changes are meant to increase downforce and minimize drag.
The red NISMO motif is reinforced inside the vehicle. The leather seats have thick bolsters and red inserts set inside Alcantara fabric. The steering wheel is Alcantara and leather, as well. The tachometer has a red backlighting.  For the final touch, there are aluminum-trimmed pedals.
Safety Equipment?
Perhaps the 2020 Nissan 370Z would benefit from a sixth model trim, one that adds some real safety features to the equipment list. All models get the Nissan Intelligent Mobility package which consists of anti-lock brakes, electronic brake force distribution, and dynamic traction control. You also get seatbelt pretensioners, advanced airbags, active headrests and a rearview monitor.
What you don't get on any new 370Z is adaptive cruise control or automatic emergency braking. There's also no onboard radar that can manage blind spot or pedestrian detection. There are no parking sensors either. This is simply not a platform that can accommodate those features. That's probably one of the main reasons why the 370Z costs just 30 grand.
Final Verdict
The 2020 Nissan 370Z provides an old school sports car experience with its V6 power plant and 6 speed manual transmission. It's like a hobby car for racers who might want to tinker around under the hood or add their own style points to the exterior. The engine roars on acceleration, but not in a favorable way. Unless you have the NISMO sport tuned suspension, then the ride is jerky and a bit bouncy. Some might count that as a plus, but most passengers will find it off-putting within a few minutes of their ride.
The style of the 370Z is a bit dated, but it has a beautifully contoured shape and a new 50th Anniversary edition to drive excitement. The 50th Anniversary edition has a black hood, top and silver paint job that really updates the 370Z. It's a shame that design wasn't implemented as a complete model refresh.
Since the 370Z platform is so dated, it doesn't get a lot of the advanced safety features of its newer rivals like the 2020 Audi TT. There's no blind spot and pedestrian warnings or parking sensors. So, the new 370Z feels less new in the tech department.
Thankfully, the 2020 370Z isn't expensive. It has an entry cost of just $30, 090. That makes the fun level more accessible and the true racing qualities of the NISMO trim much easier to obtain. When you consider that a NISMO-tuned GTR will cost $210,740, then a 2020 Nissan 370Z NISMO at $45,790 seems like a deal. If you are already a fan of Nissan sports cars, then a new 370Z might appeal. Otherwise, there are better sports cars on the market with updated technology and a style that was cooked up in this decade.