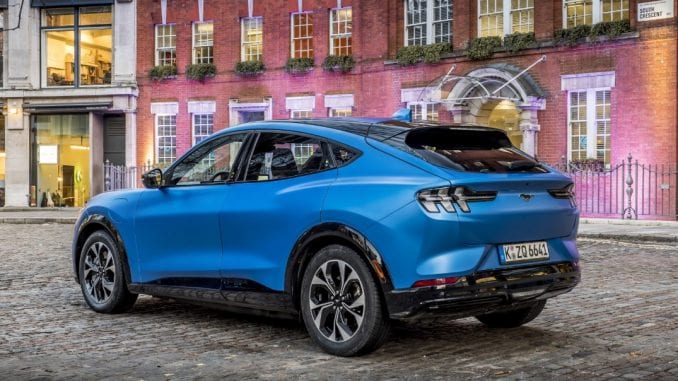 2021 Ford Mustang Mach-E. A Closer Look. It's certainly one of the most highly anticipated vehicles of the year. So, why is there so much hatred for the new Mustang Mach-E? Let's find out.
Introduction to the Newest Mustang
Well, either you love it, or you hate it. The 2021 Ford Mustang Mach-E will go down in history as one of the most polarizing vehicles of all time. This new Mustang isn't a traditional muscle car like other Ford vehicles to wear the Mustang name. It's an all-electric crossover SUV.
In a company press release, Bill Ford, executive chairman of the Ford Motor Company compared the new Mach-E to the original Model T. "At the first-ever Detroit Auto Show, Henry Ford said he was working on something that would strike like forked lightning," said Bill Ford. "That was the Model-T."
"Today, the Ford Motor Company is proud to unveil a car that strikes like forked lightning all over again. The all-new, all-electric, Mustang Mach-E. It's Fast. It's Fun. It's Freedom. For a new generation of Mustang owners."
Well, Bill Ford was right about one thing – the new Mustang Mach-E strikes like lightning. That might be the genius behind this vehicle's design and marketing approach. It doesn't look like a Mustang or even a muscle car. That gets your attention and if there's anything that big automakers need these days, it's more attention.
There are five model trims for the 2021 Mustang Mach-E. The Select model is the entry level vehicle. It comes with excellent safety features but only a 230 mile driving range. The next model trim is called Premium. It comes with all the popular features that Ford advertises for the Mustang Mach-E.
The California Route 1 model has some subtle design wins, but only comes with rear-wheel drive for extended driving range. The First Edition is a limited-edition Mustang with special exterior colors and all-wheel drive. Finally, there's the Mustang GT. As the name suggests, this vehicle has the fastest acceleration and performance-inspired design.
The fast #Ford Mustang Mach-E GT has broken cover:

🚨 459bhp and all-wheel drive
🚨 0-62mph in 3.7 seconds
🚨 310 mile range

Full details >>> https://t.co/RfWVp10cas #FordMustang #FordMustangMachE #MachE #MustangMachE #MachEGT pic.twitter.com/T2BGQlqiGW

— Carbuyer (@CarbuyerUK) September 25, 2020
Related: What's New with the 2020 Ford Mustang Shelby GT 500?
All Electric Powertrain of the 2021 Ford Mustang Mach-E
Open the hood of the 2021 Ford Mustang Mach-E and you won't find pistons and aluminum pipes. You'll probably find a drink cooler because the hood now houses a 4.7 cubic ft. storage cavity. That will certainly be a surprise for people who were expecting to see some muscle under the hood.
The 2021 Mustang Mach-E might not be a traditional muscle car, but it boasts some impressive powertrain numbers. It can go from zero to 60 MPH in 3.5 seconds. Electric powertrains have blistering acceleration and the Mustang Mach-E will take its place in that elite canon.
The Mach-E has an eAWD. It's an electric all-wheel drive system that supplies power from the front and rear motors to each axle independently. The result is better torque and grip in slippery conditions. You might want to disengage it and go rear-wheel drive if you want to peel out and scare your friends.
Two different battery options give the 2021 Ford Mustang a couple of different range options. The top range of the Mach-E is 300 miles. Unfortunately, that falls short of every electric vehicle driving range from the Tesla vehicles. So, Ford isn't exactly busting down doors in its first foray into electrification.
The Ford Connected charging station allows for a full charge overnight at home. You can also use an app to locate charging station around your location. The navigation system gives you notifications about your remaining battery life and the nearest charging station.
Style Points of the Mach-E Mustang
From your first glance, it's obvious that there's something different about the 2021 Ford Mustang Mach-E. The front fascia has a blank body color panel where the radiator would be on an internal combustion engine (ICE) vehicle. The Mach-E is all electric and doesn't need to cool the engine the same way that an ICE vehicle does.
That's fantastic. Vehicles are going green, but that totally throws a monkey wrench in the brand identity of the Ford Mustang. Also, the Mach – E isn't a muscle car at all. It's a crossover SUV. It does manage to borrow all the right lines from previous incarnations of the Mustang while sculpting a profile that fits a 2021 release. If you squint and turn your head to the side – it's a Mustang.
The front fascia is blunted and sweeps low and wide like a Mustang. LED headlamps form narrow slits along the top end. The hood has athletic contours that lead the eye toward a sculpted, round hood.
The profile is a bit softer than a Mustang of yesteryear. There aren't any sharp, aggressive lines, just organic contours that sweep across the doors. Lastly, there are high accent lines over the rear fenders that serve to remind viewers that this is indeed a crossover. The rear taillights are all Mustang though – a three column array that mimic every true Mustang in the stable.
Overall, the style is modern and pleasing on the eye. If it just had a different name there'd be no plausible reason to complain. However, calling it a Mustang puts the design under an extra level of scrutiny.
Beautiful Rapid Red Mach-E photos from Norway! https://t.co/8QfGAbNFyk pic.twitter.com/Hwsk1eFSaN

— Ford Mustang Mach-E (@ford_machE) August 30, 2020
Futuristic Interior of the Mach-E from Ford
Open the doors and take a peek inside the 2021 Mustang Mach – E and you might say – "Tesla, is that you?"
Ford automakers can't deny taking lessons from Tesla when designing the interior layout of the Mach–E. The mid-sized crossover is the highest selling segment of the market right now. So, the interior has dimensions that fall in line with industry standards.
There's seating for five and the rear seats fold flat for more storage space. When the rear seats are folded down, there's 59.6 cubic feet of space. The Mach-E has a Bang & Olufsen sound system. There's also an available glass sunroof to add illumination to the interior cabin.
The dashboard is pretty bare bones for a Ford – another nod to Tesla. The dashboard is dominated by the huge touchscreen display screen in the center. It rivals the steering wheel in terms of space and focus. It's 15.5 inches and houses the new SYNC 4A infotainment system.
"Next-generation SYNC actively starts adapting to you as soon as you start using it, quickly learning your preferences and making personalized suggestions," said Darren Palmer, Ford global director for BEVs "It can suggest going to the gym if it learns Mondays are workout days or calling home if you do that every day after work. The result is a cloud-connected assistant and interface that's intuitive, beautiful, and ready for the future thanks to fast over-the-air updates."
Related: What's New with the 2021 Ford Bronco?
Is it a Mustang?
"The Mustang Mach-E wholeheartedly rejects the notion that electric vehicles are only good at reducing gas consumption," said Hau Thai-Tang, Ford's chief product development and purchasing officer. "People want a car that's thrilling to drive, that looks gorgeous and that can easily adapt to their lifestyle – and the Mustang Mach-E delivers all of these in unmatched style."
But is it a Mustang? Doesn't a Mustang have to be a gas-guzzling, tire-peeling, high horsepower muscle car? That's the question at the center of this vehicle's release and it's a good debate to have in 2020.
Muscle cars can't last forever in a climate where the appeal of internal combustion engines is waning. There has to an answer from the big automakers if they want to stay relevant and in the black. The 2021 Mustang Mach-E sets Ford up to release more all electric vehicles in the near future.
The 2021 Ford Mustang Mach-E has a lot of work to do. It must live up to the Mustang brand like its life depended on it because it kind of does. There's never been a Mustang that wasn't a coupe, convertible, or hatchback. Naming the Mach – E a Mustang was a bold and powerful move.
The Mach – E is also Ford's first electric vehicle. It has to lead the automaker into an entirely new generation of electric vehicles. Would it be successful if it just had the name – Mach-E or would it get lost in the noise of an evolving industry?
Only time will tell, but for now, the 2021 Ford Mustang Mach-E has everyone's attention.