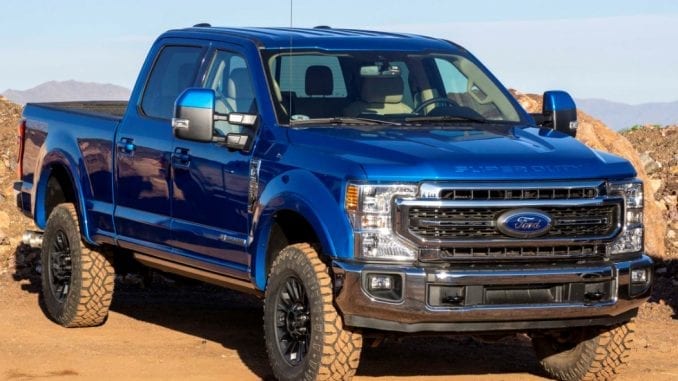 2020 Ford F Series
What makes the Ford F Series truck the highest selling vehicle in America? This truck is pandemic proof. Ford dealers can't keep an F 150 on the lot, but why?
Even with the economic downturn brought on by COVID-19, the Ford F Series still managed to do impressive numbers in 2020.
Car and Driver compiled a list of the top-selling vehicles of the year and the Ford F Series pick-up truck was the clear winner. Ford has already sold 589,034 units this year. To give you some perspective, the Chevrolet Silverado was the second ranked top seller, but sold 410,000 units. It wasn't even close.
A Bit of Sneaky Classification
Ford Motor Company groups the F-150, the F-250 Super Duty and the F-350 trucks into the same group. They call this the F Series. So, imagine lumping in all sales of Dodge Chargers and Challengers and calling it all the same vehicle.
In terms of sales figures, this inflates the number of units sold. Figures for the F-250 Lariat, for example, are difficult to find because these are considered F Series trucks. You get these over-inflated sales numbers that make the Ford pick-up truck the best-selling vehicle in the world.
Before the pandemic, the F Series pick-up trucks were selling nearly a million units. According to GoodCarBadCar, the F Series sold 896,526 in 2019 and 909,330 in 2018. No other vehicle can compare to those numbers.
https://www.instagram.com/p/CGR-KNjpDky/
Low Entry Cost of the Ford F-150
There are 7 F-150 models in the F Series. The F-150 XL has an MSRP of just $28,745. It sets the bar for pick-up trucks in terms of both style and performance. The Ford F-150 Raptor is an off-road aficionado. The F-150 Limited sits high with surprising luxury. The F-150 XLT makes mince meat of the city worksite.
Related: New Features with The 2020 Ford F-150 Raptor?
When you compare prices of the F-150 to the Dodge Ram 1500, you can see why so many people have turned to Ford. The Dodge Ram 1500 starts at an MSRP of $32,145. Ironically, Nissan, Chevy, and Toyota have entry level trucks that are cheaper than the Ford F-150, but they still can't beat the F-150 in sales.
Ford Incentives Sweeten the Deal
When you shop for a new Ford F Series pick-up truck, you can get some bonuses and incentives from the dealership. If you choose financing, then you could be eligible for $3,500 in retail incentives. Active and retired members of the military get $500 in bonus cash. And why stop at military servicemen.
If you're a college student, recent graduate, first responder, member of the Farm Bureau, medical professional, or mobility challenged, then you can get that $500 bonus, too. That'll go a long way toward that optional heavy-duty spray-in bed liner.
Ford Has Brand Recognition and Loyalty
The Ford pick-up truck is iconic. It's American. When you think of Ford, there might be a handful of vehicles that instantly come to mind. There's the Ford Mustang, the Explorer, and probably the original Model T Ford.
The Ford pick-up truck has a loyal following because the company has made Ford pick-up truck ownership synonymous with patriotism and masculinity. For a masterclass in branding, check out this Ford truck commercial.
Now, add in the fact that the Ford F Series has been in production since the late 1940s and you've got generations of loyal customers. You might've grown up seeing a Ford pick-up truck in the garage or maybe your grandfather had one.
This puts the F Series into your subconscious mind and establishes a brand identify that other companies can't even hope to compete against. There's no substitute for that level of brand recognition and there are no shortcuts to building it.
Related: Does Driving a Pick-Up Truck Make You More Masculine?
Resale Value and Maintenance Costs of the Ford F Series
Another reason that Ford F Series trucks are still selling this year, is because of the high resale value. Pick-up trucks and SUVs have the highest resale value of any vehicle type, and the Ford F Series is right there in the top 3. It's a good, safe bet to buy one because you can almost guarantee a good return if you sell one.
Another value point of the Ford pick-up is maintenance and cost of ownership. These trucks are "built Ford tough" as the saying goes. The body is made of high strength, military grade aluminum alloy. The frame is high-strength steel. They're built to take a licking and keep on ticking way past the 200,000 mile mark.
There are six different powertrain configurations for the F Series. You can choose V8, V6, or turbo-diesel. So, it's not difficult to find a engine that suits your budget in terms of fuel consumption. If you need power all day long, then opt for the 5.0 Liter V8. If you need to stretch it on the highway, then opt for the Turbo Diesel V6 to get 29 MPG. For a pick-up truck, that's a game changer.
Final Points on Ford F Series Trucks
These pick-up trucks sell even during an economic downturn. One of the main reasons for this is because the brand is so strong. The Ford F Series is a patriotic status symbol that's built and sold right here in the United States of America.
Sales numbers are a bit misleading because nearly every Ford pick-up truck is lumped into the F Series. However, the F-150 is the clear leader in any segment. It's the highest selling vehicle by itself. When you add the F-250 and F-350, then it's a sales massacre.
There's no hype here. You don't need Sherlock Holmes to tell you that this truck has long-lasting value. So, if you're thinking about buying a pick-up truck, a used F-150 is a safe bet, even in troubling times. If you want a new truck, then this isn't the time to gamble on a gimmick. That Ford F Series is the only way to go.